LYING COVERS UP TRUTH
Australian Ambassador to Vietnam Natasha Stott Despoja
On Vietnam Net, the state-run daily news of Vietnam Communist of Vietnam (CPVN) on October 17, 2014 in Politics section, there was an article: "Australian Ambassador praises Vietnamese women".
Correct compliment is a good thing. But an incorrect compliment becomes "Dog hissing the bush" as an old Vietnamese adage for generations. When an ambassador or a news reporter arrives in Vietnam and offers their compliments which are quite contrasting to the political and social realties in Vietnam then "telling the truth" is something much luxury to them. Therefore, diplomats or news reporters in Vietnam should investigate and understand the realties in Vietnam before making any statements. That is the self-respect to those statement makers themselves and also to the people related to the subjects by which the statement makers mentioning about.
We can evaluate the above assessment through Australian ambassador to Vietnam Natasha Scott Despoja who spoke out her speech to Vietnamese women. She said: "I would like to offer my best wishes to all Vietnamese women on the commemoration day of Vietnamese women. I am glad Vietnam reserves one specific day for its women that are also the day the Federated Association of Vietnamese Women was founded on October 20, 1930 (sic).
According to ambassador Depoja:"The Vietnamese Women Day is a good opportunity for everybody that includes women, men and children altogether reflect themselves upon the role and influence of the women in the family and the society.
This is also the opportunity to praise the contributions of the Federated Association of Vietnamese Women, the organization that has been the counterpart of Australian similar association in some projects reserved for women, in which those projects help increase women's incomes, provide legal support and broaden choices in agricultural work force for Vietnamese women.
Vietnam is a top example in the South East Asia about its women's efforts in which the percentage of women who participate in the labor force with pay, the achievements in education and the improvement in medical and health care. Vietnamese women are now government officials, business women, medical doctors, scientists, teachers, peasants, architects, engineers, and lawyers, politicians…(I only name a number of professions). Every day, Vietnamese women in Vietnam and around the world always have to plan their works along with their extra responsibilities as mothers, educators, and care givers to their children.
These are not easy tasks. But I hope with the cooperation between Australia and Vietnam, we will be able to contribute our great assistance to help Vietnamese women so they can have better opportunities to achieve their goals, aspirations in their professional careers and in the society and more than that it will be their major contributions to the prosperity of Vietnam (sic).
Australian ambassador's speech also included:" Even though the Women Day is a reminder to everybody to think about other women who live around them. I always encourage every woman carry out this task not only 1 or 2 times in a year but they should do it every day or many times in a day.
When saying so it does not mean I only encourage other people to think of and honor women but also you yourself, the Vietnamese women, should also highly value yourselves and actively play your roles in the society and your families. One again, I would like to wish the Vietnamese women real joy and much happiness (sic).
THE AUTHOR's COMMENTS
The author realizes most foreign ambassadors when they work in Vietnam, except communist ambassadors, intentionally or unintentionally, usually do not fully understand political, economic and social realties in Vietnam. They do not know anything which has been actually happening in Vietnam, but they only talk about what Vietnamese communist authorities would like to hear and literally "permit" them to say.
In the case of Australian ambassador mentioned above, it is worthwhile to note 2 concrete examples that indicate her statement and her speech lack of most important facts and reliable news sources she used for her speeches. Are they reliable news sources or these data are just purely politically or economically motivated and provided to her by Vietnam communist government or state-censured agencies?
Truong Minh Hoa: Sublieutenant or Second Lieutenant of the Armed Forces of Republic of Vietnam (ARVN)?
This is the first example which likely causes serious damages to the reliability and the fame of the community of Vietnamese refugees in Australia and around the world. That is:
According to Tinparis.net whose owner is Hua Vang Tho with an article on its website which indicates Australian former commander colonel of Nui Dat Jack D'espagnol after reading the article of novelist Truong Minh Hoa about Long Tan battle in Vietnam (1966) showed his significant interest in this article and considered that is the most valuable article. He also classified it in the records of the Vietnam War. Excerpt of former Australian colonel:" "It is an excellent coverage of the battle of Long Tan and probably the best ever produced. I will keep it with my permanent records." (Tinparis.net).
When Mr. Jack D'espagnol praised Truong Minh Hoa's article then it appeared he does not know anything about Truong Minh Hoa himself but he only based his judgment on the details Truong wrote up about the battle of Long Tan in 1966 in Vietnam. Therefore, the former colonel showed his strong interest in Truong's article and forgot to verify the authenticity of that article and the author's background because he was the commander whose military combat division directly fought Vietnamese communist soldiers in that battle. D'espagnol is not aware who Truong Minh Hoa is or if Truong he ever fought in that battle or Truong ever participated in that battle or if Truong ever conducted researches using reliable sources to obtain many details of that battle.
Firstly: In his book, Truong Minh Hoa dishonestly ranked himself as a sub lieutenant (Trung uy). In fact, he was only a second lieutenant (thieu uy) of the Armed Forces of Republic of Vietnam (ARVN). This is one of his big lies. Why was Truong Minh Hoa such dishonest? The truth was Hoa was only a second lieutenant of Political Warfare Division of a local armed forces of Republic of Vietnam in city of Ca Mau where Hoa was born. It means that was the local town he was raised, drafted and served since his birth until the Fall of Vietnam (Saigon) on April 30, 1975 and eventually he was imprisoned by the Vietnamese communists under their so-called "Reeducation camps".
Details Hoa wrote in his book which recited about his forced labor and cruel brainwash were stories of other prisoners, not his own. There are so many news sources and materials on the internet which indicates Hoa was or (still has been) under most favorable treatments by the current Vietnamese authorities. In fact, Hoa was indeed the whistle blower for the communist jail guards, including his conspiracies with those guards to probably secretly harm or kill captain/ pharmacist (of the ARVN) Quach Duoc Thanh.
His other lying is: In 1981 when Hoa was released by the communists. Quote in his book "Laborer to Author:"In 1981, I was released due to my serious illness (sic).
Other quote in his same book:" "During period at detention, I have a risky plan to learn English that was accused as counter- revolution, and imperial American. If Vietcong discovered, my life would be in peril, Vietcong could shoot or torture" (sic).
Most political prisoners of Viet communists realize and confirm that there was no incident that political prisoners are released due to their illnesses. This is Hoa's gross lying. If sick prisoners of Viet communists were released then why some 156,000 political prisoners got killed in those brutal jail camps as Hoa wrote in his book.
If any sick prisoners were released then Hoa was the only prisoner who was under specifically favorable treatment by the Viet communists, may be because he closely cooperated with the jail supervisors to help them significantly in jail.
Secondly: Hoa made up his own fake story that he risked his life to learn English in his jail cell even he was aware that "if getting caught by jail guards he might be executed or badly tortured". We invite Mr. Jack D'Espagnol to ask Hoa if there were any documented cases in which prisoners of Viet communists were executed only because they learned English by themselves in jail. Remember Captain Nguyen Huu Luyen of the ARVN Special Forces who was jailed in the most horrendous jail up high on the coldest mountain in North Vietnam "Gate of Heaven" for 27 years. Mr. Nguyen also learned English in jail by himself. Many other prisoners in his jail have verified and confirmed this fact. Another case was poet Cung Tram Tuong (real name Cung Thuc Can, Lieutenant Colonel in charge of Political Warfare Division of Republic of Vietnam Air Force. He taught Math and English at K1, Z30D Ham Tan jail, Thuan Hai province to a numbers of juvenile prisoners who attacked a police station. These young men were convicted and sentenced 16 to 18 years (some kids were only 15 years old). Both teacher and students were never executed nor were they tortured. Therefore, Truong Minh Hoa's bragging about his persistent learning of English for 5 years has never been verified. Because in Viet communist jails usually there were 5 jailers who slept on 4-slot sleeping mats. So any small acts of jailers are immediately recognized by other jailers. After his release and fleeing to Australia in 1983 Truong Minh Hoa already "memorized by heart" pocket-sized English-Vietnamese or Viet-English dictionaries". Hoa wholehearted boasted of "his most modern self- invented study methodology to learn English and any other foreign languages at the speed of light to become a grand master of linguistics". With this ability of an "expert Hoa learns English…by memorizing every single word in dictionaries" Truong published his first book in 2010, second book in 2011 and third book in 2012.
A question: It took Truong 27 years (because Truong continued to "learn English…by dictionaries" after he settled in Australia) to publish his first book. His original quote:"I promised myself:" if survival, I will write the stories about the ruthless regime to treat the POW" (sic).
Truong Minh Hoa had to take 27 years to publish his first book and 2 other books in the following 2 years because he had to read the other prisoners' books or listen to stories audios which were published by other prisoners. And Truong likely used other authors' materials to transform their work into his own works. Ex: Truong Minh Hoa used the work of Major Lien Thanh, Police and Intelligence Chief of Thua Thien-Hue province, Vietnam about the massacre by communists in Hue in the Tet offensive in the first few days of Spring 1968. Or Truong used materials of Viet Thuong journalist about Ho Chi Minh (In May 1959 Ho assigned Lieutenant General Bui Xuan Dang to assume responsibility to build Ho Chi Minh trail to transport troops and weapons from North to South Vietnam).
The most important thing was in Australia every year there is a commemorate ceremony of Long Tan battle (in Vietnam 1966). Therefore, Truong, a second lieutenant of a local Political Warfare division whose charged area was only in Ca Mau province, not a sub lieutenant as he himself promoted. And he surely was not a sub lieutenant in a combat unit. Truong was so skillful to import other authors' works into his own book about Long Tan battle and also magnified the accomplishments of an Australian division in this battle. That's why former colonel Jack D'Espagnol, a former direct Australian commander did not have detailed knowledge about his own battle as Truong Minh Hoa made it up himself. That's why Colonel Jack D'Espagnol was entrapped, misled and then he well-polished up Truong Minh Hoa with Hoa's first-hand book in 2010 "The Dark Journey".
Colonel D'espagnol referred to some specific paragraphs in Truong's book and classified those as "my permanent records" and seriously praised it "probably the best ever produced". It might be introduced by Colonel D'espagnol so Truong's "The Dark Journey" was admitted by the US Library of Congress. Truong bragged himself he risked his life to "learn English by…dictionaries "inside the communist prisons and took another 25 years to learn English probably via "on- line dictionaries at any break/ lunch time, 7/24/365 to quickly become a grand master in linguistics in Australia while working full time before publishing his third book "From laborer to author". And "From laborer to author" was recognized by the letter from Her Majesty Queen Elizabeth II, which was presented by Arts Minister Tony Burke in 2013" (sic).
Because Colonel Jack D'espagnol had not verified or understood original reference sources of Truong Minh Hoa's books so he recognized his works. And eventually Minister of England Tony Burke submitted Hoa's books to Queen Elizabeth II. She entrusted Minister Burke and granted Truong the English Emperor's Moon Crown award.
Therefore: It is our serious request to former colonel Jack D'espagnol and minister Tony Burke to thoroughly verify the works of Truong Minh Hoa and report to Queen Elizabeth II as soon as possible so she can reassess or revoke her award to Truong Minh Hoa which was misled by Truong Minh Hoa's skillful and professional plagiarism. The Queen's award probably was served to encourage Hoa, a man who was studious in his self-educating in his challenging situations in jail. However, her recognition created precedence to dishonest people who maliciously infiltrate into the communities of good Vietnamese people to divide them and carry out their own special tasks or to become community leaders. The majority of Vietnamese people in other countries usually work hard to contribute their honest work to build up and enrich their lives, construct better communities and the society in the nation they choose as their second father land.
By the way, we ask colonel Jack D'espagnol to get in website Tinparis.net to read Truong Minh Hoa's articles to understand his standards of ethics through his articles of defacing people without evidences or making up evidences as well as using badly foul language to make even uneducated, low class people become very uneasy and blush themselves when reading their smelly untrue articles.
Now we would like to share our thoughts with Australian ambassador Natasha Scott Despojah about her speech to Vietnamese women concerning the so-called Federated Association of Vietnamese Women.
Mrs. Ambassador, please remember when Ho Chi Minh communists group was founded Ho was aware Vietnamese women were about one half of Vietnamese population. It means besides the women who followed Ho then nearly other half of them were not forced to work unless they wanted to. So Ho enacted his executive order/ law of marriage and family in order to best utilize all those women and in a sense those women worked as slaves, subordinates or even sex toys to Vietnamese men. But in fact, with Ho's order which governs marriages and families he was able to free these women from their families and became workers in other forms of slavery. If Ho's legislation of marriage and family to boost up Viet's women's rights then why Ho Chi Minh and his subordinates such as Pham Van Dong (his notorious name DONG VEU with his "historically extra thick and dark-skinned pair of lips"), Le Duan, Vo Nguyen Giap, To Huu all had second or third wives and many other women along their ways when they "visited people to obtain hand-on experience and understand those people situations".
We like to invite the Australian ambassador to the Socialist Republic of Vietnam (SRVN) to read the formal definition of Vietnamese women below so you can understand profoundly and eventually support the Vietnamese women with your great diplomatic capability:
"Women are considered a "people organization' which belongs to the Communist Party of Vietnam (CPVN) (sic). Question: If this women/ people organization belongs to the political totalitarian CPVN then how can Vietnamese women highly value themselves with great self-esteem and their important roles in Vietnam society and their own families (sic) as you well wished so to them while dreaming of such an unrealistic, contradictory scenario.
So, if you live in Vietnam, and if you are a woman in a class which is considered as red slaves then you will understand the communist slogan (formula): The Communist Party of Vietnam (CPVN) leads, the administration (Nha Nuoc) manages and the people are strictly governed/ controlled in their every single aspect of their lives".
This formula is so short and precise but one can say that until 2014 people still does not want to look at the truth which was matched with our ancestors' adage "Look at chicken but misidentify them as cool coots". Through concrete proofs then under tightly controlling governance of the communists:
The CPVN puts out nation's political policies. The administration (Nha Nuoc) is the executive branch of the CPVN who carries out detailed measures to force Vietnamese women to properly play their roles and responsibilities as "owners" of the society. But in reality, the so-called "communist administration" only cares how to force the women to be the "owners" and be responsible in "production" significantly and equally as men's production ability. However, the very important part is when women enjoy the fruits of "their own labor and production" then they are no longer the "owners" but they become only beggars who get in groups of long lines in front of state-run shops to beg for "rewards" of their own contributions to the society.
This reality has become a bad practical habit which not only affects women but it also affects all organizations in various genders, religions and culture in which people will be required to BEG for favors but otherwise their "rewards" are simply their LEGAL RIGHTS in other democratic countries. And the CPVN with its subordinate communist administration in their role as "servants to citizens" is the only one who does the "GIVING". This is a very illogical and contradictory because it should never be BEGGARS are OWNERS and GIVERS are (public) "servants".
Slaves since childhood how can they dare to self-evaluate?
The Federated Vietnamese Women Asociation provides care to all women so these mom and son only dream for a full meal
For decades, observing activities in Vietnam society one can immediately see the mechanism of "BEG and GIVE" scenario is everywhere. Even fake activists for democracy in Vietnam always only perform their peaceful responsibilities for "BEG and GIVE" mechanism. They use that motto "BEG and GIVE" to lead people who are "red slaves" so all of these people should comply with the communist standard "BEG and GIVE".
Another important fact, Mrs. Ambassador, have you ever seen this Federated Vietnamese Women Association demand for Vietnamese women's basic human, civil and religious rights? According to your speech, you probably have plenty of proofs, evidences, witnesses and documentation to prove this Association is a political organization of Vietnamese women. Please show us those proofs.
It is quite clear the author has presented that the CPVN "throws out" mercilessly their strategic political policies, its communist party members/ subordinates (the executive/ administration) manage people/ society using different administrative and police measures and screwed tactics including using hired street gangsters to enforce their arrests and jail time…to powerless and innocent citizens. And the Federated Vietnamese Women Association only wholeheartedly complies with ready-made / canned political and administrative measures by the CPVN and its administration without any political ideas or contributing initiatives or questions. In fact, this women organization is only a puppet organization in its accurate meaning, Mrs. Ambassador. For example, in production plants which have sufficient number of workers to set up workers labor unions then these organizations have never intervened to help their workers who have work related issues. One of many examples is a Samsung production plant which has more than 1,000 workers but there are only 2 rest rooms for workers. It is not mentioned about issues of female workers who are pregnant or women related issues such as menstrual needs, birth giving, child care services, etc.
More than 1,000 females who share 2 rest rooms in Samsung production plant in Vietnam
The Federated Vietnamese Women Association has never stood behind those female workers to demand the minimum wage, better working conditions for workers, etc. In fact, it encourages women workers to work additional shifts and extra hours, "if working days meeting no quota then workers should work extra night time". And if the plant management requires each female worker must sew 50 pair of shirts and pants then this Women Association encourages worker to work more hours in the working spirit of self- owners, self-bosses. It means each worker should try harder to sew 60 or 70 pairs of shirt and pants...
Bared backs of under-aged ladies strongly appeal…foreigners and whoever has money to buy these young ladies
Vietnamese young females "proudly" expose their completely naked bodies to mentally, physically ill foreigners who come to Vietnam to "buy" their brides at cheap prices.
One thing I believe you have been well aware of: Vietnamese women have been sold to foreigners as brides, but in a real sense, they are sex slaves. These Vietnamese women have to get in lines to expose their completely naked bodies to their prospective "grooms" to touch, smell and taste their "flesh products"…with "all you can smell and taste at no extra charge" exactly as you go to Saigon market to carefully examine and purchase your fresh poultries, meat and vegetables. The other scenarios are Vietnamese naked ladies are publicly displayed inside tall boxes made of 100% transparent glass so customers can view and touch "fresh lady products" before buying their "extra flesh products" for their enjoyment. If customers do not like those "extra moist meaty packages" for any reason then they have all legal rights to return or exchange those unfortunate products (ladies) for better "meaty and chubby …idols" in order to fully meet their ultimate sexual fantasies. Human meat exchanged or returned is fully guaranteed, no questions asked, under the Vietnamese so-called Constitution of 1982 and seriously modified with brand-newer version just a couple years ago, Mrs. Ambassador.
CONCLUSION
- Many people misunderstand the real corruption and the complete collapse of Vietnam society under the communism (now having changed to much colorful "Market Economy under Direction of Socialism", especially Western diplomats, therefore they only like to receive free information from the communist agencies and ignore horrified situations of unfortunate Vietnamese women in Vietnam. If they pay some attention to these horrific situations then they may receive information from fake, state-controlled opposition figures which have been born and trained by the communist professional agencies so these puppets, state-run organizations can go out to other foreign countries in their expensive trips to do their propaganda jobs. Vietnamese oppressed citizens have not been aware of the existence of these organizations, not to mention to citizens' rights to elect "purely dummy" figures and "yes men/ women" in these associations and legislative institutions.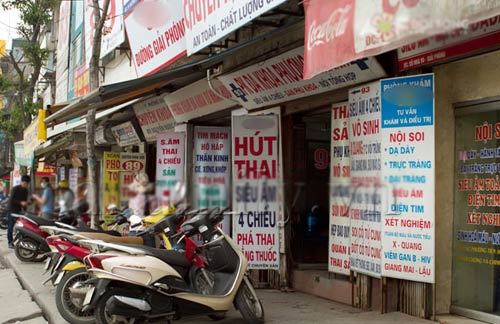 - It is worthwhile to provide to you, Mrs. Ambassador, with some statistics by Vietnam state-censured agencies. Every year there are million cases of fetus/ baby abortions,
-
64,000 cases of HIV infections, 24,000 cases of vaginal and uterus cancer. If you make a tour around the big cities and cannot find such places then we can offer these photos which were posted by Vietnam state agencies. There are places which perform unprofessional abortions and the abortion providers are also unprofessional without minimum hygiene standards while performing those abortions. If you have chances to walk around capital Hanoi which has been proud of its thousand years of Vietnamese sophisticated culture have you ever wondered about those places which display bright red advertising boards which occupy whole corners of busy streets? And please ask a simple question: Perhaps the Vietnamese Women Association members are quite all blind and do not see those abortion shops and have never had any simple words or any concrete actions to stop those businesses in order to protect Vietnamese women who do not have money to go to hospitals for better protected abortion services so they have to risk their own precious lives to come to those unlicensed and unprofessional abortion shops.
It is also much more valuable to "proudly" introduce to you, in 2014 underage youths are still forced to participate in labor force to work in the SRVN's production plants as well as in agricultural highland areas. And women, in saddest fact, replace big buffalos to pull heavy plows behind them to plow soil and prepare land for seedbeds and rice cultivation. Then, has your help been much influenced to those victim females? Is it possible you praise the so-called Federated Association of Vietnamese Women, an instrument to enforce ironic rulings of the Vietnamese communist authorities? This is our sincere and earnest hope: As an educated and sophisticated diplomat you will offer your profound, constructive thoughts and initiatives to realistically help out our unfortunate, badly abused Vietnamese women under the communist severe oppression and exploitation for their own selfish sake of monetary advantages. It means it should not give the Federated Association of Vietnamese Women to "drink extremely sugary lemon juice" by using highly unrealistic, much polished diplomatic language. You may want to be an ambassador of a big country Australia and also an ethical woman who will soon alarm to the whole world about those basic human issues which have seriously violated human, civil and religious rights for decades that were just indicated above. This article is not able to present 1% of all daily major problems and systematically threatening corruption of Vietnam society under the communist heartless hands. And also it is recommended that you better inform Australian government and other nations not to pay much attention to such associations like Federated Association of Vietnamese Women or other so-called independent citizen associations. Supporting people requires responsible studies and comparative researches. Otherwise, honest supports may highly be exploited as in the case of former colonel Jack D'Espagnol who was accidentally became the "innocent" conspirator with Truong Minh Hoa to cover up truths and unintentionally glorify copy-right and related violations which have never been accepted to honest, self-respected writers' communities.
Chính Khí Việt & Việt Sĩ
October 22, 2014
----------------------
References: