THE "ART" OF SMEARING (ENEMIES) IN BLACK AND (FRIENDS) IN PINK.
Author: Chính Khí Việt
Version in English language by Việt Sĩ
Challenge to recent article of Van Cam Hai based on Edward Miller's new book: "Misalliance: NGO DINH DIEM, the USA and the Fate of South Vietnam" (Cambridge, Harvard Univ. Press 2013). Van Cam Hai, Tech. Univ. USA, sent to BBC.CO.UK his article "Ngo Dinh Diem and the War of Constructing the Nation (Vietnam)".
Hai's article is an introduction of Edward Miller's new book about Vietnam, titled "Misalliance: Ngo Dinh Diem, the United States and the Fate of South Vietnam (Cambridge: Harvard Univ. Press 2013).
His book review also shares viewpoint of author Miller regarding Vietnam's issues. In fact, it is true that Miller offers some new findings. However, a debate is necessary to find out the truth.
In the analysis and commentary below Chinh Khi Viet would like to remind readers on 2 issues by which Van Cam Hai has confirmed they are Miller's new findings:
'The Buddhist crisis and disagreements about national construction policy" (Sic)
"With the above subtitle Van Cam Hai wrote:" President Ngo's fate and policies were blocked up by the Buddhist crisis. Standing out among historians on Vietnam War, Miller's research points out the Buddhist crisis in 1963 was likely a development in the flows of history of glorifying of Buddhism which was originated in Vietnam since 1910, 1920s. Miller launched a fresh viewpoint about the Buddhist movement during Diem's decade that it was not only a struggle for the equal opportunities of religions in Vietnam but in fact it showed deep concern about Diem's strategy to rebuild his nation, Vietnam, especially his Human Dignity Revolution which was the threat to the revitalization of Buddhism. According to Miller, Vietnamese Buddhists participated in the revolution for citizens' freedom and modernization as a contribution to the national reconstruction policy. The conflict between Diem and Buddhists pushed up the war of national reconstruction to the top level of urgency. Diem, until his last minutes, still believed he was able to solve this conflict in his dominant position as he and his brother Nhu envisioned by initiating secret talks with North Vietnam (sic).
COMMENTS:
Only in a short paragraph above, one can see if Van Cam Hai translated accurately Miller's points then this is a live evidence of his lacking of truthful information, lacking of thorough understanding of politics in Vietnam's real life. And this is an example of bookworm Van Cam Hai who only knows how to rewrite and copycat writer's ideas.
I. "Buddhism crisis in 1963 was similar to the development in the flows of history of the process of Buddhism refinement…" (sic). If it was Miller's authentic research as Van Cam Hai introduced than this research would be a rudest distortion of truths.
One may want to notice that for many years in Vietnam history the Buddhism had great credit of uniting Vietnamese citizens to fight against the Chinese invasions. However, those monarch regimes which entrusted Buddhism as national religion had records of building many beautiful pagodas by using so much hard-earned tax moneys of Vietnamese people to develop and enrich Buddhism in Vietnam. When religiously self-restraint, self-improved life weighs more on materials such as eating fine food, wearing beautiful clothes, giant houses…then the "Buddhist heart" will be shrunk significantly and eventually be destroyed to transform those people into evil monks! It means: If big pagodas, fine food, nice clothes are symbols of Buddhism then Buddhism is only empty and soulless which looks exactly like the frozen corpse of the most guilty national traitor/ criminal Ho Chi Minh who has been laid down motionlessly for years in Ba Dinh mausoleum.
However, beside those serious mistakes Vietnamese Buddhism also has top-notched monks who have crystallized Buddhist philosophy/ religion, been loyal to their mother land Vietnam, loved the People and set brilliant examples to many generations of Vietnamese to construct and protect their country land and preserve fine Vietnamese cultural values in every aspects.
Since the Soviet Union coordinated with the Vietnamese betraying national traitors by nature to train and subsidize them with moneys and provided them good means to work in an organization…which was named "The Communist Party of Indochina" which was staffed with all Vietnamese and no Cambodians or Laotians and always remind them their duties and territory for actions are in Indochina. The so-called "Communist Party of Indochina" was quickly and sensitively to choose Vietnamese Buddhism as a safe sanctuary to house and develop their organization. They used pagodas to hide from French detectives to launch operations. This fact is also confirmed by the Communist party's formal documentation. This disclosure has been confirmed in many memoirs of top Vietnamese communists. For example, General Van Tien Dung quisling mentioned that before 1940, after escaping from prison, he shaved his head and enlisted in pagodas as a monk trainee to secretly work for the Communist party, launch propaganda and build up his secret organizations. He asserted that using pagodas to hide and hold meetings are very much safe. All historians should know before 1945, the Vietnamese communists made connection and admitted into their party medical doctor Le Dinh Tham. In the beginning of 1945, doctor Le Dinh Tham and their children went to Hanoi. His oldest son and oldest daughter were reporters at Bach Mai Radio Station in Hanoi since 1946. The communist leaders assigned responsibilities to doctor Le to research and lead Buddhists in the position of President of the Committee of Peace Protection under Ho Chi Minh administration. This committee was a subsidiary of the Organization to Protect Peace funded and led by Soviet Union to infiltrate into the "Non Allied Movements" to steer them into Leninist ideology.
Thich Don Hau and Ton That Duong Tiem flew to Mongolia from Hanoi.
The so-called "The Buddhist Crisis in 1963" eventually unmasked "monk"Thich Don Hau during VC's Tet Offensive of 1968. He was one of the leaders of the organization of Vietnamese communists who directly invaded the Republic of Vietnam via the "monk" groups. When the Tet Offensive 1968 was defeated he and his lover, the flirty Tuan Chi (Dao Thi Xuan) immediately fled to Hanoi to be rewarded by the top national criminal/ traitor Ho Chi Minh with his compliments because Don Hau was proven he used to be a loyal, dedicated assistant to Ho Chi Minh. He also visited Quan Su pagoda to offer his presentation concerning political situation of South Vietnam to the Communist cadres whose heads were completely shaven and also trained to become "monks" with Buddhist rituals to add "monks" into An Quang group in South Vietnam. They wore Buddhist monks' yellow robes to fight against the Republic of Vietnam's agents. This is one of the major aggressive forces to import and blossom Leninism into Vietnam. Don Hau also traveled around the world to enforce and strengthen the Communist strategic plans to attack the Republic of Vietnam in other countries.
The other "monks" such as Thich Tri Quang, Thich Quang Do, Thich Don Hau, Thich Nhat Hanh… who have been members of the so-called "The Unified Buddhist Church of Vietnam" and "The (State-Run) Buddhist Church of Vietnam" have been playing major and aggressive roles as "right hand, left hand" of a body of the Communist Party of Vietnam quisling to provide effective and bloody means to infiltrate and brain-wash different types of Vietnamese people inside and outside Vietnam. Is there any Buddhist (fake) "monk" who is not member of the Communist Party of Vietnam? Is there any "monk" who has not participated in political activities? Is there any monk who is not under direction and supervision of the central communist committee? Is there any monk who is poor and starving? Or most of them live lavish lifestyles similarly to the rich Communists' lifestyles? Many news sources disclosed that they have been always in power and money struggle. They have accused each other committing with illegal activities and revealed their real far-leftist identities.
Leading a life of a big liar like Thich Quang Do, aka the Fifth Venerable of the Unified Buddhist Church of Vietnam, is a bad example with his own countless recognized/ out-of-wedlock children, womanizing activities exactly like Don Hau, Tri Quang, Khong Tanh, Chanh Lac, Vien Thanh, Vien Ly, Giac Dang…and a big group of "monks" who have kept their mouths shut to allow the most notorious criminal in history Ho Chi Minh to be seated side by side with the Buddha in pagodas in Vietnam. Is this the authentic, trustful "Revolution of People Liberation, Religious Freedom and Refinement of Buddhism"? Or those are "freedom of sexual activities in pagodas" or using pagodas to tactfully train the Buddhist faithful to transform them into Communist cadres?
2/ Competent, impartial and authenticate researchers who can access plenty of information from many different sources for comparison should agree that those malicious Vietnamese "monks", leadership of the so-called "The Unified Buddhist Church of Vietnam" have never fought for religious liberty in Vietnam and freedom for Vietnamese People as well as any of its activities in recent movements to regain and rebuild Vietnam. On the contrary, these men (authoritatively religious masking under their Buddhist yellow robes) have been implementing "Bolshevik" plans on Vietnamese Buddhist faithful as well as gradually transforming Vietnamese Buddhist followers into the types of citizens who easily accept, adapt and mingle into the Chinese culture.
II- Ho Chi Minh: "Ngo Dinh Diem is a patriot"
This is a sub title in Van Cam Hai's article "Ngo Dinh Diem and the War of Constructing the Nation (Vietnam)".
1/ Van Cam Hai wrote:" Miller's Misalliance was successful when lighting up a new vision about President Diem and the program to construct the nation which reflects the traits of nationalism and independence in his political viewpoint".
Future published works in political issues should not overlook Miller's arguments that the conflict was rooted from the imbalanced conviction that built up fragile, volatile relations between Americans and President Diem including the fate of South Vietnam. After 50 years, image of the historic figure Ngo Dinh Diem has eventually been lightened under American historians' judgments" (sic).
Comments:
Miller's view point is not new. It is similar to knowledge of a baby who is not able to understand the mechanism of an airplane. Only until 5, 6 years old that baby sees the plan which flies across the sky above his/her home. And that little kid brags that he has a new view about the plane. Therefore, his knowledge about the plane and the sky is only at basic level. And his knowledge about those things must be deferred until this kid enters college of aeronautics or medicine than he will probably be able to understand a little bit better about aerospace science or in a worst scenario he understands nothing about this field at all.
Only until now Van Cam Hai is able to recognize the strategy that the Ho Chi Minh's malicious Vietnamese Communist group who has set up and supported many strong group of strategic and tactical spies in many different South Vietnamese's government agencies. More than that, they have also been employing bad Vietnamese who live outside Vietnam but visit Vietnam so often to publicly "pretend attacking" South Vietnam in Saigon. Ex: Pham Huy Thong organized a sit-in protest in Saigon to demand "general election to comply with the Geneve Accord of 1954 on Vietnam".
And until now 2014, over a half century has been through and literally nobody has ever explained why President Diem did not accept "the General Election after Geneve Accord 1954". Because, besides the fact that North Vietnam has "sown up" in South Vietnam powerful groups of spies which included political cadres, military personnel, rifles, ammunition, security, intelligence agents, Communist relatives voluntarily migrated to the North ("tap ket')... In reality, these groups were also supported by French colonists who were consisted of many political servants, puppets, social organizations, political parties…Among those, the "monks" have played significantly important roles in politically protest activities using "struggle for liberty of Buddhism" as their best shield. One other important event: Before the scheduled "General Election" North Vietnam made up several political TV shows which recorded and presented South Vietnam's intelligence operations in North Vietnam and condemned that these operations to intervene into Hanoi's internal affairs were sponsored by "South Vietnam illegitimate government" and "American authorities"…
The North Vietnam's government horrendously suppressed Catholic faithful in Ba Lang village in North Vietnam. At Kim Son, Phat Diem Province, they dispatched an army division to set up Sao Vang agriculture farm at Kim Son village, Ninh Binh province to easily suppress those Catholic faithful. They forced repartriation of Bishop Dennis Parkett (Vietnamese name Priest Quy) at Nam Dong church…They imprisoned all citizens who were classified as "inappropriate citizens to the regime". Those prisons were under supervision of Major General Le Huu Qua, uncle of faking democracy activist Le Phu Khai, chief of secured culture group, direct boss of the disgusting state-run musician To Hai who was known as a destroyer to his own father's tomb in Saigon.
Therefore, the Northern communists did rip off voting right of millions of citizens and their relatives before the free general election throughout Vietnam. They let go many suspecting citizens in North Vietnam. In South Vietnam, their spies and relatives of the Southern citizens who migrated to the North will vote for the communists.
They also believed voters in the South who were French influenced, the "opportunistic" intellectuals and materialistic political parties would be easy to be bribed or bought out, and we havet yet mentioned about the "monks" who pushed hard for their political tricks under their undercover Buddhist monks' yellow robes.
To enforce, the North Communists also organized conference of the so-called Fatherland Front which consists of representatives of South Vietnam who are mistakenly recognized as representative of a local area Republic of Vietnam. Ex: Nguyen Thi Thap in Ben Tre, Nguyen Khoa Dieu Hong of Quang Ngai, Nguyen Thi Dung (Huynh Tan Man's mother-in-law), Nguyen Thi Luu, Ca Van Thinh (Musician Truc Ho's relative), Ton Duc Thang, To Ky, Dr. Le Dinh Tham, Dr. Nguyen Van Thu, Dr. Pham ngoc Thach, Poet Te Hanh, Poet Bao Dinh Giang. They also invited some Vietnamese in France and Germany as representatives of overseas Vietnamese such as Madame Hoang Thi The (Hero Hoang Hoa Tham's youngest daughter), Movie producer Phan Ky Nam, Teacher Nguyen Hoan and Nguyen Thi Tri Tuc. These had been good preparations for the Communists in South Vietnam if the General Election would have been held.
These were violations of Ho Chi Minh's government. However, the International Commissioners of Ceasefire Control in Vietnam, the signatories and witnessing governments on the Geneve Accord of 1954 have never informed and/ or denounced these violations.
It is certain they were not literally blind but they pretended they have never been aware of these violations. Not to mention the sponsor countries, Soviet Union and China, assigned responsibility to Vietnamese Communists to use free blood and bones of Vietnamese people to expand Stalinism, Leninism and Maoism ideologies across Indochina. Upon the negligence of the free world the Vietnamese Communists, Ho Chi Minh group, were confident to create their (Political) Resolution 15th (January 1959).
To implement their Resolution 15th which used military forces to invade South Vietnam, notorious Ho Chi Minh had to use the communists who had much knowledge about South Vietnam's political structures, organizations and strategies, especially about undercover organizations and the human resource.
Therefore, before the Third General Conference of Vietnamese Communist Party, Le Duan was appointed the First Secretary General assisted by Pham Hung, official member of the PoliBureau, in charge of secret police and intelligence, above Vo Nguyen Giap. In government hierarchy, Pham Hung was appointed Deputy Prime Minister, in charge of finance, banks, commerce, logistics to lead the money laundering and opium businesses to attack South Vietnam. Ho also transferred General Nguyen Chi Thanh to South Vietnam to change the regional Southern Communist Division into the People Revolution Party of Vietnam. In trusting Nguyen Chi Thanh, an extremely loyal Maoist, China provided generous assistance in many areas to North Vietnam. They helped North Vietnam with Chinese counselors of different types, troops, rifles, ammunitions, medication, clothing needle and even portable toilets for infants.
Literally, the main goal of North Vietnam at that time was only to transform all Northern citizens into Soviet Union and China's slaving troops. Some alerting people in the North at that time mocked out loud: "Soviet and China supports Vietnam to fight America and the "puppets" in South Vietnam until the last Vietnamese!". And added:" The last Mohican".
Therefore, popular streetwise poetry at that time was recited:
"Stubborn Ho has a thick-skinned face
Kremlin proposed exchanging it for three cows and nine buffaloes
Stubborn Ho declined "no buffaloes"
Pekin proposed exchanging it for a string of delicious fish
Stubborn Ho again refused "no fish"
Kremlin rephrased "A set of oak wood?"
Ugly Ho flatly rejected "No oak"
Pekin changed deal "How's about a couple of rare birds?"
Satanic Ho pissed off: "No birds"
Kremlin finally cut deal "VIETNAMESE FRESH HUMAN BLOOD???" Ho applauded instantly.
Pekin added "AND SOME MORE VIETNAMESE FLESH"
A pissing face, HO CHI MINH has been the most Vietnamese notorious national traitor and criminal at all time!
2/ In brief, those historical facts in which only until 2014, Van Cam Hai and author Miller just happened to understand but the Communist Party of Vietnam (CPV) have comprehended and masterminded those during over half of a century. Their critical slogan: "The Intellects, the Rich,The Landords and the Powers" must be rooted out to clean up the basic bottlenecks to the expansion of the colonist Leninism across Indochina and probably also covering South East Asia. The Communists understood their strategic plans were very effectively blocked up by President Ngo Dinh Diem with his strategy of liberating Vietnamese People from the outdated imperialism and colonialism thinking habits in order to educate and raise up his People's knowledge, provide them with basic properties, increase social assistance to them, rebuild and preserve Vietnam's traditional values while assessing and learning modern foreign cultures to help the People get rid of the inferior complexities due to having been suppressed and exploited for so many years by China and France. Meanwhile, the Communists tried with all means, good or bad, to do in contrast with President Diem's strategies and plans by wiping out all of President Ngo's excellent strategic plans to reconstruct his beloved war-torn fatherland Vietnam.
President Diem's keen sense of responsibility to his own People, national political independence, full preservation and protection of all materialistic and intellectual properties inherited by ancestors are unacceptable to Viet Cong, the loyal tool of Soviet Union and China. Even the international powerful special interest groups only considered Vietnam as an item on their international chess board then how could they agree with President Diem, the one who wholeheartedly respected his Country and dearly loved his People? Such clean and religiously political leader like President Ngo Dinh Diem was a big blockage to the foreign political special interest groups. Only corrupted Vietnamese (Viet gian), communists or nationalists would be willing to satisfy foreign special interest super powers' needs in rude mannerism and in sophisticated scams. Please do not mix up between People of a nation to the government of that nation.
Therefore, it was not as Miller asserted:" the political conflict happened due to the incompatible understandings and it shaped up the volatile relations between America and President Diem and eventually tied along the whole fate of South Vietnam (sic) but this was the untactful enforcement by the political group who owns plenty of power and money (Americans) who mistakenly assumed any Vietnamese will be ready to work as a slave for disgusting, uneducated people (corrupted Viet Cong groups), the Vietnamese betraying generals, colonels, majors, "politicians" who have been baited by "sweet-rice-meat/ fine food" and animalistic attractions and greed to lead their lives similarly to extremely corrupted Secretary General DO MUOI Quisling who used to roam around the roads every day with his breeding hogs to breed fat and ugly pigs in their mating seasons in order to earn his living when he was still a poor peasant. These are bare historical truths that the "chance-taking" intellectuals moneywise historians, Vietnamese or Americans have never dared to unearth.
Back in 1963 in Saigon only because a small amount of reward money (Some $US 43,000 in 1963) but the betraying army generals willingly degraded themselves from human being down into sickening, (power/ money) hungry animals, as proudly admitted by deceased General Nguyen Cao Ky in his Memoir "Buddha's child" that his group of Generals were called in by U.S. ambassador Ellsworth Bunker to be reprimanded but the Vietnamese betraying generals did not have own abilities and guts to defend themselves. General Ky even also offered his "straight" complimentary that they were treated well by Ambassador Bunker (and Cabot Lodge) with fine wine and great beef steak! Ky and his group were surely not aware how Cambodian King Norodom Sihanouk reacted when American ambassador Sullivan wore short outfit while walking his dog to meet him?
3/ Referring to the rotten top Communist Ho Chi Minh who called President Ngo Dinh Diem "the patriot" (sic), Van Cam Hai wrote: "Is it correct that if one does not follow Communism then he is not a patriotic"? Answer: Then why Ho Chi Minh formally declared in Hanoi that President Ngo Dinh Diem is a patriot. The Vietnamese Communists have never been accepted that their leader Ho Chi Minh has a different view about his main political opponent.
In a meeting with Indian diplomat Amcohundur Godburdhun, President of the International Commissioners of Indochina Ceasefire Control in Hanoi in 1962, Ho publicly recognized President Diem as "a patriot" and he asked Godburdhun :"Please shake hand with him (President Diem's) for me if you meet him".
Only compatible political opponents are willing to offer such impartial and objective assessments about each other. Ho's viewpoint about President Diem was picked up by historian Edward Miller's attention because it initiated an additional outlook but not unfamiliar value about President Diem who has been obviously a notably popular politician. Definitely, Diem should not be overlooked when one studies history of Vietnam in the 20th century.
In the first sentence of Van Cam Hai's excerpt it shows his way of thinking is much influenced by the leftist/ "state-operated" cultural cadres such as Bui Tin, Vu Thu Hien, Nguyen Minh Can…Being a question, but it contains his assertiveness that Vietnamese communists are automatically patriots.
Countless published materials have proven that the notorious communist Ho Chi Minh was never a patriot to his fatherland Vietnam. Those materials were also written in documents of the Communist Party of Vietnam Quisling (CPV) as well as in the archives of history of France and Russia after Soviet Union collapsed and secret documentaries were unclassified. The activities of the rotten, outdated group of Vietnamese communists since its birth (1930s) until now have ever accomplished any small thing to help, benefit Vietnamese citizens and prosper Vietnam. Was slogan So Viet Nghe Tinh 1930-1931 patriotic? Were the arrests of the youths who exited Vietnam to find ways to root out French colonialism in Vietnam patriotic? Were the whistleblowers for French to arrest and execute hero Nguyen Thai Hoc patriotic? It has been affirmed that Communist Party of Vietnam is only a satellite of the Third International Communist Bloc (Russian Department of Colony). And the Vietnamese communists only obey the Third Communist's orders as well as to the promise of transforming all citizens of Vietnam into Bolshevik members. CPV's summarized directions/ strategies clearly state the Vietnamese communists must strictly and blindly follow Russia and China's strategic policies, plans and enforce all Vietnamese citizens to work like slaves to serve Russia and Red China.
Are the sales of land, sea, islands and natural resources of Vietnam to Russia and China without Vietnamese citizens' agreement not enough to identify true faces and identities of corrupted Viet Cong?
Van Cam Hai's question:" Is it correct that if one who does not follow Communism not a patriot?" (sic) is more naïve than beloved novelist character Phuoc, son of Madame Pho Doan, a middle-aged flirting woman character in author/ "prophet" Vu Trong Phung's novel "Red Fate" (So Do). If Van Cam Hai still possesses some level of self-respect and honesty he should rephrase his question as "The core of Communism is killing concept of Nationalism". As a result, was the top Vietnamese communist Ho Viet Gian (aka malicious, satanic Ho Chi Minh) truly shameful to make countless dishonest speeches about patriotism to gain People's trust? According to the late U.S. President Richard Nixon's memoir " Ho Chi Minh aimed to push the French out of Vietnam because the French did not help him to get to a top-notched powerful political position in Vietnam".
Most communists are malicious. They have no families, no fatherland, no religions so they are not hasty in judgment or pretend to be knowledgeable as Van Cam Hai. Therefore, one should not quickly misjudge that Communist leaders have different political views than those of their counterparts in South Vietnam.
The Vietnamese communist party's commencement documentaries clearly state they have to fight against individuals, organizations and political parties that work for their goals of Nationalism. It means in order to "bolshevik" all Vietnam's People then the concept of Nationalism must be concretely abolished such as destroying "the Intellectuals, the Rich, the Landords and the Powerful", wiping out Vietnamese traditional values such as Ho Chi Minh "You and I, I and you…" while creating own "poetry" depicting his "ego"which told his stories with ancestor General Tran Hung Dao and laureate poet Nguyen Du. When welcoming President of Congress of USSR Voroshilov from Ba Dinh ceremony platform Ho smiled broadly and instructed the kids in the audience in North Vietnam "Let's applaud grand auntie Voroshilov". Remember Voroshilov was only 2 years older than Ho. He self-proclaimed as "Uncle" to the kids but ask the kids to call Voroshilov "big auntie". It means he implied Voroshilov was his grand-mother. And the butcher Vo Nguyen Giap under the French colonialism in Vietnam he accepted Chief Police Marty as his adopted father. Then also during Soviet Union era, Giap declared he is Krutchev's adopted son.
So when Ho Quisling said President Diem was a patriot then he wanted to confirm with all Vietnamese communists that President Diem was an authentic nationalist who loved his country and protected his People. Then President Diem would be a big interference and strategic blockage to his Bolshevik revolution. Therefore. President Ngo Dinh Diem had to be killed at any price.
Then Ho Quisling confirmed:"Even we have to dry up the South China sea and burn out the Truong Son mountains then we still have to do it to liberate South Vietnam".
A President who was deeply admired and respected as a patriot then obviously that president would lead his country to strongly construct it and fully protect the intact national territory as well as ensure freedom, happiness, prosperity…to the People and also enrich the nation's traditional and cultural values while still matching with modern civilizations. Then why did Ho have to "liberate South Vietnam" with his such egoistic determination?
During the Vietnam War, Truong Son mountains were burned down and destroyed by bombs and war chemicals was, in fact, the implementation of Ho's idea. He also ordered Ung Van Khiem and Pham Van Dong to sign documents to give land, islands and sea which were not under North Vietnam's legitimate governance to China (Hoang Sa, Truong Sa, other islands, 60% plus Vietnam's sea territories (U-shape) in the South China Sea and strips of land next to China-Vietnam's borders).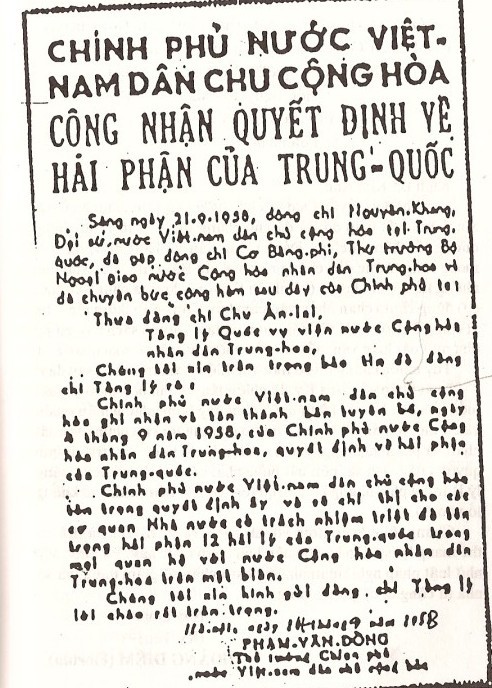 If combining the incident that Ho sent some strips of beautiful flowers to gift President Diem and also his greeting "hello" being passed to President Diem via the Indian diplomat to shake hand with Diem and recognized Diem as a patriot then Van Cam Hai and Miller have to question:" Why did Ho enacted the Resolution 15th (Jan. 1959) to militarily invade South Vietnam which was being governed by a "patriotic" President? Why did they call the government of the Republic of Vietnam which was legally elected in a general popular election of the "patriotic" Ngo Dinh Diem as "the puppet government"? Why did their attack against President via the state-run strongly partial, bias media calling on toppling down Diem's regime and also under Ho's order this dirty fight also manipulated young kiddy kindergarten kids by teaching them to howl out loud in class and at home: "Down with Ngo Dinh Diem" (sic).
Ho Quisling wanted to use the Indian diplomat as his free volunteer propaganda inside and outside Vietnam that he respected the patriotism spirit of President Diem and as a result the peace talk between North and South Vietnam might feasibly happen (a Soviet Union's trap). And that during few first dates of the new Lunar Year Ho sent his thoughtful gift of beautiful flowers to President Diem with his greeting to the "patriot" with his implication that Diem, a "patriot" would not be bent over the foreigners' political setups or arrangements, and that when he also asked the diplomat to shake hand with Diem for him he implied that the North and South Vietnam were able to hold talk in friendship. Another fact: Van Cam Hai purposefully turned upside down the issue when he wrote (full sentence):"Diem, until his last minutes still believed he was able to resolve this conflict in his superior position as he and his brother usually thought when the brothers initiated secret talks with the Northern communists" (sic).
The first two incidents have been well aware by many people, But the idea to "initiate secret talk with North Vietnam" has not been aware by the majority of people so Van Cam Hai is so dishonest when he implies President Diem opened secret talk with his enemy after he was praised by Ho chi Minh.
It requires just a little honest judgment of a writer then Van Cam Hai must see that that "secret talk" was suggested by Ho Chi Minh.
Chinh Khi Viet likes to prove it as follows:
Ho Quisling's representative was Pham Hung, Deputy Prime Minister of Hanoi. It means he was the fifth-ranking official under Ho Chi Minh (President), Ton Duc Thang (Vice President), Truong Chinh (Congress President) and Pham Van Dong (Prime Minister). Hung was also the fifth-ranking official in South Vietnamese Communists.
Mr Ngo Dinh Nhu represented for the Republic Vietnam who held no formal position in President Diem's government. It indicated Mr. Nhu was not the official representative for South Vietnam while Pham Hung was the formal representative of the North.
The three arguments above strongly prove that North Vietnam did initiate the "secret talks" concerning an important issue because the position of Pham Hung clarified that fact.
Remember that during the war between two nations the listening to the enemy's suggestions is a common international practice, at any point in history, and this practice has been often happening. For example: Representatives of the US met with representatives of North Korea or US representatives met with Iran's representatives to discuss on Nuclear Arms issues.
Therefore, the secret meeting at Tanh Linh district, South Vietnam was informal meeting of the Republic of Vietnam but was an official meeting to Ho Chi Minh group.
Comments:
The proven points above have confirmed that the communists has never abandoned their invasion plan of South Vietnam, Laos and Cambodia, regardless the Northern regime was under Ho Chi Minh, Le Duan or under any other communist leaders. Because the Vietnamese Communists' full scale military and intelligence, etc…invasion plans to South Vietnam and Indochina (Laos and Cambodia) were their strategic and only mission. That was the reason why Soviet Union gave birth to the Communist Party of Vietnam and named it "The Communist Party of Indochina" which was staffed with Vietnamese troops but little or none of Laotian or Cambodian people. When China was not rich and powerful enough to continue its "Chinese Imperial Expansionism" and was under Russian's assistance then it was assigned to help North Vietnam to expand the (Red) Colonialist Leninism to spread throughout Indochina and probably in the long run across the countries in South East Asia.
Any self-respected writer who possesses an honest heart and a clear mind will not take long time to learn and understand political situations in Vietnam. Only after the unity and strong bond of the three groups: (1) The red communist mercenaries/ troops in the South masking under the name of "The National Front for the Liberation of South Vietnam (NLF), (2) The groups of pretended "monks" hiding in pagodas under their yellow robes, (3) The betraying military Generals who were directly bribed up by American Lieutenant Colonel Lucien E. Conein with a very SMALL, SHAMEFUL reward (Approx. $US 43,000 in 1963) and "power" to share between a couple of dozen of rotten, betraying army generals and colonels, majors…. American Colonel Lieutenant Conein's petty bribe appeared to be a big boss who arrogantly tossed out some fatty bones to some "dogs that are not quite hungry but greedy enough" to coordinate their so-called "The Revolution Nov. 1st, 1963" with its major goal was to destroy the Vietnamese ancestors who have always followed the Vietnamese traditions of loving their Fatherland and protect their People. They were the 3 brothers NGO (NGO DINH DIEM, NGO DINH NHU and NGO DINH CAN) and their loyal, competent assistants who were dutifully loyal to the Vietnamese People and their Fatherland (Ex: Colonel Lieutenant Vuong Quang Dong in charge of intelligence missions in North Vietnam and countless other competent professionals in all cabinet's departments who were highly competent and strongly responsible to serve in President Ngo Dinh Diem's administration).
Those political tricks of gifting Diem strips of fine flowers, recognizing "the patriot" (sic), asking for a hand shaking, an arrangement for Northern delegation from Hanoi to Tanh Linh district to meet with South Vietnam's political adviser Ngo Dinh Nhu…only helped the betraying Generals, the communists, the political opportunists ("intellectuals"), AN QUANG skin-head-militant "monks" group, state-run "writers, historians" to cover up with misleading and damaging masses of information such as: the "Revolution 1963" was aimed to separate political advisor Ngo Dinh Nhu from President Diem, to mislead the public that "The deaths of the two, or three NGO brothers were unintentional, Diem's "family run", dictatorship, Diem administration suppressed Buddhists and especially it served its goals that were contrary to the interests of the People of South Vietnam when they opened secret talks with North Vietnam, etc".
How do those heartless traitors explain the fact that in a free country like the USA, the family of 3 brothers which has the oldest brother who was the US President (John F. Kennedy), next brother was Secretary of Department of Justice (Robert Kennedy) and the youngest brother was the US Senator (Edward Kennedy). Was that political involvement family dictatorship? That setup was not only in the decade of 1960s but also was under Bush administration in recent years.
Whatever was said or written, an honest and impartial citizen did witness: Lucien Conein was CIA agent who threw a bag of small amount of "funny, shameful, petty" cash to the power-and-money-hungry military generals while Conein was sitting quite relaxed on General Duong Van Minh's chair with his two legs putting on top of Minh's desk to give orders to the Vietnamese generals to carry out.
The An Quang militant "monks" group was transformed quickly to the so-called "The Unified Buddhist Church of Vietnam" who has tirelessly provoked and called on fanatic Buddhist followers to act under their "holy, religiously directions". Thich Tri Quang, a double secret agent who worked for both North Vietnam and CIA. Thich Tri Quang has an awful looking exactly like a killing gangster with his super thick eyelashes, super thick lips…who was trained and became an active member of the Communist Party of Vietnam when he was still a young, rural, uneducated, bad-tempered youth. Besides Thich Tri Quang, one cannot overlook another professional big-mouthed liars, pretending monks and monk's assistants such as "intellectual"Thich Nhat Hanh and "PROFESSOR" VO VAN AI and his Madame "big mouth" Faulkner… in Paris who have been in charge of making up and broadcasting too-good-to-be-true pieces of information, "declarations, statements…of the Unified Buddhist Church of Vietnam" at any time to the international media. One should also not forget the other "monks" inside Vietnam such as Thich Quang Do whose "pagoda" (Thanh Minh Monastery) has been recently merged to the state-controlled Buddhist Church of Viet Cong, also the deceased VC Thich Don Hau, deceased Thich Huyen Quang...These leftist so-called "monks" 's biographies and activities have been clearly unclassified and published by CIA and international intelligence agencies…
President Ngô Đình Diệm's Historic Speech to the United States' Congress on May, 9th, 1957 (Special Joint Meeting of the U.S. Senate and House of Representatives) -
Ho Chi Minh's political assessment about President Diem was very positive and enthusiastic. However, in realities, Ho conducted his massive, organized political plans and military invasions in the forms in guerrilla war and in occasion it became uprising (Tet Offensive 1968…) or large scale attacks (Quang Tri, Ban Me Thuot, Phuoc Long..) . Until today 2014, Ho, the CPV and its troops have still been so scared off NGO DINH DIEM's SPIRIT therefore they have continued to hired groups of state-run and money-run writers to misinterprete President Diem's greatest strategic accomplishments at that time. They have desperately tried to blacken out Diem's major achievements during his short governance of only 9 years which produced outstanding results which were factually resulted from his dearly profound love of his Mother/ Fatherland and his Vietnamese People that he wholeheartedly and selflessly offered to the majority of the People of Vietnam, both in the North and in the South.
It is obvious to see the righteousness always belongs to the First Republic of Vietnam and President Ngo Dinh Diem, his highly competent and clean associates and assistants who were fully committed to the national motto: FATHERLAND – PRIDE – RESPONSIBILITES.
The Late President NGO DINH DIEM has always been the historically courageous and responsible pioneer and also the fully competent and ethical top leader of Vietnam who has lived forever deeply in bottom of the hearts of People of Vietnam after under many decades of colonialism of French, Japan, Stalinism, Leninism and Communism… The Vietnamese People, especially young Vietnamese, may wish to consider the Late President NGO DINH DIEM as a great leader at all time to follow his paths to fight against China and loyal slave Vietnamese Communist Quisling (CPV) and its unchanged Communist members to construct, reconstruct and protect Vietnam after the CPV and the (Disguising) Communism is fully destroyed in Vietnam.
Consequences of the collapse of the First Republic of Vietnam
Leader of the Coup, General Duong Van (Big) Minh, after his "so-called revolution 1963" released all dangerous communist prisoners so they could continue to fight again in a favorable environment because all Diem administration's "strategic hamlets" to "fish out", organize, educate, support and protect…residents in rural areas across South Vietnam by Diem's government's resources were 100% decommissioned by general Big Minh. The An Quang militant "monks" group was free to call on students and arrogant "intellectuals" in many organizations such as Buddhist Combat Family, Buddhist Combat Youth, Dong Ba Combat Female Merchants, Combat Students…to carry out plans which were in favorable to North Vietnamese authorities that "even having had to "burn down completely Truong Son Mountains" to be compliant with the Resolution 15th (Jan. 1959) then Ho, his associates and troops would have "proudly" completed their mission to achieve their "strategic" goal to root out "The Intellectuals, The Rich, The Landlords and The Power". HO VIET GIAN and his CPV's foolishness, senselessness and stupidity was right here !!! It means these four basic classes of citizens as the main spinal cord for a human body and also the main backbone of a well-balanced, developing society (a healthy economy ) who were recognized and positively helped by President Ngo Dinh Diem to match with the world's daily economic, political, social, education…modernization and improvement combing with Vietnam's traditional values were finally killed by Ho Viet Gian (Ho Chi Minh) and his communist party (CPV).
Thoughtful citizens of the Free Vietnam under Diem's regime were encouraged to wear Vietnamese traditional outfits when President Diem set a good example himself to wear it to welcome international heads of state or international diplomats. That was his great way to promote Vietnam's cultural pride. To equip with such pride combining with modern civilization in order to enrich unique cultural aspects of Vietnam. It was not losing civilization as "Yellow" American, "Yellow" French or Chinese who usually spits down everywhere in public places.
In North Vietnam, Ho and his cadres transformed their People into "robotic Pavlov" human beings who wore 4-pocket suits to match up with Stalin and Mao's styles.
That was the way to "Bolshevik" People in the North both in outside appearance and deep down in their souls meanwhile the People in countryside during French colonialism was still able keep their birth names such as: Soan, Dao, Man, Loan, Le for females and Luan, Thuong, Dao, Ly for males. Then under Ho those names were "Bolshevik" as Vic To, Ni Na, Sec Gay, La Ra…in less than 10 years. One should remember that since 1954 after taking over Hanoi those communist traitors Ho Chi Minh, Pham Van Dong, Ton Duc Thang, Truong Chinh, Vo Nguyen Giap wore 4-pocket suits and almost all Northern "big intellectuals" also wore 4-pocket suites and were "very proud" to stand in group with those above leaders. These "intellectuals" were: Tran Duy Hung, Prof. Nguyen Van Huyen, Prof. Dr. Ton That Tung, Prof. Ho Dac Di, Lawyer Nguyen Manh Tuong, Novelist Nguyen Dinh Thi, Poets Cu Huy Can, Xuan Dieu, Prof. Hoang Minh Giam, Minister of Culture Dept.
After Ho Quisling came to power, he used undercover pen name (Tran Dan Tien) to write broken story-telling novels to praise himself, self-gratify, proclaim, wear formal dress and stand in front of a big mirror to bow down paying respect to himself. Some popular men such as Tran Khue self-identified himself as "Professor" in Chinese and Primary Chinese languages, Hoang Minh Chinh claimed himself as top cadres (in fact: middle-top), Vu Dinh Huynh (Vu Thu Hien's father) claimed he was a legal assistant to Ho. Mac Lam recently quoted Vu Thu Hien who bragged that his Dad quit his job in Dept. of Foreign Affairs to move out to work as inspector at Nguyen Luong Bang's department (?). Nguyen Minh Can claimed himself as Deputy Secretary General of Hanoi and also member of the Council of Changes (?).
The disease of political self-gratification has spread out fast and wide to the other nations outside Vietnam. What did "Professor" Nguyen Ngoc Bich appoint himself the President of the "Third Republic of Vietnam? His self-published biography is unclear and contains a lot of controversies and self-contradictories. What titles did Ton Nu Hoang Hoa and Ha Van Son crown themselves on their heads? Recently, Thien Y Nguyen Van Thang sent his articles to BBC.CO.UK from Houston, TX, were deeply self-gratified, self-bombarded that he was Attorney at Law at Saigon Appellate Court before 1975 (sic). In fact, until March 1975 he was only a legal trainee at Truong Dinh Dzu's law office.
"The Free Vietnam" under the reign of Duong Van Minh, Ton That Dinh, Tran Thien Khiem, Tran Van Don, in reality, was not able to enforce its political independence and sovereignty. Because immediately after Phan Huy Quat administration "poked out" its neck to present its cabinet members then Americans unilaterally and immediately sent troops over South Vietnam without consulting or getting OK from Quat's administration. Why did Van Cam Hai and Miller not set a question for themselves that if the First Republic of Vietnam under President Diem had been still in power than would Americans have been able to send troops and act alone militarily at their own will? Why did Americans ignore those betraying generals? Reasons: those low-educated, self-disrespected generals degraded themselves to take a small amount of bribe (Approx. $US 43,000 in 1963) given to them by American Colonel Lieutenant Lucien Conien. Therefore, to deal with those heartless, power-money-hungry mercenaries, Americans did not care to ask for their permission when they sent troops to Vietnam.
In fact, if these generals had "snarled" out a little bit about the American troops which were sent to Vietnam without Vietnam's prior OK than the Americans would have given them some extra bonuses and rewards and those "professional mercenaries" would have been more than happy to keep their mouths tightly shut again. It was because those generals fully lacked of self-respect and pride while they claimed they belonged to the heroic ARMED FORCES OF THE REPUBLIC OF VIETNAM in which it has trained and produced so many greatest generals and heroes in history such as Generals Nguyen Khoa Nam, Tran Van Tu, Ngo Quang Truong…
Current and urgent political situations of Vietnam are that our country is still under Communist Chinese and VC' iron hands then some observations are listed as follows:
1/ The Communist Party of Vietnam members have not abandoned their role as national traitors. They have been transforming our fatherland Vietnam and its People into China and Chinese people.
2/ Having assisted with the international and VC communists were (1) betraying military generals…whose face are humans but containing heartless body, (2) the AN QUANG cold-blood militia "monks", now under its new "glamorous" name "The Unified Buddhist Church of Vietnam". In fact, this "Church" has been under direct supervision of the state-controlled Buddhist Church of Vietnam/ Viet Cong (3) the "sweet-rice-fatty-meat-extra-fine-wine "politicians" to work along well to offer countless campaigns for faking democracy, faking political opposition, make-to-believe political parties, "eat-dance-and-gambling" associations, faking anti-communist organizations…which have been all well manufactured and supported by the Communist Party of Vietnam to export to other nations around the world as powerful mechanism to intervene, control or attack the overseas Vietnamese communities.
CONCLUSION:
Our evidences which were presented to readers from articles 61 to 65 are summarized presentations, but they provide readers various sources which are easy for everybody to reference. These materials include those written by Vietnamese communists and in the documentation of the Communist Party of Vietnam (CPV) as well as in VC state-run media. The links containing reference resources include many photos so readers can research important issues in the history of Vietnam in which there are some darkening areas for the communist state-controlled historians to BLACKEN and or SMEAR PINK historical incidents and political figures with strong assistance of the powerful sources of money and special interest groups, the betrayals, individuals, organizations, associations inside and outside Vietnam under direct and strict direction and supervision of the Communist Party of Vietnam and/ or with active assistance and support of groups of state-controlled professionals such as Vu Thu Hien, Bui Tin, Nguyen Minh Can, Doan Viet Hoat and the dishonest media such as SBTN, Nguoi Vem Daily News and TV, Viet Bao…
The former prisoners in "Re-Education" camps surrendered CPV quisling in overseas countries are working for CPV Quisling authorities.
Some former students in South Vietnam who did not make any contributions in the Vietnam War to fight back Leninist group and its subordinates now they get together in overseas countries to manipulate the public opinions via the media to paint all BLACK images over the Republic of Vietnam and paint PINK over the VC communists.
Example: The three brothers CHU: Chu Chi Nam, Hoang Thien Dao, Nguoi Viet. They studied in Europe in 1960s. They did not go back to Vietnam after graduation to fight communists but stayed back in France, Germany to form political gangs to fight against Free Vietnam government before April 1975. Eventually they formed a political discussion room "Research in Vietnam History" in Paltalk forums to work with Le Van Hong Phuoc (nick name The First Paltalk MC) to smear all BLACK to the Republic of Vietnam by arguments "Rep. Vietnam did not have independence, Liberation Front was French's out-of-wedlock kid…". These groups of students work hand in hand with AN QUANG Militia "Monks" Group while changing identities, names…exactly like the Communist Party of Indochina changed its name to the Labor Party of Indochina. Also, there are also former CPC quisling intelligence / troops who have been following the flows of Vietnamese refugees to settle in all nations around the globe to carry out plans that have been assigned to them before the collapse of South Vietnam in April 1975.
Some hints that help readers to identify those groups and CPV troops… These people usually:
1/ Do not name accurate crimes of the Vietnamese communists quisling. They use vague, big words such as "illegitimate authority, subordinate, dictators…
2/ Create new organizations, reinstate old inactive political parties to solicit money from CPV quisling authority via its Resolution 36th's fund.
3/ In same website or organization but their political positions are quite opposite.
4/ One only need to point out 1% of the incidents than people can identify their real identity as communist supporters. Example:
- Communist Nguyen Van Thu's face was destroyed and killed by Ho Chi Minh's shooter. Meanwhile, Nguyen Van Thu after 30/4/1975 was member of the Governing Military Committee of Saigon.
- Communist Dr. Pham Ngoc Thach was killed by Ho when he lived in France. Reality: Dr. Pham studied in France and went back to Saigon to practice medicine since 1936. Until 1940 when Japan entered Vietnam, Pham organized the Volunteer Youth as Lawyer Phan Anh also organized Phan Anh Youth Group. Until 1944, communist Duong Bach Mai who used to be Dr. Pham's friend in France connected to invite Dr Pham and then Pham contacted and worked with Japanese.
- Also, story that indicates Luu Quy Ky was killed by Le Duan before 1954. But Luu Ky Quy Ky used to be a standing Commissioner of South Vietnam who was jailed in Con Dao prison and was released in 1945 along with Le Duan. In 1954, Ky went to Hanoi to work in Daily News in the Central Education/ Training Dept., then he was Editor-in-Chief of Thong Nhat News and also President of Newspaper Association before Xich Dieu (aka tran Minh Tuoc) who was lover of Kieu Mong Thu, representative in the Congress of Free Vietnam in Saigon.
There are countless other false stories which aim at creating mixture of good and bad information for readers to read. Contents of these fabricated pieces of information are in best favorable to the Communist Parties of Vietnam and China.
They put interests of their political parties above interests of Vietnam. For example they affirmed "the Armed Forces of Republic of Vietnam is only glossy with its past glory and now this is time for political parties in actions… (sic).
39 years have passed by (since April 1975), only a limited numbers of writers who have publicly confirmed the Communist Party of Vietnam Quisling (CPV) has sold out its Fatherland (land, sea and natural resources) to "its big brother" China. It is quite different from Soviet Union's sale of Alaska to America. Evidences about the grand crimes and the betraying of the Communists Party of Vietnam (CPV) and its affiliates to their Fatherland Vietnam via their 50-year-old sale transactions of the land, sea and natural resources of Vietnam to China are mountainous.
Information provided above are valuable lessons to us to learn at high prices that foreign writers have been working closely with Vietnamese and/ or Viet Communists quisling writers to change white and/ or smear black into Vietnamese historic events so they can defend and cover up their grand crimes in the history of Vietnam while creating shady and dark areas in recent history of Vietnam which aim to discredit President NGO DINH DIEM and his administration's GREATEST HISTORIC ACHIEVEMENTS during his short 9-year tenure to FIGHT VIGOROUSLY AGAINST INVADING SOVIET UNION, CHINA and the Eastern Communist Bloc while still being able to use Vietnam's limited military and economic…resources during the war time to protect, enrich and engage Vietnam and its People in full gears towards the fast development and modernization of Vietnam in all strategic areas.
May 2nd, 2014
Reference: