TWO POSITIONS, TWO VIEWPOINTS
Author: Chính Khí Việt
Version in English Language by Việt Sĩ
British Ambassador to the Socialist Republic of Vietnam (CPV quisling) Giles Lever. Photo: UnkinVietnam
On October 10th, 2014, the website Vietnam Net, a state-run website of Viet quisling, introduced in its political column an article with the title: "British Ambassador: The Socialist Republic of Vietnam (aka Communist Party of Vietnam quisling regime) has gone far during 20 years".
Excerpt: "On his personal blog (in Vietnamese and English languages) which was created when Mr. Lever started his ambassadorship to Vietnam he shared his interesting experience in Vietnam. To him Vietnam is a familiar country when he used to come here 21 years ago in his diplomatic mission in Ho Chi Minh City" (sic).
"His reflection on past memorable experience in a new atmosphere about his new feelings at an old place has created a long story regarding Vietnam from this ambassador. A comparison is a must. The comparison between the old and the new things, the changes especially when Vietnam from a poor country has become a nation which is on the path of sparkling development" (sic).
"I see signs of such developments everywhere. 21 years ago, when I first came here Vietnam was a very poor country. The gross national product per capita (GDP/ person) was about $US 250/ year.
My own recollection about that time: In the mornings the water supply to my home was very inadvertent. I used to run water from the gutter under the roof and used water in a big cement-made rain water container. Now, Vietnam has increased the average GDP for the middle class people in cities and towns. This development has increased nationwide. The progress towards the Goals for the Centennial (MDGs) has reached marvelous achievements" (sic)
English Ambassador continued: "Including my recognition of many speedy changes in Hanoi and Ho Chi Minh City with so many new shops, restaurants, hotels and fancy multi-story buildings been erected".
"If you let me roam around in an extended suburban I will get lost. 20 years ago these places were rice fields and quiet villages. I was definitely shocked in seconds when I stood at the scenic-view area in the Bitexco building in Ho Chi Minh City."
"In old days, the best place to view the whole City of Saigon from high above was the tenth floor of (old) Caravels hotel. I have never been visualized I have been so lucky to view the whole city from above at the 49th story of a building which CNN has classified as one of 20 most unique highest building in Ho Chi Minh City" (1).
These sampling comments of English ambassador Lever has pointed out his political viewpoint cannot be shared by the oppressed Vietnamese. Also, his thoughts are quite different from those of the majority of suppressed Vietnamese.
That fact is obvious because the ambassador is representative of the United Kingdom of England in order to have trading business relationship with the communist Vietnamese quisling, not with the majority of oppressed Vietnamese. Therefore, places where he visited, scenarios he viewed, people he met are not the excitements of these suppressed Vietnamese. Because due to those entire fake, artificial and temporarily flashy prosperities have depressed the unfortunate Vietnamese and they cannot raise up their heads.
Example: The 10-story Caravelle hotel in Ho Chi Minh City is something real strange to the majority of Vietnamese people. Even people who were born near that luxury hotel do not know what that hotel is. Not to mention they do not know what is inside that hotel or be permitted to climb up to the top floor to view the city view underneath. Perhaps some people have some food to eat in the morning but they are hungry in the evening then how do they have "motivation" to view the most beautiful and the less beautiful scenarios. Or these people do not have permission to pass that hotel's front door security. Even to those workers inside that hotel then they have to work so hard with their sweat and tear to vacuum carpet, mob floor, prepare beds including clean hotel's customers' "sticky liquid substances" on the bed sheets then how can they have time to go up to the top floor to enjoy fantastic views below as you do. Only when these workers enter the prohibited hotel area than they will get fired and are kicked out to the streets to roam around on the streets looking for food along with other unfortunate starving people. Then these people are not aware of that Caravelle hotel which CNN classifies it as one of 20 most distinguished hotels on earth.
Therefore, what the ambassador found out that "Currently Vietnamese people have reached/ been increased to the average GDP per person and then on the national scale the progress towards the goal for the centennial has achieved the fantastic accomplishments" are not those of the majority of Vietnamese citizens in their slavery situation inside their own fatherland. Also, there are no convinced and proven evidences that the ambassador has been provided with the accurate GDP per person in Vietnam.
It is worthwhile to note that the author of this article has never exaggerated himself about the "slavery status" of majority of Vietnamese people right inside their fatherland Vietnam. He only needs to check out with all state-run media then he will understand why we realize the majority of Vietnamese people are poorest slaves inside their own country.
You, Mr. Ambassador, may never been aware that right inside Ho Chi Minh City, inside many cemeteries at Binh Hung Hoa village, there are many families who have been residing inside the cemetery for years among the deceased people's tombs. It means the living and the dead people are sharing activities. It means living and the deceased people are literally share same horrified situations. In other words, the dead may feel more comfortable than the living because they do not have to work, to eat and worry about the police arrest and beat them hard in police stations due to their illegal residency. Also, the dead will not have to witness the worst tragedies since Vietnam was constructed under the Stalinism, Leninism and now "the Free Market Economy with Socialist-Oriented" country.
Even living under the French colonialism, it means over a century ago, Vietnamese peasants were also humiliated and starving because they lost their country. But their living standards were not horrified as those at current time, the 2014.
Mr. Ambassador, can you believe in the currently bursting era of the "information age" when sciences and technologies can achieved super-fast jumping leaps by inventing intelligent robots who can work as human beings but in Vietnam little kids of 10 – 12 years old must hold and drive peasants' ploughs to follow the pulling buffalos to plough thin the raw dirt to prepare for rice seed planting. Little kids who go to schools have to hang themselves on the ropes so they can slide along themselves to cross the big rivers via the pulleys. Their lunches are only some little rice mixed with corn or other substituting food like potato …eating along with some roasted insects or raw salt. Just recently, a little girl in Third Grade (10-year-old) got drown on his way to school due to starving and fell down on river. His poor family did not have enough food to give him for his memorial service so his parents had to ask their poor neighbors for only a bowl of rice to organize the little ceremony for the little unfortunate drowning kid.
The son of Communist Prime Minister Nguyen Tan Dung, wearing all gold bracelets…on his hands and body. He is currently the Deputy Province Chief of Kien GIang Province.
On the way back from school, little girl PHAM THI NHUNG, the third grader at Duc Bong elementary school, Vu Quang district, Ha Tinh province, fell down the creek and got drown due to her extreme starving.
(Photo 1) (Photo 2) (Photo 3)
1/Elementary students have to slide themselves across rivers via pulleys to go to school. 2/ Slaved children have to work 8 hours/ day. 3/ Slaved kids have to catch frogs and fish… to earn living and help with their family survival.
Crooked Vietnamese communists determine: Enslaving kindergarten and elementary students. Middle school and high school students are certified under the Communist's ownership in their t-shirts of communist' "red and yellow star" flag.
As to national education, the above photos have demonstrated to you, Mr. Ambassador, those little young students have been "burned stamped" on their bodies with the ownership of the Communist Party of Vietnam which is exactly like the ranch owners in Europe who stamp their ownership signatures on their own cows, lambs and sheep. The kindergartens wear uniforms of red shirts engraved with a big yellow star in the middle to certify these slaving students belong and are being raised and fed to become servants of the Communist leadership in future. We kindly offer such explanations to you because as a diplomat you were born and raised in a country which respects and protects its people's dignity, human, civil and constitutional rights you will be not able to understand the true meaning and its complications as we just simplified these incidents in hundreds of thousands of mishaps and sufferings which have been currently happening to our Vietnamese politically unfortunate people, especially to our Vietnamese little kids.
"Touring Hanoi by tri-cyclo"
In your personal blogs, you also mentioned about some other unique enjoyments of yours. But our thoughts are: You came from an advanced civilized nation (United Kingdom of England) where your people are guaranteed and protected with human and civil rights and enjoyed with the fast advancements of sciences and latest technologies therefore you are enjoying the ride on a tri-cyclo with your wife around Hanoi instead of being transported by an expensive automobile. Riding on tri-cyclo being pushing by our real laborer, the owner of the tri-cyclo so you can look down on our poor people. The scenario is somewhat like your citizens in England who visit the animal zoos. Your tourism mentality of using laborious tri-cyclo cyclers to pull, push to serve the rich people like you then your sentiment of enjoyment during your tri-cylco trips should NOT be a positive interesting experience but it should be a sad incident to our Vietnam and Vietnamese who have a very long and proud history of protecting our country and fighting for our people independence against the biggest invading super powers.
Mr. Ambassador, in 2014, you have witnessed the sky high giant buildings as you had described and your hope those developments will be better in the next 20 years. The fact you are not able to project the ending outcome of Vietnam is very strange to us. Is it true you do not know hundreds of horrible incidents that the highways in Vietnam had been opened and celebrated in joy in the previous days then in following few days those highways were sunk deep in dead holes which caused deadly accidents to people. Bridges which had not been finished but were opened then were collapsed. The new suspending bridge which had been recently completed and opened then a newlywed couple crossed then that bridge and bridges was collapsed and killed many people in that wedding. The happy marriage date has been transformed into the mourning day for immediate families and their relatives. It was not counting for other invited guests. One simple thing you will think as a fairy tale but it is ironic that right now (2014), Vietnam under the leadership of Vietnamese communists, Vietnam cannot make (produce) a simple screw (Ref.: Communist state-run newspapers and monthly/ weekly magazines…have all admitted and confessed their biggest lies and backwardness among unrepairable corruption nationwide).
Photo of recent collapse of a newly built bridge (Thanh Duc's photo)
It is regrettable that you were not born earlier to witness the First Republic of Vietnam after the Genève 1954 Accord pertaining to Vietnam under the superbly excellent leadership of the assassinated President Ngo Dinh Diem and his cabinet. There were tons of hardship, challenges and destructions left behind by the French colonialists and the expansionist ideologists, Red China and USSR. However, President Ngo Dinh Diem and his team were extremely brilliant enough to enrich our Vietnamese traditional culture and the people's politically unified strength to run and strengthen Vietnam. Therefore, to deal with countless difficulties and destructions created by French colonists, USSR and expansionist China via their communist Vietnamese servants who were embedded deep inside South Vietnam after Genève Accord of 1954 about Vietnam. However, under President Diem's administration peasants were given free land and agricultural machineries and tools to produce. They knew how to operate machines such as the automatic plough named Vinapro, fishermen installed motors in the read of their fishing boat. They installed water pumps to irrigate produce as well as pumping out water from lakes to catch fish. Peasants also sprayed fertilizers to increase agricultural production. That was the reason why rice production of South Vietnam was ranked first or second in the world at that time. In all aspects of economy, education, community health care, national defense…the gross domestic production (GDP) per person of Vietnam exceeded those of Thailand, Singapore, Malaysia, and South Korea. And now what are those achievements in the Socialist Republic of Vietnam (SRVN/ VC), Mr. Ambassador, was your assessment about Vietnam after 21 years (since 1993 until now) about the New Change (Doi Moi) in Vietnam "is being on its magnificent development" a simplified exaggeration or is it just your diplomatic statement to please the CPV quisling leadership?
It should be clear to you, Mr. Ambassador, after April 30, 1975 to 1986, 87 the water supply of cities in Vietnam were not quite bad as in 1993 that you complained "the water supply to my residence was off and on. I usually have to set up water gutter to get water from the home roof and use water for daily activities in a big rain water container'" (Sic).
Mr. Ambassador, do you see until now 2014, water supply to the tall, high buildings is very difficult and limited. But (sewage) water pumped up to the ground is so plentiful in Hanoi, Ho Chi Minh City and other major cities, etc. During the rainfall seasons these cities look exactly like City of Venice in Australia. It means city people do not need automobiles and motor cycles to commute around but they can use boats as main transportation means to move around inside these big cities. And, after a rain, both the poor and rich people compete with each other to catch fish right on the streets inside the hearts of those big cities.
CONCLUSION
1/ Before ending our thoughts contribution to you, Mr. Ambassador, we would like to present to you one evidence by which you will agree with us that the Vietnamese People will be gradually "killed" if the international community has not determined soon enough that the principal criminals who have led Vietnamese People and Vietnam going towards a dead-end. They are surely the leadership group of the Communist Party of Vietnam quisling (CPV). Those artificial finest aspects in your compliments to SRVN (CPV's quisling) are only reserved for the foreigners and the CPV and the "rich group" ("Dai gia") who have close business relationship to CPV quisling leadership. Otherwise, the majority of Vietnamese people are followings (photos below):
In the state-run newspaper, Vietnam Express, in its news piece of October 8, 2014:"The height of Vietnamese is shortest in Asia. Average height of Vietnamese adolescence is 164cm, 8cm shorter than Japanese and 10cm less than Korean counterparts. During last 30 years, Vietnamese people are slowly getting taller, only 1cm more in 10 years. The average height of women is also very short, 154cm".
2/ The original Vietnamese were not short like Vietnamese people in recent years. On the contrary, they were very tall and strong. Anthropology studies confirm ancient Vietnamese are tall and big. It should not be forgotten that Vietnam had big man like Ly Ong Trong. It is our wish that when Mr. Ambassador visits Ho Tay lake please stop by visiting mausoleum of Mr. Ly Ong Trong to have better understanding of one of our outstanding hero. This was not a specific case but in our battle to fight Nguyen Mong invaders, Vietnamese generals used to crush off the big, tall Nguyen generals such as Toa Do, A Lo Xich…Even a biggest, tallest general O Ma Nhi who was not able to ride horses because he was too big and heavy, was arrested alive in the battle field by Vietnamese generals. To the Minh invaders, fiercely attacking with only 1 quick spear, a Vietnamese general immediately beheaded Lieu Thang, the Minh Dynasty's top general
The final conclusion of doctor Le Bach Mai, current Vice Rector of the National Institute of Nutrition, in her meeting with the media in the morning of October 8, 2014, was that the Vietnamese nowadays are shorter and having lighter weight is mainly because they have been under nourished (lack of nutrition). Then, how do you think, Mr. Ambassador, about Vietnam and Vietnamese People under the iron hands of the Vietnamese communists after a half of a century? Then, any political goals and achievements, in any aspects, must be serving the citizens. Is it correct, Mr. Ambassador? The information provided by the state-run media that Vietnamese is high below the standards of nutrition. It means people are lack of food. Then our question to you is how you answer those questions when your position is attached to your business relationship with the CPV quisling, not a friend to our suppressed Vietnamese people. Therefore, in your diplomatic talks to CPV quisling leadership they usually invite you to play golf with them then the oppressed Vietnamese people are only your and their servants to pick and serve you golf balls. And they do not dare to think you are their true friends. So, even if you have a friendly attitude towards the Vietnamese people and Vietnam but it is very sure you cannot think you is a one-day friend of those poor, homeless, foodless people. Is it correct, Mr. Ambassador?
c
Slaves in the Socialist Republic of Vietnam (Communist Party Of Vietnam quisling) only wish to have a full meal (photo taken in 2014).
1/Left photo: 3 female agricultural slaves in CPV quisling regime "freely" play role as oxes/ buffalos which pull ploughs along to plow land before spraying rice seeds. RIGHT: Peasants under the assassinated President Ngo Dinh Diem used machinery to plough land (Photo taken in 1959).
Child slaves of CPV quisling regime "has jumped up with magnificent leaps during 2010 – 2014" (Quote by English Ambassador to VC, GILES LEVER)
It is also a friendly reminder to you, that during the First Republic of Vietnam under assassinated President Ngo Dinh Diem, Vietnamese peasants used machineries to produce agricultural products instead using animals' laborious assistance. Those stories are only referred from 30/4/1975 until 2014. Then the time period you expects "Vietnam will be much more advanced in 20 years…" would be how much more horrified to Vietnam and Vietnamese People? Our answer: In the First Republic of Vietnam, peasants were equipped with agricultural machineries, but under CPV quisling regime, peasants have transformed into animals such as oxes, buffalos to pull up cultivating ploughs with their fragile labor and the drivers of the plough were only a 10 – 12 year old kids. So it still looks better than the photo of the 3 ladies who played buffalos to pull a plough for their father, the plough driver. These information and photos are extracted from the state-run newspaper and was posted in RFS on March, 24, 2014, Dear Mr. Ambassador.
Chính Khí Việt
Version in English language by Viet Si
References:
TRYING TO UNDERSTAND THE SO-CALLED "THE JOURNEY TO FREEDOM" OF CANADIAN SENATOR NGO THANH HAI
Chính Khí Việt
Version in English Language by Việt Sĩ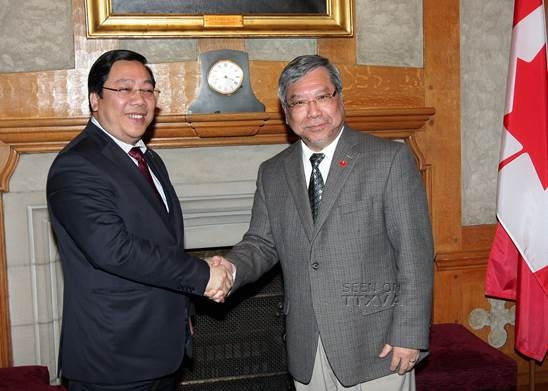 The supporting hand shake between highly ranking Nguyen Thanh Son quisling and Canadian (appointed) Senator
WITHOUT THINKING THOROUGHLY BEFORE ACTING IS COMMITTING MAJOR CRIMES AGAINST THE VIETNAMESE PEOPLE AND THE FATHERLAND OF VIET NAM
(First and second part)
The political soap opera "former CPV quisling soldier Nguyen Van Hai aka Dieu Cay" has not been cooled down then other political episode of poisonous snake has already started and created headlines on the internet websites.
But the most important thing that the Vietnamese inside and outside Vietnam with the spirit of Fatherland – Pride – Responsibilities should think thoroughly on every single word and sentence, political events and other newly born political figures who have been supporting and polishing Canadian Senator Ngo Thanh Hai. This senator was appointed by Canadian Senate, not an elected senator.
It is not sure if there is a coincidence at same time with the legislation "The Journey to Freedom" which was introduced by Mr. Ngo Thanh Hai. According to author Joan Bryden (excerpt in Vietnamese language by Dan Chim Viet Online):
This piece of legislation was sponsored by "Senator Ngo Thanh Hai, which recognizes the 30th Day of April an international day to commemorate the exodus of the Vietnamese who fled from the governance of Vietnamese communists and the welcoming admittance of Canada after the day Saigon fell under the hands of the Vietnamese Communists" (Sic)
Due to fierce protests of the authorities of Viet Cong, the name of this legislation has been changed to "The Law of Journey to Freedom" (Sic).
Note 1: It means so-called "The Law of Journey to Freedom" has been confirmed to change its name to meet the "fierce protests" of the authorities of CPV quisling.
Note 2: Senator Ngo Thanh Hai's presentation before the Canadian Senate:
"To the Vietnamese Canadians and the Vietnamese communities who are currently living in the countries outside Vietnam, the 30th Day of April is the day when Vietnam fell into the hands of the dictatorship and oppressing communist regime which does not care about human rights"(Sic).
Question: Who invoked the "fall" of Vietnam into the hands of the dictatorship and oppressing communist regime which does not care about human rights"? It was factual that the Republic of Vietnam and Vietnam (as a nation) was invaded by the USSR and China. And the so-called "The communist party of Vietnam" and its affiliated political, military, economic and social organizations were only the politically malicious Vietnamese (Viet Gian) in which these communists have affirmed by carving the notorious declaration at the tomb of former Secretary General communist Le Duan:"We fight Americans/ Vietnamese and this fight is for the USSR and China"(Sic).
Therefore, there was no natural fall of Vietnam like Mr Ngo Thanh Hai's statement above.
Being invaded and governed by the invaders then the unneeded phrase"Dictatorship, oppression, without care about human rights" (sic) are only paper flowers to hide a suppressing political regime which was created by the expansionist USSR and China and gave it to CPV quisling whom they have Vietnamese originality and look-alike face appearance so the USSR and Chinese expansionist identities can be masked up and hidden tactfully before the international communities as well as the Vietnamese who have not been well informed and have been brainwashed in the systematic propaganda schemes which have been initiated not only by CPV quisling under the full sponsorship of the USSR and China but also with the western specific interest powers therefore the people cannot differentiate between facts and communist political propaganda.
Note 3: Senator Ngo Thanh Hai also stated:
"We remember the 30th of April was a dark day because it was a sad day, we already lost our country, lost families, lost friends, lost homes, lost freedom and lost our democratic rights. It reminds ourselves a day of loss and sadness" (sic).
It is not in Vietnam history but also in international history there are many historic examples that one cannot use the concept of "losing country" when that country is still run by the people who continue enriching the benefits for that country.
Example 1: The democratic revolution in 1789 in France which overthrew the kingship regime to begin a new political regime that was totally new and quite different from the previous kingship regime. But no one has indicated that the French people in the democratic regime had lost his country.
Example 2: When the Great General Quang Trung crushed out the invading Thanh regime in Vietnam and eventually ended the governance of Le Trung Hung. Even the northern people in Vietnam at that time under Le – Trinh regime never thought that they lost their country but they were real proud to be under the leadership of General Quang Trung.
Therefore when Senator Ngo Thanh Hai stated "We already lost our country" (sic) it means he himself confirmed that the Vietnamese communists quisling are subordinates of the foreign invaders to invade the Republic of Vietnam and established the red colonization regime which has hidden the name of Republic Socialist of Vietnam.
When Senator affirmed that the invasion of Vietnamese Communists quisling to the Republic of Vietnam has stripped off its people's freedom and democratic rights" then he also conscientiously or unconscientiously affirmed that under the Republic of Vietnam the people did have true freedom and democratic rights.
Senator Ngo did not have political guts to report to Canadian senate that in his own assessment the Vietnamese communists quisling is only a dictatorship and suppressing regime which does not care about human rights (in fact, Vietnamese communists quisling have wiped out all human rights of the Vietnamese people because in reality these people have been transformed into "red slaves".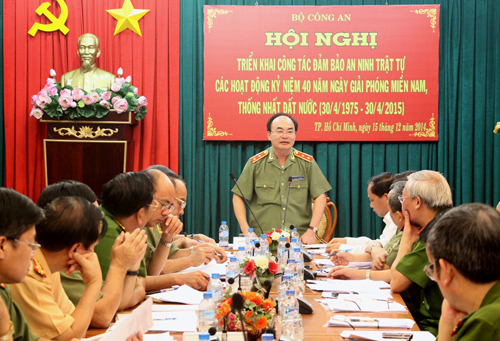 Note 4: It is strange that one cannot understand why an active political figure who became a Canadian senator, even though having been an appointed senator, but Mr. Ngo Thanh Hai does not remember Vietnamese ancestors' teaching "Honesty is father of maliciousness".
Reading the reports on Senator Ngo Thanh Hai's piece of legislation people recognize that sometimes it is referred as "Recognition of the 30th day of April is an international day to commemorate the exodus of Vietnamese refugees who fled Communism and the welcome of Canada" (sic) then it was changed to "Bill of the Day in Black April" then finally "due to fierce protest of Viet Cong so the name of that bill has been finally changed to "The Law of Journey to Freedom" (sic).
Therefore, the Bill with its formal name "The Law of Journey to Freedom"should be considered a fully intentional cooperation between Ngo Thanh Hai and the "authorities of CPV quisling". It is clearer to confirm that "The Law of Journey to Freedom" has been authored by Viet Cong and Senator Ngo Thanh Hai has only bent down his head and knees real low to accept it without any contributions and initiatives.
Why?
Because for decades everybody understands that every year on April 30th, the Vietnamese refugees always call that day the "National Mourning Day". The Reformed Party (Viet Tan) created its unjustified ways to wipe out the word "Mourning" and replaced it by another name that has caused much misunderstanding of the meaning of that word. Now, Mr. Ngo Thanh Hai, Canadian appointed senator is not only chewing again the rag of Viet Tan Party (its party name has been changed to "VIET TANH", meaning "PARTY/ GROUP OF FISHY POLITICAL JERKS") but Ngo also considers the 30th day of April a "national anniversary". We would like to ask Mr Ngo Thanh Hai, a long-time resident of Canada, if he still understands the meaning of the Vietnamese words and sentences.
Does he understand the opposite meanings between "National Mourning Day" and "National Anniversary" when he names the 30th Day of April?
Also, your phrase "The Journey to Freedom" has messed up the meaning of"The National Mourning Day"
Asking Ngo Thanh Hai: Are the above photos joyful and happy enough to make it as "national anniversary"
Only CPV quisling are happy. And who agrees with them?
Mr Ngo, This is a friendly reminder to you so you can refresh your mind and understand Vietnamese language with its accurate meaning of whatever inside your own statements. When mentioning about "The National Mourning Day" it means that day (April 30th) was a nationwide funeral day of the whole Vietnam. Commemorating "the National Mourning Day" is a reminder that the Vietnamese refugees have to remember their goal is to fight Vietnamese and Chinese communists to regain their country, the FATHERLAND of VIETNAM. It means they have to work hard by all means, generations after generations, to push out the Communist invaders off Vietnam who are only subordinates of the USSR and Red China. That is the only way the Vietnamese refugees will not have to live as refugees in other countries without having their meaningful fatherland.
Meanwhile, if the exodus of the Vietnamese has only one goal of "The Journey to Freedom" then after being settled down in another country, such as in Canada, then the regaining their fatherland is not the top goal of the Vietnamese refugees.
Note 5: This fifth note should be also shared with the audience including Mr Ngo Thanh Hai and attorney Vu Duc Khanh, a Canadian resident. Vu's article on BBC with its name "The Journey to Freedom is a chance of reconciliation" has shown full support to Ngo Thanh Hai's viewpoint and openly disclosed Ngo Thanh Hai's goal via his "Journey to Freedom" is a "Reconciliation" scheme with the communists. Vu, a strong supporter to Ngo, truly recognizes the "3-card cheating political gamble" of Ngo Thanh Hai. The introduction of his legislation "Journey to Freedom" which calls the 30th Day of April a "national anniversary" is a perfect match with Viet Cong's preparation to introduce their "Activities to commemorate 40 years of liberating South Vietnam" (sic) (http://www.cand.com.vn/Hoat-dong-LL-CaNd/dam-bao-aNTT-hoat-dong-ky-niem-40-nam-Ngay-giai-phong-mien-Nam-334551/)
It means the Communists consider that day is their "national anniversary". Therefore, this is a strong and proven proof that Ngo Thanh Hai's "political thoughts" have been perfectly matched and cooperated with "the invasion strategy" of Viet Cong who always follow Secretary-General Le Duan's national strategy "We fight Americans/ Vietnamese but our fight is only for the USSR and China". The communists recognize the 30th April, 1975 (when Viet Nam became a red colony) as a "national day" then Ngo Thanh Hai also recognizes the day the Communists took over power in South Vietnam as a "national day" as well.
Now, the audience inside and outside Vietnam, especially the Vietnamese refugees around the globe fully understand who Ngo Thanh Hai is and recognize if he is a spoiled, rotten child of Le Chieu Thong or a good kid Great King Quang Trung?
CONCLUSION
Author Nguyen Ngoc Sang on Ba Cay Truc website calls on supporting signatures for Ngo Thanh Hai's Legislation "The Journey to Freedom".
It is our heartfelt reminder and also an urgent call on the thoughtful consideration of our respectful elderly, spiritual leaders, organizations leaders and all Vietnamese refugees around the world to think thoroughly before signing your names to support Ngo Thanh Hai's political tricks. Via emails we can also reveal the true political identity of Ngo Thanh Hai. We will determine to stop the communists who use our National Morning Day 30th Day of April by flying our own national yellow flag (yellow background with three red stripes) to "celebrate" along with the Communists on this nationwide horrific day. Please remember that if we are in Ngo Thanh Hai's fraudulent political game and are "happy" with the "national anniversary of April 30th" then it is not different than we fly our own national yellow flag to surrender the cruel Communist traitors.
With our due respect, we would like to remind that we must consider this is our top and utmost important responsibility to destroy maliciously political ploys of the Communists who usually use "robots" to invade and control the Vietnamese refugee communities and force us to surrender them by using our own national yellow flag.
Chính Khí Việt & Việt Sĩ
December 12th, 2014
COMMUNIST CRIMINAL PHAM XUAN AN and HISTORIAN LARRY BERMAN
Chính Khí Việt
Version in English language by Viet Si
Website "People's Armed Forces" of the Vietnamese communists quisling on February 18, 2014 announced the introduction of the book "Strategic Intelligence Agent Pham Xuan An" (sic) written by American historian Larry Berman.
Berman, in Hanoi, has transferred his copy right to the company "Initiative Culture Tri Viet- First News" to organize his book introduction. He also spent some extra time in Vietnam to produce its associated documentary movies of 120 minutes "Perfect Spy X6".
This book was first introduced in Vietnam in September 2013 and 25,000 copies were sold. In the first page of this book, Larry Berman wrote: "Any time when I see the birds that are migrating from the sky, I immediately think of my friend, Pham Xuan An, who are smiling with me" (sic).
Larry is an American, also a professor of history. Communist Pham Xuan An quisling was a spy who was sent to America to study since 1957 in order to understand American society so he could secretly work as an intelligence agent and joined in to work for American major papers. Therefore, up to 1975, communist Pham Xuan An quisling already had 19 years of working and established close relationship with American journalists and media and also to American popular intelligence agents without being detected.
Born and raised in South Vietnam, then studied and worked for the Republic of Vietnam it meant communist Pham Xuan An quisling was formal citizen of the Republic of Vietnam and built up relationships with American media who was the main and strategic ally of the Republic of Vietnam to fight against the USSR and China in their horrified invasion to spread the Communism throughout Indochina via the red slaving soldiers of the Communist bloc.
As the principal ally of the Republic of Vietnam, the American human casualties were 58 thousand of American soldiers who were killed by the communists. Until now, the fate of other American troops who were missing in actions and many other dead soldiers' remaining bones still have not been located. Whose interests did those American die for? Supposedly those death casualties were not fully for the interests of the Republic of Vietnam then it is certain the sacrifice of those soldiers were for the American interests.
Berman's complimentary support to the communist spy Pham Xuan An and his recognition of Pham as "a friend of mine" has caused confusion to the patriots around the world who truly love their countries. As a historian who clearly understood that America was a voluntary ally of the Republic of Vietnam. Also Berman has probably never visited the historic wall in Washington D.C. which was made of shiny black granite on which 58,000 names of those American troops who got killed by the communist troops in Vietnam War were carved on. And Berman likely has never felt the sharp pain of the American dead troops' widows and their family members who had desperately waited for these soldiers to come back home from the battle fields in Vietnam and then sadly welcomed back their relatives who lost their legs or arms during the war or these soldiers have been diagnosed with the "Vietnam syndrome". Some soldiers only came back in their relatives' dreams because they were reported "missing in actions". Those pains were effectively contributed by Berman's communist friend Pham Xuan An and his achievement was big enough to be praised by the grand killer Mai Chi Tho when he wrote: "After the Vietnam War, we promoted Pham Xuan An to the army general and awarded him title "Hero of the People's Armed Forces". There is no need to say more details. Only the above decoration of the top communist leader can certify Pham Xuan An's important role in the communist invasion war and what he has accomplished for the communist armed forces (Tomas A Bass's The Spy Who Loves US, The New Yorker, page 23, 2005).
Vietnam Veterans Memorial
All actions of communist Pham Xuan An quisling have created concrete and serious damages to the U.S. and also to his "fatherland", the Republic of Vietnam, which raised him until his maturity. The strategic negative effect is still significant until now. But historian Larry Berman was naïve enough to listen to Pham Xuan An's sweet talks and has not studied thoroughly in Pham's detailed work. As a professor of history, how can Larry Berman explain to his students about patriotism and the betrayal of a national traitor as Pham Xuan An?
These days, in the world, America is the only country which respects and concretely protects its citizens' freedom of thoughts and speech. Evidence for this freedom is the recent movie "The House of Cards" produced by Kevin Spacey. This is the fact people "love America, Americans and whatever Americans protect" (sic). But the way of thinking and the book of Larry Berman are certainly favored by the Vietnamese communists and Pham Xuan An himself. Therefore, 25,000 copies of this book have been sold in its first introduction. And the Vietnamese communists has committed $US 1 million for the production of its associated movie "Perfect Spy X6".
In "The Perfect Spy" Larry Berman maintained that "communist Pham Xuan An was different from other members of the Communist Party of Vietnam. He is the one who dearly loved America, Americans and whatever the America protects".
All American administrations during the Vietnam War against the "Red Colonization Ideology" in South East Asia all publicly committed to protect the Republic of Vietnam. Arguing as Berman does it mean these American administrations formally stated that they protected the Republic of Vietnam but in their real actions did they protect the Vietnamese communists?" is it possible that Larry Berman's ideas mean 58,000 American troops who had killed by the communists during the Vietnam War were misled by American governments? Or were these American troops' sacrifices in Vietnam worthless to the core interests of America?
Communist criminal Pham Xuan An has significantly contributed his strategically destructive intelligence work to kill more than 58,000 American soldiers. More than 58,000 family members of those dead soldiers have suffered with daily depression to their widows, orphanage (children without fathers), and depressive parents. After the war, Pham was promoted from lieutenant colonel to general, also honorable title "Hero of the People's Armed Forces" and many other military decorations and medals. If Larry Berman considers communist criminal Pham Xuan An as his close friend then what kind of relationship does Berman offer to 58,000 American soldiers and their family members. There is only one single answer: "These 58,000 deceased American soldiers' relatives are truly enemies to American historian Larry Berman".
Finally, Larry Berman has been proud to be a friend of Pham Xuan An, the national traitor, when he had written: "Whenever viewing the migrating birds then I always think of my friend Pham Xuan An is smiling from the sky" (sic). Such of Berman's imagination may be true. However, people may also continue their dream along with Berman a scenario of Pham Xuan An is looking down onBerman while grinning and murmuring:
I am the Hero of the People's Armed Forces with my goal to be loyal to my Communist Party of Vietnam (CPV) with my 50 years of membership to my party since my childhood until my death. Besides turning your back to the America and Americans, you are only a disgusting betrayer to 58, 000 American troops who got killed in Vietnam and also a worst enemy to those soldiers' relatives and friends then how dare you consider me as your friend?
I strongly demonstrated my capacity inside my enemy's territories without any obstacles because I knew how to best take advantages of those naïve people like you. It is so good for my CPV's objectives and at the same time I was mostly admired by you, one of the most idiots on earth. Therefore, I have never been paying sympathy to you to bend down my back and my great pride to be your friend, the STUPID HEAD, Berman!
Chính Khí Việt
Version in English language by Viet Si
February, 19, 2014
Source of Reference:
THE "ART" OF SMEARING (ENEMIES) IN BLACK AND (FRIENDS) IN PINK.
Author: Chính Khí Việt
Version in English language by Việt Sĩ
Challenge to recent article of Van Cam Hai based on Edward Miller's new book: "Misalliance: NGO DINH DIEM, the USA and the Fate of South Vietnam" (Cambridge, Harvard Univ. Press 2013). Van Cam Hai, Tech. Univ. USA, sent to BBC.CO.UK his article "Ngo Dinh Diem and the War of Constructing the Nation (Vietnam)".
Hai's article is an introduction of Edward Miller's new book about Vietnam, titled "Misalliance: Ngo Dinh Diem, the United States and the Fate of South Vietnam (Cambridge: Harvard Univ. Press 2013).
His book review also shares viewpoint of author Miller regarding Vietnam's issues. In fact, it is true that Miller offers some new findings. However, a debate is necessary to find out the truth.
In the analysis and commentary below Chinh Khi Viet would like to remind readers on 2 issues by which Van Cam Hai has confirmed they are Miller's new findings:
'The Buddhist crisis and disagreements about national construction policy" (Sic)
"With the above subtitle Van Cam Hai wrote:" President Ngo's fate and policies were blocked up by the Buddhist crisis. Standing out among historians on Vietnam War, Miller's research points out the Buddhist crisis in 1963 was likely a development in the flows of history of glorifying of Buddhism which was originated in Vietnam since 1910, 1920s. Miller launched a fresh viewpoint about the Buddhist movement during Diem's decade that it was not only a struggle for the equal opportunities of religions in Vietnam but in fact it showed deep concern about Diem's strategy to rebuild his nation, Vietnam, especially his Human Dignity Revolution which was the threat to the revitalization of Buddhism. According to Miller, Vietnamese Buddhists participated in the revolution for citizens' freedom and modernization as a contribution to the national reconstruction policy. The conflict between Diem and Buddhists pushed up the war of national reconstruction to the top level of urgency. Diem, until his last minutes, still believed he was able to solve this conflict in his dominant position as he and his brother Nhu envisioned by initiating secret talks with North Vietnam (sic).
COMMENTS:
Only in a short paragraph above, one can see if Van Cam Hai translated accurately Miller's points then this is a live evidence of his lacking of truthful information, lacking of thorough understanding of politics in Vietnam's real life. And this is an example of bookworm Van Cam Hai who only knows how to rewrite and copycat writer's ideas.
I. "Buddhism crisis in 1963 was similar to the development in the flows of history of the process of Buddhism refinement…" (sic). If it was Miller's authentic research as Van Cam Hai introduced than this research would be a rudest distortion of truths.
One may want to notice that for many years in Vietnam history the Buddhism had great credit of uniting Vietnamese citizens to fight against the Chinese invasions. However, those monarch regimes which entrusted Buddhism as national religion had records of building many beautiful pagodas by using so much hard-earned tax moneys of Vietnamese people to develop and enrich Buddhism in Vietnam. When religiously self-restraint, self-improved life weighs more on materials such as eating fine food, wearing beautiful clothes, giant houses…then the "Buddhist heart" will be shrunk significantly and eventually be destroyed to transform those people into evil monks! It means: If big pagodas, fine food, nice clothes are symbols of Buddhism then Buddhism is only empty and soulless which looks exactly like the frozen corpse of the most guilty national traitor/ criminal Ho Chi Minh who has been laid down motionlessly for years in Ba Dinh mausoleum.
However, beside those serious mistakes Vietnamese Buddhism also has top-notched monks who have crystallized Buddhist philosophy/ religion, been loyal to their mother land Vietnam, loved the People and set brilliant examples to many generations of Vietnamese to construct and protect their country land and preserve fine Vietnamese cultural values in every aspects.
Since the Soviet Union coordinated with the Vietnamese betraying national traitors by nature to train and subsidize them with moneys and provided them good means to work in an organization…which was named "The Communist Party of Indochina" which was staffed with all Vietnamese and no Cambodians or Laotians and always remind them their duties and territory for actions are in Indochina. The so-called "Communist Party of Indochina" was quickly and sensitively to choose Vietnamese Buddhism as a safe sanctuary to house and develop their organization. They used pagodas to hide from French detectives to launch operations. This fact is also confirmed by the Communist party's formal documentation. This disclosure has been confirmed in many memoirs of top Vietnamese communists. For example, General Van Tien Dung quisling mentioned that before 1940, after escaping from prison, he shaved his head and enlisted in pagodas as a monk trainee to secretly work for the Communist party, launch propaganda and build up his secret organizations. He asserted that using pagodas to hide and hold meetings are very much safe. All historians should know before 1945, the Vietnamese communists made connection and admitted into their party medical doctor Le Dinh Tham. In the beginning of 1945, doctor Le Dinh Tham and their children went to Hanoi. His oldest son and oldest daughter were reporters at Bach Mai Radio Station in Hanoi since 1946. The communist leaders assigned responsibilities to doctor Le to research and lead Buddhists in the position of President of the Committee of Peace Protection under Ho Chi Minh administration. This committee was a subsidiary of the Organization to Protect Peace funded and led by Soviet Union to infiltrate into the "Non Allied Movements" to steer them into Leninist ideology.
Thich Don Hau and Ton That Duong Tiem flew to Mongolia from Hanoi.
The so-called "The Buddhist Crisis in 1963" eventually unmasked "monk"Thich Don Hau during VC's Tet Offensive of 1968. He was one of the leaders of the organization of Vietnamese communists who directly invaded the Republic of Vietnam via the "monk" groups. When the Tet Offensive 1968 was defeated he and his lover, the flirty Tuan Chi (Dao Thi Xuan) immediately fled to Hanoi to be rewarded by the top national criminal/ traitor Ho Chi Minh with his compliments because Don Hau was proven he used to be a loyal, dedicated assistant to Ho Chi Minh. He also visited Quan Su pagoda to offer his presentation concerning political situation of South Vietnam to the Communist cadres whose heads were completely shaven and also trained to become "monks" with Buddhist rituals to add "monks" into An Quang group in South Vietnam. They wore Buddhist monks' yellow robes to fight against the Republic of Vietnam's agents. This is one of the major aggressive forces to import and blossom Leninism into Vietnam. Don Hau also traveled around the world to enforce and strengthen the Communist strategic plans to attack the Republic of Vietnam in other countries.
The other "monks" such as Thich Tri Quang, Thich Quang Do, Thich Don Hau, Thich Nhat Hanh… who have been members of the so-called "The Unified Buddhist Church of Vietnam" and "The (State-Run) Buddhist Church of Vietnam" have been playing major and aggressive roles as "right hand, left hand" of a body of the Communist Party of Vietnam quisling to provide effective and bloody means to infiltrate and brain-wash different types of Vietnamese people inside and outside Vietnam. Is there any Buddhist (fake) "monk" who is not member of the Communist Party of Vietnam? Is there any "monk" who has not participated in political activities? Is there any monk who is not under direction and supervision of the central communist committee? Is there any monk who is poor and starving? Or most of them live lavish lifestyles similarly to the rich Communists' lifestyles? Many news sources disclosed that they have been always in power and money struggle. They have accused each other committing with illegal activities and revealed their real far-leftist identities.
Leading a life of a big liar like Thich Quang Do, aka the Fifth Venerable of the Unified Buddhist Church of Vietnam, is a bad example with his own countless recognized/ out-of-wedlock children, womanizing activities exactly like Don Hau, Tri Quang, Khong Tanh, Chanh Lac, Vien Thanh, Vien Ly, Giac Dang…and a big group of "monks" who have kept their mouths shut to allow the most notorious criminal in history Ho Chi Minh to be seated side by side with the Buddha in pagodas in Vietnam. Is this the authentic, trustful "Revolution of People Liberation, Religious Freedom and Refinement of Buddhism"? Or those are "freedom of sexual activities in pagodas" or using pagodas to tactfully train the Buddhist faithful to transform them into Communist cadres?
2/ Competent, impartial and authenticate researchers who can access plenty of information from many different sources for comparison should agree that those malicious Vietnamese "monks", leadership of the so-called "The Unified Buddhist Church of Vietnam" have never fought for religious liberty in Vietnam and freedom for Vietnamese People as well as any of its activities in recent movements to regain and rebuild Vietnam. On the contrary, these men (authoritatively religious masking under their Buddhist yellow robes) have been implementing "Bolshevik" plans on Vietnamese Buddhist faithful as well as gradually transforming Vietnamese Buddhist followers into the types of citizens who easily accept, adapt and mingle into the Chinese culture.
II- Ho Chi Minh: "Ngo Dinh Diem is a patriot"
This is a sub title in Van Cam Hai's article "Ngo Dinh Diem and the War of Constructing the Nation (Vietnam)".
1/ Van Cam Hai wrote:" Miller's Misalliance was successful when lighting up a new vision about President Diem and the program to construct the nation which reflects the traits of nationalism and independence in his political viewpoint".
Future published works in political issues should not overlook Miller's arguments that the conflict was rooted from the imbalanced conviction that built up fragile, volatile relations between Americans and President Diem including the fate of South Vietnam. After 50 years, image of the historic figure Ngo Dinh Diem has eventually been lightened under American historians' judgments" (sic).
Comments:
Miller's view point is not new. It is similar to knowledge of a baby who is not able to understand the mechanism of an airplane. Only until 5, 6 years old that baby sees the plan which flies across the sky above his/her home. And that little kid brags that he has a new view about the plane. Therefore, his knowledge about the plane and the sky is only at basic level. And his knowledge about those things must be deferred until this kid enters college of aeronautics or medicine than he will probably be able to understand a little bit better about aerospace science or in a worst scenario he understands nothing about this field at all.
Only until now Van Cam Hai is able to recognize the strategy that the Ho Chi Minh's malicious Vietnamese Communist group who has set up and supported many strong group of strategic and tactical spies in many different South Vietnamese's government agencies. More than that, they have also been employing bad Vietnamese who live outside Vietnam but visit Vietnam so often to publicly "pretend attacking" South Vietnam in Saigon. Ex: Pham Huy Thong organized a sit-in protest in Saigon to demand "general election to comply with the Geneve Accord of 1954 on Vietnam".
And until now 2014, over a half century has been through and literally nobody has ever explained why President Diem did not accept "the General Election after Geneve Accord 1954". Because, besides the fact that North Vietnam has "sown up" in South Vietnam powerful groups of spies which included political cadres, military personnel, rifles, ammunition, security, intelligence agents, Communist relatives voluntarily migrated to the North ("tap ket')... In reality, these groups were also supported by French colonists who were consisted of many political servants, puppets, social organizations, political parties…Among those, the "monks" have played significantly important roles in politically protest activities using "struggle for liberty of Buddhism" as their best shield. One other important event: Before the scheduled "General Election" North Vietnam made up several political TV shows which recorded and presented South Vietnam's intelligence operations in North Vietnam and condemned that these operations to intervene into Hanoi's internal affairs were sponsored by "South Vietnam illegitimate government" and "American authorities"…
The North Vietnam's government horrendously suppressed Catholic faithful in Ba Lang village in North Vietnam. At Kim Son, Phat Diem Province, they dispatched an army division to set up Sao Vang agriculture farm at Kim Son village, Ninh Binh province to easily suppress those Catholic faithful. They forced repartriation of Bishop Dennis Parkett (Vietnamese name Priest Quy) at Nam Dong church…They imprisoned all citizens who were classified as "inappropriate citizens to the regime". Those prisons were under supervision of Major General Le Huu Qua, uncle of faking democracy activist Le Phu Khai, chief of secured culture group, direct boss of the disgusting state-run musician To Hai who was known as a destroyer to his own father's tomb in Saigon.
Therefore, the Northern communists did rip off voting right of millions of citizens and their relatives before the free general election throughout Vietnam. They let go many suspecting citizens in North Vietnam. In South Vietnam, their spies and relatives of the Southern citizens who migrated to the North will vote for the communists.
They also believed voters in the South who were French influenced, the "opportunistic" intellectuals and materialistic political parties would be easy to be bribed or bought out, and we havet yet mentioned about the "monks" who pushed hard for their political tricks under their undercover Buddhist monks' yellow robes.
To enforce, the North Communists also organized conference of the so-called Fatherland Front which consists of representatives of South Vietnam who are mistakenly recognized as representative of a local area Republic of Vietnam. Ex: Nguyen Thi Thap in Ben Tre, Nguyen Khoa Dieu Hong of Quang Ngai, Nguyen Thi Dung (Huynh Tan Man's mother-in-law), Nguyen Thi Luu, Ca Van Thinh (Musician Truc Ho's relative), Ton Duc Thang, To Ky, Dr. Le Dinh Tham, Dr. Nguyen Van Thu, Dr. Pham ngoc Thach, Poet Te Hanh, Poet Bao Dinh Giang. They also invited some Vietnamese in France and Germany as representatives of overseas Vietnamese such as Madame Hoang Thi The (Hero Hoang Hoa Tham's youngest daughter), Movie producer Phan Ky Nam, Teacher Nguyen Hoan and Nguyen Thi Tri Tuc. These had been good preparations for the Communists in South Vietnam if the General Election would have been held.
These were violations of Ho Chi Minh's government. However, the International Commissioners of Ceasefire Control in Vietnam, the signatories and witnessing governments on the Geneve Accord of 1954 have never informed and/ or denounced these violations.
It is certain they were not literally blind but they pretended they have never been aware of these violations. Not to mention the sponsor countries, Soviet Union and China, assigned responsibility to Vietnamese Communists to use free blood and bones of Vietnamese people to expand Stalinism, Leninism and Maoism ideologies across Indochina. Upon the negligence of the free world the Vietnamese Communists, Ho Chi Minh group, were confident to create their (Political) Resolution 15th (January 1959).
To implement their Resolution 15th which used military forces to invade South Vietnam, notorious Ho Chi Minh had to use the communists who had much knowledge about South Vietnam's political structures, organizations and strategies, especially about undercover organizations and the human resource.
Therefore, before the Third General Conference of Vietnamese Communist Party, Le Duan was appointed the First Secretary General assisted by Pham Hung, official member of the PoliBureau, in charge of secret police and intelligence, above Vo Nguyen Giap. In government hierarchy, Pham Hung was appointed Deputy Prime Minister, in charge of finance, banks, commerce, logistics to lead the money laundering and opium businesses to attack South Vietnam. Ho also transferred General Nguyen Chi Thanh to South Vietnam to change the regional Southern Communist Division into the People Revolution Party of Vietnam. In trusting Nguyen Chi Thanh, an extremely loyal Maoist, China provided generous assistance in many areas to North Vietnam. They helped North Vietnam with Chinese counselors of different types, troops, rifles, ammunitions, medication, clothing needle and even portable toilets for infants.
Literally, the main goal of North Vietnam at that time was only to transform all Northern citizens into Soviet Union and China's slaving troops. Some alerting people in the North at that time mocked out loud: "Soviet and China supports Vietnam to fight America and the "puppets" in South Vietnam until the last Vietnamese!". And added:" The last Mohican".
Therefore, popular streetwise poetry at that time was recited:
"Stubborn Ho has a thick-skinned face
Kremlin proposed exchanging it for three cows and nine buffaloes
Stubborn Ho declined "no buffaloes"
Pekin proposed exchanging it for a string of delicious fish
Stubborn Ho again refused "no fish"
Kremlin rephrased "A set of oak wood?"
Ugly Ho flatly rejected "No oak"
Pekin changed deal "How's about a couple of rare birds?"
Satanic Ho pissed off: "No birds"
Kremlin finally cut deal "VIETNAMESE FRESH HUMAN BLOOD???" Ho applauded instantly.
Pekin added "AND SOME MORE VIETNAMESE FLESH"
A pissing face, HO CHI MINH has been the most Vietnamese notorious national traitor and criminal at all time!
2/ In brief, those historical facts in which only until 2014, Van Cam Hai and author Miller just happened to understand but the Communist Party of Vietnam (CPV) have comprehended and masterminded those during over half of a century. Their critical slogan: "The Intellects, the Rich,The Landords and the Powers" must be rooted out to clean up the basic bottlenecks to the expansion of the colonist Leninism across Indochina and probably also covering South East Asia. The Communists understood their strategic plans were very effectively blocked up by President Ngo Dinh Diem with his strategy of liberating Vietnamese People from the outdated imperialism and colonialism thinking habits in order to educate and raise up his People's knowledge, provide them with basic properties, increase social assistance to them, rebuild and preserve Vietnam's traditional values while assessing and learning modern foreign cultures to help the People get rid of the inferior complexities due to having been suppressed and exploited for so many years by China and France. Meanwhile, the Communists tried with all means, good or bad, to do in contrast with President Diem's strategies and plans by wiping out all of President Ngo's excellent strategic plans to reconstruct his beloved war-torn fatherland Vietnam.
President Diem's keen sense of responsibility to his own People, national political independence, full preservation and protection of all materialistic and intellectual properties inherited by ancestors are unacceptable to Viet Cong, the loyal tool of Soviet Union and China. Even the international powerful special interest groups only considered Vietnam as an item on their international chess board then how could they agree with President Diem, the one who wholeheartedly respected his Country and dearly loved his People? Such clean and religiously political leader like President Ngo Dinh Diem was a big blockage to the foreign political special interest groups. Only corrupted Vietnamese (Viet gian), communists or nationalists would be willing to satisfy foreign special interest super powers' needs in rude mannerism and in sophisticated scams. Please do not mix up between People of a nation to the government of that nation.
Therefore, it was not as Miller asserted:" the political conflict happened due to the incompatible understandings and it shaped up the volatile relations between America and President Diem and eventually tied along the whole fate of South Vietnam (sic) but this was the untactful enforcement by the political group who owns plenty of power and money (Americans) who mistakenly assumed any Vietnamese will be ready to work as a slave for disgusting, uneducated people (corrupted Viet Cong groups), the Vietnamese betraying generals, colonels, majors, "politicians" who have been baited by "sweet-rice-meat/ fine food" and animalistic attractions and greed to lead their lives similarly to extremely corrupted Secretary General DO MUOI Quisling who used to roam around the roads every day with his breeding hogs to breed fat and ugly pigs in their mating seasons in order to earn his living when he was still a poor peasant. These are bare historical truths that the "chance-taking" intellectuals moneywise historians, Vietnamese or Americans have never dared to unearth.
Back in 1963 in Saigon only because a small amount of reward money (Some $US 43,000 in 1963) but the betraying army generals willingly degraded themselves from human being down into sickening, (power/ money) hungry animals, as proudly admitted by deceased General Nguyen Cao Ky in his Memoir "Buddha's child" that his group of Generals were called in by U.S. ambassador Ellsworth Bunker to be reprimanded but the Vietnamese betraying generals did not have own abilities and guts to defend themselves. General Ky even also offered his "straight" complimentary that they were treated well by Ambassador Bunker (and Cabot Lodge) with fine wine and great beef steak! Ky and his group were surely not aware how Cambodian King Norodom Sihanouk reacted when American ambassador Sullivan wore short outfit while walking his dog to meet him?
3/ Referring to the rotten top Communist Ho Chi Minh who called President Ngo Dinh Diem "the patriot" (sic), Van Cam Hai wrote: "Is it correct that if one does not follow Communism then he is not a patriotic"? Answer: Then why Ho Chi Minh formally declared in Hanoi that President Ngo Dinh Diem is a patriot. The Vietnamese Communists have never been accepted that their leader Ho Chi Minh has a different view about his main political opponent.
In a meeting with Indian diplomat Amcohundur Godburdhun, President of the International Commissioners of Indochina Ceasefire Control in Hanoi in 1962, Ho publicly recognized President Diem as "a patriot" and he asked Godburdhun :"Please shake hand with him (President Diem's) for me if you meet him".
Only compatible political opponents are willing to offer such impartial and objective assessments about each other. Ho's viewpoint about President Diem was picked up by historian Edward Miller's attention because it initiated an additional outlook but not unfamiliar value about President Diem who has been obviously a notably popular politician. Definitely, Diem should not be overlooked when one studies history of Vietnam in the 20th century.
In the first sentence of Van Cam Hai's excerpt it shows his way of thinking is much influenced by the leftist/ "state-operated" cultural cadres such as Bui Tin, Vu Thu Hien, Nguyen Minh Can…Being a question, but it contains his assertiveness that Vietnamese communists are automatically patriots.
Countless published materials have proven that the notorious communist Ho Chi Minh was never a patriot to his fatherland Vietnam. Those materials were also written in documents of the Communist Party of Vietnam Quisling (CPV) as well as in the archives of history of France and Russia after Soviet Union collapsed and secret documentaries were unclassified. The activities of the rotten, outdated group of Vietnamese communists since its birth (1930s) until now have ever accomplished any small thing to help, benefit Vietnamese citizens and prosper Vietnam. Was slogan So Viet Nghe Tinh 1930-1931 patriotic? Were the arrests of the youths who exited Vietnam to find ways to root out French colonialism in Vietnam patriotic? Were the whistleblowers for French to arrest and execute hero Nguyen Thai Hoc patriotic? It has been affirmed that Communist Party of Vietnam is only a satellite of the Third International Communist Bloc (Russian Department of Colony). And the Vietnamese communists only obey the Third Communist's orders as well as to the promise of transforming all citizens of Vietnam into Bolshevik members. CPV's summarized directions/ strategies clearly state the Vietnamese communists must strictly and blindly follow Russia and China's strategic policies, plans and enforce all Vietnamese citizens to work like slaves to serve Russia and Red China.
Are the sales of land, sea, islands and natural resources of Vietnam to Russia and China without Vietnamese citizens' agreement not enough to identify true faces and identities of corrupted Viet Cong?
Van Cam Hai's question:" Is it correct that if one who does not follow Communism not a patriot?" (sic) is more naïve than beloved novelist character Phuoc, son of Madame Pho Doan, a middle-aged flirting woman character in author/ "prophet" Vu Trong Phung's novel "Red Fate" (So Do). If Van Cam Hai still possesses some level of self-respect and honesty he should rephrase his question as "The core of Communism is killing concept of Nationalism". As a result, was the top Vietnamese communist Ho Viet Gian (aka malicious, satanic Ho Chi Minh) truly shameful to make countless dishonest speeches about patriotism to gain People's trust? According to the late U.S. President Richard Nixon's memoir " Ho Chi Minh aimed to push the French out of Vietnam because the French did not help him to get to a top-notched powerful political position in Vietnam".
Most communists are malicious. They have no families, no fatherland, no religions so they are not hasty in judgment or pretend to be knowledgeable as Van Cam Hai. Therefore, one should not quickly misjudge that Communist leaders have different political views than those of their counterparts in South Vietnam.
The Vietnamese communist party's commencement documentaries clearly state they have to fight against individuals, organizations and political parties that work for their goals of Nationalism. It means in order to "bolshevik" all Vietnam's People then the concept of Nationalism must be concretely abolished such as destroying "the Intellectuals, the Rich, the Landords and the Powerful", wiping out Vietnamese traditional values such as Ho Chi Minh "You and I, I and you…" while creating own "poetry" depicting his "ego"which told his stories with ancestor General Tran Hung Dao and laureate poet Nguyen Du. When welcoming President of Congress of USSR Voroshilov from Ba Dinh ceremony platform Ho smiled broadly and instructed the kids in the audience in North Vietnam "Let's applaud grand auntie Voroshilov". Remember Voroshilov was only 2 years older than Ho. He self-proclaimed as "Uncle" to the kids but ask the kids to call Voroshilov "big auntie". It means he implied Voroshilov was his grand-mother. And the butcher Vo Nguyen Giap under the French colonialism in Vietnam he accepted Chief Police Marty as his adopted father. Then also during Soviet Union era, Giap declared he is Krutchev's adopted son.
So when Ho Quisling said President Diem was a patriot then he wanted to confirm with all Vietnamese communists that President Diem was an authentic nationalist who loved his country and protected his People. Then President Diem would be a big interference and strategic blockage to his Bolshevik revolution. Therefore. President Ngo Dinh Diem had to be killed at any price.
Then Ho Quisling confirmed:"Even we have to dry up the South China sea and burn out the Truong Son mountains then we still have to do it to liberate South Vietnam".
A President who was deeply admired and respected as a patriot then obviously that president would lead his country to strongly construct it and fully protect the intact national territory as well as ensure freedom, happiness, prosperity…to the People and also enrich the nation's traditional and cultural values while still matching with modern civilizations. Then why did Ho have to "liberate South Vietnam" with his such egoistic determination?
During the Vietnam War, Truong Son mountains were burned down and destroyed by bombs and war chemicals was, in fact, the implementation of Ho's idea. He also ordered Ung Van Khiem and Pham Van Dong to sign documents to give land, islands and sea which were not under North Vietnam's legitimate governance to China (Hoang Sa, Truong Sa, other islands, 60% plus Vietnam's sea territories (U-shape) in the South China Sea and strips of land next to China-Vietnam's borders).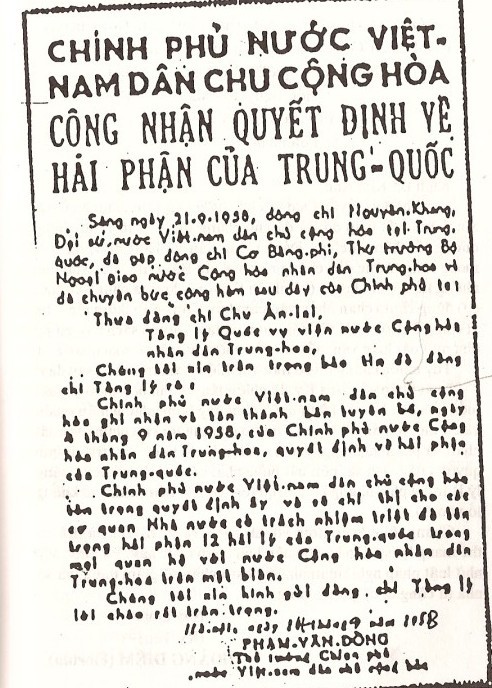 If combining the incident that Ho sent some strips of beautiful flowers to gift President Diem and also his greeting "hello" being passed to President Diem via the Indian diplomat to shake hand with Diem and recognized Diem as a patriot then Van Cam Hai and Miller have to question:" Why did Ho enacted the Resolution 15th (Jan. 1959) to militarily invade South Vietnam which was being governed by a "patriotic" President? Why did they call the government of the Republic of Vietnam which was legally elected in a general popular election of the "patriotic" Ngo Dinh Diem as "the puppet government"? Why did their attack against President via the state-run strongly partial, bias media calling on toppling down Diem's regime and also under Ho's order this dirty fight also manipulated young kiddy kindergarten kids by teaching them to howl out loud in class and at home: "Down with Ngo Dinh Diem" (sic).
Ho Quisling wanted to use the Indian diplomat as his free volunteer propaganda inside and outside Vietnam that he respected the patriotism spirit of President Diem and as a result the peace talk between North and South Vietnam might feasibly happen (a Soviet Union's trap). And that during few first dates of the new Lunar Year Ho sent his thoughtful gift of beautiful flowers to President Diem with his greeting to the "patriot" with his implication that Diem, a "patriot" would not be bent over the foreigners' political setups or arrangements, and that when he also asked the diplomat to shake hand with Diem for him he implied that the North and South Vietnam were able to hold talk in friendship. Another fact: Van Cam Hai purposefully turned upside down the issue when he wrote (full sentence):"Diem, until his last minutes still believed he was able to resolve this conflict in his superior position as he and his brother usually thought when the brothers initiated secret talks with the Northern communists" (sic).
The first two incidents have been well aware by many people, But the idea to "initiate secret talk with North Vietnam" has not been aware by the majority of people so Van Cam Hai is so dishonest when he implies President Diem opened secret talk with his enemy after he was praised by Ho chi Minh.
It requires just a little honest judgment of a writer then Van Cam Hai must see that that "secret talk" was suggested by Ho Chi Minh.
Chinh Khi Viet likes to prove it as follows:
Ho Quisling's representative was Pham Hung, Deputy Prime Minister of Hanoi. It means he was the fifth-ranking official under Ho Chi Minh (President), Ton Duc Thang (Vice President), Truong Chinh (Congress President) and Pham Van Dong (Prime Minister). Hung was also the fifth-ranking official in South Vietnamese Communists.
Mr Ngo Dinh Nhu represented for the Republic Vietnam who held no formal position in President Diem's government. It indicated Mr. Nhu was not the official representative for South Vietnam while Pham Hung was the formal representative of the North.
The three arguments above strongly prove that North Vietnam did initiate the "secret talks" concerning an important issue because the position of Pham Hung clarified that fact.
Remember that during the war between two nations the listening to the enemy's suggestions is a common international practice, at any point in history, and this practice has been often happening. For example: Representatives of the US met with representatives of North Korea or US representatives met with Iran's representatives to discuss on Nuclear Arms issues.
Therefore, the secret meeting at Tanh Linh district, South Vietnam was informal meeting of the Republic of Vietnam but was an official meeting to Ho Chi Minh group.
Comments:
The proven points above have confirmed that the communists has never abandoned their invasion plan of South Vietnam, Laos and Cambodia, regardless the Northern regime was under Ho Chi Minh, Le Duan or under any other communist leaders. Because the Vietnamese Communists' full scale military and intelligence, etc…invasion plans to South Vietnam and Indochina (Laos and Cambodia) were their strategic and only mission. That was the reason why Soviet Union gave birth to the Communist Party of Vietnam and named it "The Communist Party of Indochina" which was staffed with Vietnamese troops but little or none of Laotian or Cambodian people. When China was not rich and powerful enough to continue its "Chinese Imperial Expansionism" and was under Russian's assistance then it was assigned to help North Vietnam to expand the (Red) Colonialist Leninism to spread throughout Indochina and probably in the long run across the countries in South East Asia.
Any self-respected writer who possesses an honest heart and a clear mind will not take long time to learn and understand political situations in Vietnam. Only after the unity and strong bond of the three groups: (1) The red communist mercenaries/ troops in the South masking under the name of "The National Front for the Liberation of South Vietnam (NLF), (2) The groups of pretended "monks" hiding in pagodas under their yellow robes, (3) The betraying military Generals who were directly bribed up by American Lieutenant Colonel Lucien E. Conein with a very SMALL, SHAMEFUL reward (Approx. $US 43,000 in 1963) and "power" to share between a couple of dozen of rotten, betraying army generals and colonels, majors…. American Colonel Lieutenant Conein's petty bribe appeared to be a big boss who arrogantly tossed out some fatty bones to some "dogs that are not quite hungry but greedy enough" to coordinate their so-called "The Revolution Nov. 1st, 1963" with its major goal was to destroy the Vietnamese ancestors who have always followed the Vietnamese traditions of loving their Fatherland and protect their People. They were the 3 brothers NGO (NGO DINH DIEM, NGO DINH NHU and NGO DINH CAN) and their loyal, competent assistants who were dutifully loyal to the Vietnamese People and their Fatherland (Ex: Colonel Lieutenant Vuong Quang Dong in charge of intelligence missions in North Vietnam and countless other competent professionals in all cabinet's departments who were highly competent and strongly responsible to serve in President Ngo Dinh Diem's administration).
Those political tricks of gifting Diem strips of fine flowers, recognizing "the patriot" (sic), asking for a hand shaking, an arrangement for Northern delegation from Hanoi to Tanh Linh district to meet with South Vietnam's political adviser Ngo Dinh Nhu…only helped the betraying Generals, the communists, the political opportunists ("intellectuals"), AN QUANG skin-head-militant "monks" group, state-run "writers, historians" to cover up with misleading and damaging masses of information such as: the "Revolution 1963" was aimed to separate political advisor Ngo Dinh Nhu from President Diem, to mislead the public that "The deaths of the two, or three NGO brothers were unintentional, Diem's "family run", dictatorship, Diem administration suppressed Buddhists and especially it served its goals that were contrary to the interests of the People of South Vietnam when they opened secret talks with North Vietnam, etc".
How do those heartless traitors explain the fact that in a free country like the USA, the family of 3 brothers which has the oldest brother who was the US President (John F. Kennedy), next brother was Secretary of Department of Justice (Robert Kennedy) and the youngest brother was the US Senator (Edward Kennedy). Was that political involvement family dictatorship? That setup was not only in the decade of 1960s but also was under Bush administration in recent years.
Whatever was said or written, an honest and impartial citizen did witness: Lucien Conein was CIA agent who threw a bag of small amount of "funny, shameful, petty" cash to the power-and-money-hungry military generals while Conein was sitting quite relaxed on General Duong Van Minh's chair with his two legs putting on top of Minh's desk to give orders to the Vietnamese generals to carry out.
The An Quang militant "monks" group was transformed quickly to the so-called "The Unified Buddhist Church of Vietnam" who has tirelessly provoked and called on fanatic Buddhist followers to act under their "holy, religiously directions". Thich Tri Quang, a double secret agent who worked for both North Vietnam and CIA. Thich Tri Quang has an awful looking exactly like a killing gangster with his super thick eyelashes, super thick lips…who was trained and became an active member of the Communist Party of Vietnam when he was still a young, rural, uneducated, bad-tempered youth. Besides Thich Tri Quang, one cannot overlook another professional big-mouthed liars, pretending monks and monk's assistants such as "intellectual"Thich Nhat Hanh and "PROFESSOR" VO VAN AI and his Madame "big mouth" Faulkner… in Paris who have been in charge of making up and broadcasting too-good-to-be-true pieces of information, "declarations, statements…of the Unified Buddhist Church of Vietnam" at any time to the international media. One should also not forget the other "monks" inside Vietnam such as Thich Quang Do whose "pagoda" (Thanh Minh Monastery) has been recently merged to the state-controlled Buddhist Church of Viet Cong, also the deceased VC Thich Don Hau, deceased Thich Huyen Quang...These leftist so-called "monks" 's biographies and activities have been clearly unclassified and published by CIA and international intelligence agencies…
President Ngô Đình Diệm's Historic Speech to the United States' Congress on May, 9th, 1957 (Special Joint Meeting of the U.S. Senate and House of Representatives) -
Ho Chi Minh's political assessment about President Diem was very positive and enthusiastic. However, in realities, Ho conducted his massive, organized political plans and military invasions in the forms in guerrilla war and in occasion it became uprising (Tet Offensive 1968…) or large scale attacks (Quang Tri, Ban Me Thuot, Phuoc Long..) . Until today 2014, Ho, the CPV and its troops have still been so scared off NGO DINH DIEM's SPIRIT therefore they have continued to hired groups of state-run and money-run writers to misinterprete President Diem's greatest strategic accomplishments at that time. They have desperately tried to blacken out Diem's major achievements during his short governance of only 9 years which produced outstanding results which were factually resulted from his dearly profound love of his Mother/ Fatherland and his Vietnamese People that he wholeheartedly and selflessly offered to the majority of the People of Vietnam, both in the North and in the South.
It is obvious to see the righteousness always belongs to the First Republic of Vietnam and President Ngo Dinh Diem, his highly competent and clean associates and assistants who were fully committed to the national motto: FATHERLAND – PRIDE – RESPONSIBILITES.
The Late President NGO DINH DIEM has always been the historically courageous and responsible pioneer and also the fully competent and ethical top leader of Vietnam who has lived forever deeply in bottom of the hearts of People of Vietnam after under many decades of colonialism of French, Japan, Stalinism, Leninism and Communism… The Vietnamese People, especially young Vietnamese, may wish to consider the Late President NGO DINH DIEM as a great leader at all time to follow his paths to fight against China and loyal slave Vietnamese Communist Quisling (CPV) and its unchanged Communist members to construct, reconstruct and protect Vietnam after the CPV and the (Disguising) Communism is fully destroyed in Vietnam.
Consequences of the collapse of the First Republic of Vietnam
Leader of the Coup, General Duong Van (Big) Minh, after his "so-called revolution 1963" released all dangerous communist prisoners so they could continue to fight again in a favorable environment because all Diem administration's "strategic hamlets" to "fish out", organize, educate, support and protect…residents in rural areas across South Vietnam by Diem's government's resources were 100% decommissioned by general Big Minh. The An Quang militant "monks" group was free to call on students and arrogant "intellectuals" in many organizations such as Buddhist Combat Family, Buddhist Combat Youth, Dong Ba Combat Female Merchants, Combat Students…to carry out plans which were in favorable to North Vietnamese authorities that "even having had to "burn down completely Truong Son Mountains" to be compliant with the Resolution 15th (Jan. 1959) then Ho, his associates and troops would have "proudly" completed their mission to achieve their "strategic" goal to root out "The Intellectuals, The Rich, The Landlords and The Power". HO VIET GIAN and his CPV's foolishness, senselessness and stupidity was right here !!! It means these four basic classes of citizens as the main spinal cord for a human body and also the main backbone of a well-balanced, developing society (a healthy economy ) who were recognized and positively helped by President Ngo Dinh Diem to match with the world's daily economic, political, social, education…modernization and improvement combing with Vietnam's traditional values were finally killed by Ho Viet Gian (Ho Chi Minh) and his communist party (CPV).
Thoughtful citizens of the Free Vietnam under Diem's regime were encouraged to wear Vietnamese traditional outfits when President Diem set a good example himself to wear it to welcome international heads of state or international diplomats. That was his great way to promote Vietnam's cultural pride. To equip with such pride combining with modern civilization in order to enrich unique cultural aspects of Vietnam. It was not losing civilization as "Yellow" American, "Yellow" French or Chinese who usually spits down everywhere in public places.
In North Vietnam, Ho and his cadres transformed their People into "robotic Pavlov" human beings who wore 4-pocket suits to match up with Stalin and Mao's styles.
That was the way to "Bolshevik" People in the North both in outside appearance and deep down in their souls meanwhile the People in countryside during French colonialism was still able keep their birth names such as: Soan, Dao, Man, Loan, Le for females and Luan, Thuong, Dao, Ly for males. Then under Ho those names were "Bolshevik" as Vic To, Ni Na, Sec Gay, La Ra…in less than 10 years. One should remember that since 1954 after taking over Hanoi those communist traitors Ho Chi Minh, Pham Van Dong, Ton Duc Thang, Truong Chinh, Vo Nguyen Giap wore 4-pocket suits and almost all Northern "big intellectuals" also wore 4-pocket suites and were "very proud" to stand in group with those above leaders. These "intellectuals" were: Tran Duy Hung, Prof. Nguyen Van Huyen, Prof. Dr. Ton That Tung, Prof. Ho Dac Di, Lawyer Nguyen Manh Tuong, Novelist Nguyen Dinh Thi, Poets Cu Huy Can, Xuan Dieu, Prof. Hoang Minh Giam, Minister of Culture Dept.
After Ho Quisling came to power, he used undercover pen name (Tran Dan Tien) to write broken story-telling novels to praise himself, self-gratify, proclaim, wear formal dress and stand in front of a big mirror to bow down paying respect to himself. Some popular men such as Tran Khue self-identified himself as "Professor" in Chinese and Primary Chinese languages, Hoang Minh Chinh claimed himself as top cadres (in fact: middle-top), Vu Dinh Huynh (Vu Thu Hien's father) claimed he was a legal assistant to Ho. Mac Lam recently quoted Vu Thu Hien who bragged that his Dad quit his job in Dept. of Foreign Affairs to move out to work as inspector at Nguyen Luong Bang's department (?). Nguyen Minh Can claimed himself as Deputy Secretary General of Hanoi and also member of the Council of Changes (?).
The disease of political self-gratification has spread out fast and wide to the other nations outside Vietnam. What did "Professor" Nguyen Ngoc Bich appoint himself the President of the "Third Republic of Vietnam? His self-published biography is unclear and contains a lot of controversies and self-contradictories. What titles did Ton Nu Hoang Hoa and Ha Van Son crown themselves on their heads? Recently, Thien Y Nguyen Van Thang sent his articles to BBC.CO.UK from Houston, TX, were deeply self-gratified, self-bombarded that he was Attorney at Law at Saigon Appellate Court before 1975 (sic). In fact, until March 1975 he was only a legal trainee at Truong Dinh Dzu's law office.
"The Free Vietnam" under the reign of Duong Van Minh, Ton That Dinh, Tran Thien Khiem, Tran Van Don, in reality, was not able to enforce its political independence and sovereignty. Because immediately after Phan Huy Quat administration "poked out" its neck to present its cabinet members then Americans unilaterally and immediately sent troops over South Vietnam without consulting or getting OK from Quat's administration. Why did Van Cam Hai and Miller not set a question for themselves that if the First Republic of Vietnam under President Diem had been still in power than would Americans have been able to send troops and act alone militarily at their own will? Why did Americans ignore those betraying generals? Reasons: those low-educated, self-disrespected generals degraded themselves to take a small amount of bribe (Approx. $US 43,000 in 1963) given to them by American Colonel Lieutenant Lucien Conien. Therefore, to deal with those heartless, power-money-hungry mercenaries, Americans did not care to ask for their permission when they sent troops to Vietnam.
In fact, if these generals had "snarled" out a little bit about the American troops which were sent to Vietnam without Vietnam's prior OK than the Americans would have given them some extra bonuses and rewards and those "professional mercenaries" would have been more than happy to keep their mouths tightly shut again. It was because those generals fully lacked of self-respect and pride while they claimed they belonged to the heroic ARMED FORCES OF THE REPUBLIC OF VIETNAM in which it has trained and produced so many greatest generals and heroes in history such as Generals Nguyen Khoa Nam, Tran Van Tu, Ngo Quang Truong…
Current and urgent political situations of Vietnam are that our country is still under Communist Chinese and VC' iron hands then some observations are listed as follows:
1/ The Communist Party of Vietnam members have not abandoned their role as national traitors. They have been transforming our fatherland Vietnam and its People into China and Chinese people.
2/ Having assisted with the international and VC communists were (1) betraying military generals…whose face are humans but containing heartless body, (2) the AN QUANG cold-blood militia "monks", now under its new "glamorous" name "The Unified Buddhist Church of Vietnam". In fact, this "Church" has been under direct supervision of the state-controlled Buddhist Church of Vietnam/ Viet Cong (3) the "sweet-rice-fatty-meat-extra-fine-wine "politicians" to work along well to offer countless campaigns for faking democracy, faking political opposition, make-to-believe political parties, "eat-dance-and-gambling" associations, faking anti-communist organizations…which have been all well manufactured and supported by the Communist Party of Vietnam to export to other nations around the world as powerful mechanism to intervene, control or attack the overseas Vietnamese communities.
CONCLUSION:
Our evidences which were presented to readers from articles 61 to 65 are summarized presentations, but they provide readers various sources which are easy for everybody to reference. These materials include those written by Vietnamese communists and in the documentation of the Communist Party of Vietnam (CPV) as well as in VC state-run media. The links containing reference resources include many photos so readers can research important issues in the history of Vietnam in which there are some darkening areas for the communist state-controlled historians to BLACKEN and or SMEAR PINK historical incidents and political figures with strong assistance of the powerful sources of money and special interest groups, the betrayals, individuals, organizations, associations inside and outside Vietnam under direct and strict direction and supervision of the Communist Party of Vietnam and/ or with active assistance and support of groups of state-controlled professionals such as Vu Thu Hien, Bui Tin, Nguyen Minh Can, Doan Viet Hoat and the dishonest media such as SBTN, Nguoi Vem Daily News and TV, Viet Bao…
The former prisoners in "Re-Education" camps surrendered CPV quisling in overseas countries are working for CPV Quisling authorities.
Some former students in South Vietnam who did not make any contributions in the Vietnam War to fight back Leninist group and its subordinates now they get together in overseas countries to manipulate the public opinions via the media to paint all BLACK images over the Republic of Vietnam and paint PINK over the VC communists.
Example: The three brothers CHU: Chu Chi Nam, Hoang Thien Dao, Nguoi Viet. They studied in Europe in 1960s. They did not go back to Vietnam after graduation to fight communists but stayed back in France, Germany to form political gangs to fight against Free Vietnam government before April 1975. Eventually they formed a political discussion room "Research in Vietnam History" in Paltalk forums to work with Le Van Hong Phuoc (nick name The First Paltalk MC) to smear all BLACK to the Republic of Vietnam by arguments "Rep. Vietnam did not have independence, Liberation Front was French's out-of-wedlock kid…". These groups of students work hand in hand with AN QUANG Militia "Monks" Group while changing identities, names…exactly like the Communist Party of Indochina changed its name to the Labor Party of Indochina. Also, there are also former CPC quisling intelligence / troops who have been following the flows of Vietnamese refugees to settle in all nations around the globe to carry out plans that have been assigned to them before the collapse of South Vietnam in April 1975.
Some hints that help readers to identify those groups and CPV troops… These people usually:
1/ Do not name accurate crimes of the Vietnamese communists quisling. They use vague, big words such as "illegitimate authority, subordinate, dictators…
2/ Create new organizations, reinstate old inactive political parties to solicit money from CPV quisling authority via its Resolution 36th's fund.
3/ In same website or organization but their political positions are quite opposite.
4/ One only need to point out 1% of the incidents than people can identify their real identity as communist supporters. Example:
- Communist Nguyen Van Thu's face was destroyed and killed by Ho Chi Minh's shooter. Meanwhile, Nguyen Van Thu after 30/4/1975 was member of the Governing Military Committee of Saigon.
- Communist Dr. Pham Ngoc Thach was killed by Ho when he lived in France. Reality: Dr. Pham studied in France and went back to Saigon to practice medicine since 1936. Until 1940 when Japan entered Vietnam, Pham organized the Volunteer Youth as Lawyer Phan Anh also organized Phan Anh Youth Group. Until 1944, communist Duong Bach Mai who used to be Dr. Pham's friend in France connected to invite Dr Pham and then Pham contacted and worked with Japanese.
- Also, story that indicates Luu Quy Ky was killed by Le Duan before 1954. But Luu Ky Quy Ky used to be a standing Commissioner of South Vietnam who was jailed in Con Dao prison and was released in 1945 along with Le Duan. In 1954, Ky went to Hanoi to work in Daily News in the Central Education/ Training Dept., then he was Editor-in-Chief of Thong Nhat News and also President of Newspaper Association before Xich Dieu (aka tran Minh Tuoc) who was lover of Kieu Mong Thu, representative in the Congress of Free Vietnam in Saigon.
There are countless other false stories which aim at creating mixture of good and bad information for readers to read. Contents of these fabricated pieces of information are in best favorable to the Communist Parties of Vietnam and China.
They put interests of their political parties above interests of Vietnam. For example they affirmed "the Armed Forces of Republic of Vietnam is only glossy with its past glory and now this is time for political parties in actions… (sic).
39 years have passed by (since April 1975), only a limited numbers of writers who have publicly confirmed the Communist Party of Vietnam Quisling (CPV) has sold out its Fatherland (land, sea and natural resources) to "its big brother" China. It is quite different from Soviet Union's sale of Alaska to America. Evidences about the grand crimes and the betraying of the Communists Party of Vietnam (CPV) and its affiliates to their Fatherland Vietnam via their 50-year-old sale transactions of the land, sea and natural resources of Vietnam to China are mountainous.
Information provided above are valuable lessons to us to learn at high prices that foreign writers have been working closely with Vietnamese and/ or Viet Communists quisling writers to change white and/ or smear black into Vietnamese historic events so they can defend and cover up their grand crimes in the history of Vietnam while creating shady and dark areas in recent history of Vietnam which aim to discredit President NGO DINH DIEM and his administration's GREATEST HISTORIC ACHIEVEMENTS during his short 9-year tenure to FIGHT VIGOROUSLY AGAINST INVADING SOVIET UNION, CHINA and the Eastern Communist Bloc while still being able to use Vietnam's limited military and economic…resources during the war time to protect, enrich and engage Vietnam and its People in full gears towards the fast development and modernization of Vietnam in all strategic areas.
May 2nd, 2014
Reference:
The Late President Ngo Dinh Diem:" Let's continue working along with my Will".
Author: Chính Khí Việt
Version in English language by Việt Sĩ
These days one cannot say it's not historically long enough or historical materials are insufficient. The political realities are that our Fatherland Vietnam and the Vietnamese People have sacrificed themselves tremendously because they are so honest, trustful and historical evidences and witnesses are more than sufficient for us to extract our historical lessons, set realistic directions for Vietnam if we want to have peace, independence, social equality, People of different classes are taken care of equally and cultural and historically fine traditions of Vietnam are effectively preserved and enriched. Those historic lessons should be straightly reevaluated in line with political incidents in Vietnam during the period after the end of World War II until now 2014.
POLITICAL EVENTS in CHRONOLOGICAL ORDER
Sponsored by the colonist French, the last King of the Nguyen dynasty, Bao Dai, in fact was only a spoiled King, playboy and a "Yes Man" in the French hands. In March 1945, the Facism leadership overthrew the French in Indochina. The French army fully revealed its disgusting behavior similarly to the Petain's soldiers in front of Hitler. To Vietnam, Japanese fascists focused on this country with their dream of building up the Grand East Asia. Therefore, they created a political party, Grand Vietnam (Dai Viet) and a Cao Dai Church.
After overthrowing the French colonists in Vietnam, Japanese fascists transferred the political power back to King Bao Dai because this King was not a strong and determined Emperor especially Japan was in charge of foreign relations and defense for Vietnam. It meant Vietnam was transformed from full subordinate to France to partial subordinate to Japan because Japan was well aware that the collapse of Japan in Vietnam was only in months ahead.
King Bao Dai authorized Tran Trong Kim to build his administration cabinet. Tran Prime Minister was a patriot who was credited much in education area but he did not have enough experience to manage political instability at that critical time.
Therefore, Tran Trong Kim had issued two patriotic executive orders below which in fact became his bad orders that severely damaged Vietnam which was similar to the Vietnamese old-time legendary story of a working ox. An angel spread down grass seeds first then eventually spread down rice seeds. It turned out wild grass seeds grew up faster, out of control while rice seeds were not able to grow. That "absent-minded" angel had to ceaselessly act as an overworking ox to eat all wild grass and very much laboriously pulled along the plough to prepare soil and plant rice for its owner.
a) First order: Released all prisoners. This order gave the Indochinese communists a good chance to regroup all their soldiers and cadres to seize political power of Prime Minister Tran who had earlier set them free.
b) Second order: Stripped out authorities and prosecuted imperial officials and locally rich people, especially those who helped Japanese soldiers to pull up and destroyed rice plants of peasants and grow a sturdy plant called "day" for the Japanese therefore almost 2 million peasants in North Vietnam were starving to death in 1945 due to the lack to rice to feed them.
Due to these two big political mistakes, the national administration had a vacuum of management. These "politically non-sense orders" did help the national traitor Ho Chi Minh quickly seized the position of President of the coalition government which shared power with other "nationalist" parties of Nguyen Hai Than, Vu Hong Khanh, Nguyen Tuong Tam…and suspended the implementation of Prime Tran Trong Kim's above two executive orders. Ho only needed to propose his simple idea of pausing Prime Minister Tran's orders in a cabinet's meeting, a signature and on behalf of the government then he, Ho Chi Minh Quisling, a notorious communist automatically gained absolute loyalty and strong support of the imperial's officials and corrupted rich people to run the administration that was definitely in favorable to the communist (aka. labor union) party of Indochina masking under its cover "the Front of Viet Minh" (Coalition of the Labor Party of Indochina and other nationalist parties).
2/ In previous commentaries, Chinh Khi Viet has proven that the greed and stubbornness of the French colonists when they came back to Vietnam was the main reason to instigate the flame of patriotism of the Vietnamese People.
They were willing to sacrifice their own lives and accumulated properties of many generations to contribute to the fight against the French. Their ambition and honesty was misled by the Indochinese communists under Ho Chi Minh with support from "politicians" whose hearts and minds always wanted to depend on foreigners' (free) helps such as Nguyen Hai Than, Vu Hong Khanh, Nguyen Tuong Tam…along with the "intellectuals" and artists whose political judgment were completely blind so they devoted their efforts to work for grand criminal, national traitor Ho Chi Minh, as loyal slaves to transform the struggle of Vietnamese People against the French colonists into the war to invade colonies using blood and bones of the Vietnamese to serve the red colonists Leninist, Soviet Union and red China in the extended war in Vietnam, Laos and Cambodia. In this war, the traitor Ho Chi Minh was successful with his slogan "Mobile/ Flexible Fighting without stationing in fixed positions" which was the first step to rip off the Vietnamese People's wealth and stable productivity.
It is worthwhile to note that:
a/ In Indochinese communists side, from the notorious criminal Ho Chi Minh to his key cadres, except the real patriots who vowed to "die for the Motherland to live" to join the Communist party, otherwise those who survived the war were eventually persecuted in the plough to plant which were called "revolutions". Those who were re-assigned in the party were cadres who accepted to be brainwashed real well and did show absolute loyalty through concrete actions such as Nguyen Dinh Thi, Bui Bang Doan Bui Tin, Đặng Văn Việt, Cù Huy Cận, Xuân Diệu, Hoài Thanh, Nguyên Ngọc, Lưu Trọng Lư, Lưu Hữu Phước, Huỳnh Văn Tiểng, Mai Văn Bộ, Trần Duy Hưng, Phan Anh, Phan Mỹ, Vũ Đình Hoè, Nguyễn Văn Huyên, Hoàng Đạo Thuý, Vũ Văn Cẩn, Vũ Khiêu, Nguyễn Huy Tưởng, Tạ Quang Bửu, Tạ Quang Đạm, Nguyễn Bá Thuyên, Trần Duy Hưng, Tô Hoài, Tô Hải….
It means the Communist Party of Vietnam Quisling (CPV), the administration and all of its political system were, in reality, led by the Soviet Union and the Communist China in all areas including human resources management after the Genève Treaty of 1954 on Vietnam was signed off.
In the "nationalist" side under King Bao Dai, the staffing was also setup by the French along with the participation of some political parties such as Dai Viet, Viet Nam Quoc Dan Dang, Dai Viet Quoc Dan Dang…It means there were no officials elected by the People of Vietnam but they were appointed by the French.
b/ After the Genève Treaty of 1954 regarding Vietnam was in effect Vietnam was divided by the two nations via the 17th parallel which was the demarcation line next to the demilitarized zone. Ho Chi Minh Quisling and his key executives governed North Vietnam. The two ambassadors of Soviet Union and China occupied the finest schools and mansions in Hanoi to use them as embassies and satellite agencies. Immediately, they created the Friendship Association of Vietnam and Soviet Union led by Duong Bach Mai, a member of the CPV's Committee, also member of the Congress Operational Committee, who served as the President. Also, the Vietnamese China Friendship Association was under the leadership of Bui Ky, father of Bui Diem (Dai Viet party).
These two above associations had responsibilities to help people enrich the spirit of respect to Soviet and China concretely through languages, culture, arts, entertainment, clothing fashions; even book shelves in rural areas were also literature pieces of Soviet and China. These two so-called "friendship" associations were also placed where Soviet Union and China selected and employed spies to secretly follow through activities and reports of these association leadership and members to verify the accuracy of reports to the sponsoring governments of Soviet and China. These two associations had authorities to screen and accept members in all government branches, people of all walks of life, all organizations…It means the recruiting of members covered all Communist political system including department of defense, and in public security department there were also sub-associations which recruited middle and high cadres.
Some facts that need to be paid attention:
a/ At all central and local government agencies in the CPV, Congress, People Committee, Administration Committee, schools, markets, train and ship stations, town groups, elementary schools, pagoda, church, construction, agriculture, forest wood sites…there were photos of Marx, Engel, Lenin, Krupskaya (Lenin's wife), Stalin, Malenkov, Molotov, Voroshilov, Zhukov. To China's side there were displays of photos of Mao Tse Tung, Lưu Thiếu Kỳ, Chu Đức, Chu Ân Lai, Bành Đức Hoài, Trần N.
b) Ho Chi Minh decommissioned the Ministry of Justice, the Law School of University of Hanoi and ran North Vietnam by his executive orders. They put all people who were classified as "inappropriate" to their regime including the youths in forced labor prisons or all families were sent to remote wild areas for laborious agriculture work, without government's initial help, based on recommendations of young police who were mostly more or less than 20 years old.
c) Obviously, the so-called "revolutions" were continuously implemented in which the focus groups of people were publicly mocked/ accused, imprisoned and even executed if they belong the groups of "Intellects, Riches, Landlords, Powerful" of the era of Xô Viết Nghệ Tĩnh 1930-1931!!!
d) One very important fact was that the group who was called "tập kết" (born and raised in South Vietnam were grouped and sent to the North for "being reeducated" to obtain the CPV's trust before being authorized to work) were allowed to bring along their wives and kids if they were high-ranking officers. Otherwise, the majority had to leave wives/ kids behind in the South and they went to the North. The Northern leadership sweetly convinced this group that after 2 years, the nationwide election would be held and then they would be sent back to the South to reunite with their wives and kids. But the real reason was the scam concerning the nationwide election of the Communists as Chinh Khi Viet already pointed out in previous articles.
The fates of the "tập kết" people were very toilsome. Most of them were sent to civil/ military agricultural sites (if people were service men), "labor man" to plant wood/ forest in state-run forestry sites. The youths were classified and assigned into "modern jails" which were named "Southern schools". They lived miserably, starving, cold, lacked of family spiritual support, severe disciplines and hard labor therefore many youths fled out of camps and became thieves, prostitutes, jailers or re-educators in youth camps (another forms of forced labored jails).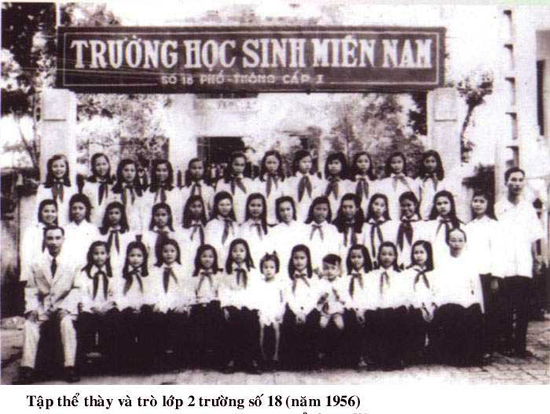 Following are two concrete examples:
Example 1: Trần Văn Thành, former secretary general of the Union of Liberation of the Communists in South Vietnam. He had 2 sons who were sent to North Vietnam to attend "Southern school" in Ha Dong province. The day Tran Van Thanh went to the North he was met and warmly hugged by Ho Chi Minh as if Thanh represented the working class in the South. After meeting with Ho, Thanh requested to meet his 2 sons. It took several days to locate his 2 kids who were being re-educated in the Am Thuong re-education camp because they were so starving so they escaped from their school to go to Hanoi to steal merchandise at the state-run shop at phố Tràng Tiền. It was not clear how Tran Van Thanh had reacted but after that all father and his two sons disappeared.
Example 2: Medical doctor Phung Van Cung, member of the Central Committee of the National Liberation Front of South Vietnam(NLF), sent his own cute daughter to "go North" ("tập kết") to follow Ho Chi Minh. She became so starving and suffering so she escaped to Kim Lien bus station (Hanoi) to sell street cigarettes and worked as a prostitute. The day Dr. Phung Van Cung came to Hanoi he met his daughter at the bus station after getting her whereabouts information from other people. His daughter harshly cursed her father something like:" You destroyed my whole life, go away a cruel Communist". After that meeting the daughter was also "evaporated/ missing". And Dr. Phung's "revolution spirit" has been destroyed completely.
Example 3: Daughter of Nguyễn Văn Trấn, author of "Sending A Letter to Mother and the Congress", was repeatedly arrested as a prostitute. Tran was residing in Hanoi so he intervened to get his daughter out of the "camp" and "arranged her wedding" with a soccer player who was originally from the South belonging to Thể Công soccer team (communist military soccer team).
Briefly, the fates of the Southerners who belonged to organizations of the Communists were forced to go to the North because they were threatened that they will be harassed and revenged by the South Vietnam government. Therefore, they did not voluntarily go to the North. That was why at many places the Southern "tập kết" people created massive fights and some were executed by the bloody hand of top Communist general Phùng Thế Tài. Or many people have been aware of the story of Communist general Đồng Văn Cống's son, leader of students of the "Southern schools" who made widespread protests across the country from Ha Dong province to capital Hanoi.
The fates of the majority of those "tập kết" people as soon as they set their first footsteps into the North then they immediately became the RED SLAVES exactly like the poor People in North Vietnam.
The important fact to be recognized was that the whole staffing and organizations of the CPV and the administration were assigned by Soviet Union and China. The top leadership teams of Vietnamese Communists were not elected by their party members but were selected and appointed by Soviet Union and China, The CPV's members only elected officials within those approved lists. The North Vietnam administrative branch's staffing were also nominated by the CPV and the People only select within that approved list. Somewhat differently was the CPV leadership was nominated by Soviet and China and CPV members elected candidates within that pre-approved list.
AND HOW WAS THE SOUTH VIETNAM?
When King Bảo Đại, as the President of Vietnam, invited Mr. NGÔ ĐÌNH DIỆM to serve as the Prime Minister, there were almost 1 million refugees who migrated from North Vietnam to South Vietnam, leaving behind their land and ancestors' tombs…to flee to the South voluntarily to follow Mr. NGÔ ĐÌNH DIỆM. They were not threatened or tricked out to go. The number of refugees should have been much higher than 1 million. But, due to some transportation means limitations and especially threats, discouragement and terrorized acts of the Communists so Northern People were not able to migrate to the South easily.
On August, 9th, 1954, the Nationalist Government of new Prime Minister Ngô Đình Diệm created the Directorate General of Immigration and Refugees.

Almost 1 million Northern Vietnamese casted their votes by their own feet to disapprove the Vietnamese communists (CPV) and entrust Prime Minister Ngô Đình Diệm while leaving behind all their properties accumulated through many generations, lands, plantations including their ancestors' tombs…in the North to migrate to South Vietnam after the Genève Treaty of 1954 to divide Vietnam into two independent nations).
It is worthwhile to note that this time was not the time for the Nationwide (General) Election throughout North and South Vietnam as defined by the Genève Treaty of 1954 on Vietnam but the People in North Vietnam determined themselves from bottom of their hearts to select/ elect Prime Minister Ngo Dinh Diem as their top, competent, ethical, dedicated, politically visionary leader and eventually became the very first President-Elect of the First Republic of Vietnam.
1/ In North Vietnam, Ho Chi Minh's communist party (CPV) throughout their Land Reform Policy, Reorganizations, Cultural and Thoughts Revolution…killed and destroyed all People in order to obtain their main goal of "zero political opposition". The political purges also affected two parties (1) Socialist Party of Vietnam and (2) Democratic Party of Vietnam, after being created and re-educated by the CPV. They were only fake political parties which were built up as alluring baits to politically blind people in Southern Vietnam or Vietnamese who lived abroad, especially in France. But people around the globe were politically sensitive enough to recognize their suspicious political root and track records.
They also obtained full support of the Soviet Union, China and the third world, the non-allied nations, such as India, Indonesia, Egypt, Northern and Eastern Europe, France and some countries of Africa, especially via their expensively full scale make-to-believe media campaigns.
2/ In the meantime, President Ngo Dinh Diem had to inherit massive problems in all areas from "gambling casino" owned/ co-owned by King Bao Dai and former Prime Ministers Tran Van Huu, Nguyen Van Tam who allowed different armed forces of religious Churches, political parties and severe conflicts between political groups. The nation's armed force was under General Nguyen Van Hinh (Nguyen Van Tam's son) who bore French nationality and his French wife. So, in reality, Vietnam's armed force was still fully in the French's hands.
And the economy was under complete control of two major Chinese cartels, Quang Dong and Trieu Chau.
It should not be forgotten that at that time, in South Vietnam, the CPV still secretly "planted" behind key cadres such as Lê Duẩn, Nguyễn Văn Linh, Nguyễn Đức Thuận, Nguyễn Văn Sô, Phan Văn Đáng, Trần Lương (aka Trần Nam Trung, later served as Minister of Ministry of Defense in Nguyễn Hữu Thọ - Huỳnh Tấn Phát cabinet, Võ Chí Công, Đoàn Khuê, Trần Bạch Đằng, Lê Minh Hương, Võ Văn Kiệt, Mai Chí Thọ, La Văn Liếm, Cao Đăng Chiếm…along with different kinds of rifles, ammunitions, fighting guerillas and also active armed forces…These killing moles only changed their living places by shaving off their hair and many got in pagodas as (faked) monks or lived as parasites attaching to families who had fathers or sons who went up ("tap ket") North to serve Ho Chi Minh. At that time, there were also the fame-hungry "intellectuals" such as lawyers Nguyễn Hữu Thọ, Trịnh Đình Thảo who accompliced with communist Phạm Huy Thông who returned from France to publicly harass Ngo Dinh Diem administration by lot of protests and hunger strikes…
Those organizations were surely well identified by the French intelligence that was much better than the young government of Ngo Dinh Diem because the French was well established in Vietnam almost 100 years so they had individuals or organizations, either given birth by them or trained and supported by them to work for them. In Hanoi, France was the only nation, who had had its ambassador but it was changed to the Representative General and permanent reporter immediately when the communists came to seize power right in front of the eyes the International Commission for Supervision and Control in Vietnam (ICSC), in which Canada, Indian, Poland were members (delegates), when they were still in Hanoi. This commission used two biggest buildings in Hanoi as offices where the Shell was located at corner of Tran Hung Dao and Ngo Quyen streets and the commerce office in opposite of Guom lake. The Indian soldiers, worked for Indian delegate was stationed at a place where it became the Ministry of Plantation, about 100 meters from the home of Ph.D. Nguyen Manh Tuong who was named by scholar Ho Huu Tuong as "Fece Idol" because he was originally born in Cổ Nhuế village in which all of its villagers earned their livings by transporting and selling human waste (feces).
Indian delegates worked less but many engaged in illegal businesses. Therefore, the soccer field in front of their camp since dark until 10pm became the "black market" for public. Obviously, there were directive hands of VC security force under the approval of the wife of Le Nghia, the deputy police chief and also secretary of Ha Noi public security department.
3/ It must be straight to admit that, at that time there were no survey agencies, but based on Mr Ngo Dinh Diem's achievements then nobody could reject his politically strategic visions, his superb courage to assume the most challenging responsibilities during politically complicated disabilities and large scale political turmoil at that time. It was because his holy spirit of serving his unfortunate citizens so the Vietnamese People loyally supported him, the Prime Minister Ngo Dinh Diem.
This was the most solid political foundation by Prime Minister Ngo Dinh Diem who had rare and sharp political vision that was able to cut off the roots of all political disturbances. That was the "People Referendum" to impeach King Bao Dai so Mr. Ngo had full power to launch massive military operations to root out completely the armed sanctuaries of several different religious sects, enacted all power to the administration cabinet and immediately designed and enacted the Constitution and organize the free general election to build a democratic government of the First Republic of Vietnam. That was Prime Minister Diem's one of biggest political achievements after a hundred year under French colonialism. That was the first time a top political leader of Vietnam was elected by strictly following constitutional procedures. It means from 1945 until that time President Ngô Đình Diệm was the only constitutionally elected political leader in both South and North Vietnam.
Please refer below links to have updated information concerning President Ngo Dinh Diem's achievements. Chinh Khi Viet would like to compare President Ngo's strategies to serve his citizens and the Fatherland while Ho Chi Minh and the CPV ran North Vietnam.
Strategic objectives (theme) of the Armed Forces of the Republic of Vietnam: FATHERLAND – HONOR – RESPONSIBILITIES. While objectives of Ho Chi Minh and his CPV: Loyalty to the Communist Party of Vietnam Quisling (CPV).
a) Land Reform, other economic and social issues/ solutions under the First Republic of Vietnam: The national land reform policy gave the land ownership right to peasants without the need of bloody "People Court"'s executions as in North Vietnam under Ho Chi Minh who accused peasants/ land owners and killed them". This policy assisted peasants and industrialists to run their own business ventures to produce benefits for themselves and at same time contribute to their nation's economy (Guidance: Economists John Maynard Keynes and subsequent economics authors for economics in free nations…) but peasants had to abide by regulations and laws which protected the workers via well-written legal laws and regulations. Workers also had rights to organize their labor unions.
In other words, the first Republic of Vietnam (from herein being abbreviated as FRVN) regime protected citizens' ownership rights and production materials including land, plants…) along with full legal protection for workers.
b) The FRVN was the first elected government in Vietnam after liberated from French colonialism was able to best utilize the national Constitution and its associated, applicable legal systems to run all social activities, wealth redistribution and also completely and effectively preserve Vietnamese culture, art and the nation's land territories, waters and natural resources…
Meanwhile in North Vietnam, Ho Chi Minh's CPV implemented the policy of ripping off People's wealth. They clearly stated in their governmental documents that the CPV is the absolute owner and the People were "productivity means" (slaves) which meant the People were only a purely form of property (productivity) of the CPV. Saying for easier understanding: if living in the nation's territories in free South Vietnam, the citizens were protected by the written laws as legal owners of properties which were gained through their hard/ good labor/ creativity but in Communist North Vietnam under the CPV they run the country by executive orders to protect its own CPV's selfish ownership but the People living under this CPV regime People did not have civil and human rights. And, in fact, the People in North Vietnam looked like oxes and cows that literally bore the bodies of human beings.
The CPV Quisling ran the government by their executive and verbal orders such as verbal ordinance under the old imperialism totalitarian regimes. All labor unions were created and directly run/ controlled by the CPV and associates with ultimate goals to control members' minds, thoughts, labor productivities, trade-related activities to ensure these workers, considered as a tool of materialistic production) best served the CPV to meet their political objectives which were designed by Soviet Union and Red China. Ex: laborers, peasants, novelists, teachers, women.
4/ During the time on top of power in South Vietnam, leader President Ngo Dinh Diem still strongly demonstrated himself his simplest and most frugal lifestyle. His cabinet assistants were similar to him, the top leader.
On the complete contrary, when Ho Chi Minh and his Communist Party of Viet Cong/ CPV (skillfully being masked as the Labor Party of Indochina) entered Hanoi in 1954 after their "Fall Revolution" they immediately stole modern mansions/ buildings, created special shops which supplied special, luxury "necessities" to them, special hospitals, separate entertainment centers, resort centers and hospitals in other countries. Special health committee was designed and created to prescribe special vitamins such as human fetuses which were soaked very long time in bee honey in Ha Giang province because in that city bees sucked honey in opium trees. They also processed extract of condensed tiger bone, Ban Long and Tieu condensed bone extracts.
Superb aromatic rice of Huong Canh (Vinh Phu) was a specialty rice of North Vietnam but the output was very low so Ho Chi Minh and his CPV forbade planting this rice but only limiting its supply to serve the Viet Communist PoliBureau and embassies of China and North Korea (because Soviet Union did not eat rice).
In general, the specialty food of Northern Vietnam was only supplied to the Central Committee of the CPV, priority to PoliBureau and Committee of Secretary General. Ex: Sweet Crunchy Rice (Com) Lang Vong, Ha Noi, Yen Minh, Ha Giang seedless persimmon, Hung Yen logan, Anh Vu fish, Phu Tho white crane, Dam Set, Ha Noi tapila fish. They distilled wine from (Than) sticky rice, Tu Son sweet rice, strong horses' semen, fresh milk from Holland cows, cow ranches built up in Ba Vi and Son La. Those specialty food/ vitamins were transported to the CPV leadership daily by helicopters.
It meant all utmostly expensive, rare and extra delicious food/ vitamins were daily supplied to the CPV leadership. Therefore, Ho Chi Minh and the leadership in CPV Central Committee were all superbly great looking with super red- bloody-glossy skinned face (like living Marxist SAINTS). Until now, most of them are all beyond 90 years of age but are still alive, alert and very healthy. "Full stomach therefore extra hot kidney and wiggling hands, feet and…horrendous…sinful genitals…" (Vietnamese adage) the Viet Cong CPV built the "Turtle entertainment center" in Quang Ba, Ho Tay, Ha Noi to nourish under-aged girls for their daily F…KING…SHOWS. These were super young girls aged from 17 to 20, selected from highland areas of Son La, Lai Chau, Cao Bang. They were Tay and white Thailandese. These young girls were trained in professional sexual services to proudly "serve" the leadership of Viet CPV….until the…"LAST DROPS…" Sexual services performed by these under-aged girls were also classified as "Marxism Leninism revolutionary activities" (sic).
Not only was there the "Turtle Entertainment Center" at Ho Tay but in all provinces there were "female servers" to "serve" Communist high-ranking cardes and "extra specialists" in the homes which were called "Courtesy Homes". Specifically at Hung Yen province, the province's secretary general Le Quy Quynh built up a prostitute group masking under the name "Provincial permanent agricultural arrigation group". At Quang Binh province, the province's secretary general Nguyen Tu Thoan set up the province's music band to serve the "leadership" with their Marxism's sexually animalistic arousing needs.
It has not been mentioned to the Communist leaders in the "Henry VIII green-beard escort team" to chief Ho Chi Minh who publicly "slept" with their subordinates' wives. Ex: Ho Chi Minh (referenced by author Vu Thu Hien, who lived most of his life in North Vietnam, in his work "Nights During Days") that Ho Chi Minh at every single noon authorized pickups via automobile his "niece Linh Nham" who belongs to the Central Musical Band to visit his President Palace to eat lunch with "Uncle Ho" and performed poetic verses so "uncle Ho" can sexually purred out and yelled out real loud:
"Ec ec ec….ah ah ah ah ah, oh oh oh oh, ah ah ah…uh uh uh, oc oc oc, a..a… e…e…e…uhm, uhm, i…a'… e' ehhhhhhhhhhhh…." as a strong naked PIG in its… free loader's sexy show (in "No family, no religion, no fatherland…play script") whose big…balls were being harshly castrated but at same time was probably happily (state-implemented) consficating Marxism Leninism PARADISE/ NIRVANA !!!
That's why "Uncle Ho" was able to enter his naps satisfactorily every noon after "finishing his…full scale Revolutionary…Operations" with his "niece Linh Nham" in order that he could be healthy and happy enough to tackle "strategic national affairs…" "for the People, by the People and from the People…" (Sources: Chu? Tịt Hồ Dâm Tặc's ecstasy voice recording extracted from Hanoigate's super top secret archive).
Top Vietnamese Communist Pham Van Dong, Viet Cong Prime-Minister-For-Life mated with actress Dam Lien of the Performance Art of the 5th Zone,Heads butcher Vo Nguyen Giap mated with Hong Hanh, wife of writer Dao Vu, Major General Nguyen Trong Vinh slept with his adopted daughter, a member of the Central Acrobat Group, Ung Van Khiem matched with the widow of deceased Minister of Agriculture Huynh Van Loc in Ho Chi Minh's cabinet whose wife jealously fought back so To Huu rematched this widow with state-run writer Hoai Thanh, Nguyen Van Tran slept with both mother and daughter of wealthy Pho Gia Tuong at Pho Hang Bo, Ha Noi. He also dated with his daughter's friend, a player in the national table-tennis team, Nguyen Thi Mai.
That was the main reason why Nguyen Van Tran, the Secretary General of the CPV, ordered to flat out the Poli-Technique school, which was originally built since the time Vietnam was still under the French colonialism, to erect/ build the tennis table club. There were countless of horrified, corrupted incidents in the CPV's killing history. Let's take a look at grand heads butcher Tran Do, a star of some young intellectuals in Canada, led by medical doctor Lam Thu Van. He came to Saigon and arrested while he was "intimately sleeping" with a "niece stewardess" at Huu Nghi hotel. Other top VC Nong Duc Manh stole the lover of his son, Nong Quoc Tuan. And the fake political dissident Cu Huy Ha Vu was arrested while he was shirtless, extra fat and super dumb like a sweating pig who was sleeping with a girl in a hotel and with his 2 used wet condoms (probably to divert the investigation of the VC investigators). Even a "no hair bald" guy Thich Khong Tanh was arrested at a "love scene" in a double-bed 3-star hotel room Hoang Yen while he was "preaching his Buddhist sermons" to a young attractive female Buddhist in that hotel room.
For years, the above-mentioned truths have been well hidden by the Communist authorities so People in Northern Vietnam were not able to know, so how could People in the South and even the VC armed forced of "long hair and troops' mothers" in Southern Vietnam be aware of those ugly dirty, cheating stories.
5/ Nowadays, the suppressed People of Vietnam have been aware of some of the past and present truths of the CPV, not only via media but also from the witnesses and their own victims who have been long repeatedly abused by the political system of the CPV.
However, if some people who are still not convinced with the cruel and bloody killing face of the CPV then they are much likely influenced by the truth -or-dare (true-or-false) stories by the state-controlled, state-paid writers such as Vu Thu Hien, Bui Tin, Nguyen Minh Can, To Hai with his quote:" There was no such ban to the Nhan Van Giai Pham writers by the top Communist leaders Le Duc Tho and To Huu…but they banned themselves to write…"). Also those whistle-blowers of the CPV such as Truong Minh Hoa, Hua Vang Tho in TinParis.Net. These 2 individuals have created faked or modified, bias news pieces or commentaries so the People, witnesses or victims inside Vietnam are extremely suspicious on the news broadcast to Vietnam from other free countries. This tactic reduces the positive impacts of the media fronts/ battles from abroad into Vietnam to unmask the CPV to the victimized People of Vietnam.
6/ Now, the systematically oppressed People of Vietnam have understood a big chunk of brutal truths about the CPV. However, their knowledge about the First Republic of Vietnam administration under the excellent and ethical (super clean) leadership of constitutional President-elect NGO DINH DIEM is still very limited. Because they have not been informed of all the historical incidents throughout Vietnam so the People are still suspicious, holding negative attitudes and easily fall into traps of the faked dissidents, groups or parties. These faked forces are either setup, paid and maintained by the CPV or belong to the special interest groups. Their "stainless-steel glossy" credentials are made up by the CPV or the special interests groups or by the cooperation of both groups because they have common interest that they can exploit labor, exhaust Vietnam's natural resources, utilize bones and blood of Vietnamese People, Vietnam Fatherland's territories, waters and airspace into their own international politically gambling and speculating plans.
At this critical moment of the history of Vietnam, the People (inside and outside Vietnam)'s decision is ultimately and critically important:
a/ The People's necks will be completely and in all aspects shackled under China's dictatorship if an appropriate attitude (proper political strategy) is not be chosen and implemented before the disaster happening to our Fatherland Vietnam and its unfortunate People.
b/The People of Vietnam will become "red slaves" under China to comply with the direction of the CPV who are playing the role of the "faked modernists/ false dissidents…" or become "green slaves" towards the shortcuts of the faked democratic activists/ dissidents… such as Nguyen Dan Que, Cu Huy Ha Vu, Pham Chi Dung…and other "ghostly political parties" inside and outside Vietnam which have had bad track records of grave betrayals without solidly proven political contributions or achievements.
c) Or, follow a challenging strategy of self-control, self-respect, humanistic human-beings, fairness, truly independence and liberty such as proven political strategies under the astoundingly achieving leadership of the late President NGO DINH DIEM under his short 9 year of governance under the First Republic of Vietnam with its popular theme/ objectives: FATHERLAND, HONOR, RESPONSIBILITIES to lead and plan accordingly and properly for the national interior and foreign relation policies as well as using this theme of the above simple words to control and review the implementation of the national strategic policies.
The members of the Armed Forces, People, Administration and Political Parties of the Republic of Vietnam and all People throughout Vietnam should question ourselves what we have done for our FATHERLAND VIETNAM, what we have accomplished to protect the reputation of our Fatherland Vietnam, how much responsible we should have been bearing to all of us and to each of us to our ancestors in the past, to ourselves and our fellows in present and finally our responsibilities to the national heritages that we inherited from our FOUNDING FATHER VIETNAM and our responsibilities to our next generations and to our People and FATHERLAND VIETNAM in the twenty-first century and beyond?
Author Chính Khí Việt
Version in English language by Việt Sĩ
May 8th, 2014
MORE THAN SUFFICIENT PROVEN HISTORICAL FACTS AND UNBIASED WITNESSES FOR THE PEOPLE OF VIETNAM TO MAP OUT POLITICAL STRATEGIES FOR THEIR BELOVED COUNTRY.
Version in English language: Viet Si
These days, the Vietnamese inside and outside Vietnam, regardless of their walks of life, old or young, with different religious beliefs and ethnics, if they truly want their Fatherland the People of Vietnam to live in peace, without hatred, discrimination, or foreign domination in any aspects of economy, culture, military, politics…directly or indirectly in incompatible, unfair, unequal foreign relations then the necessary factors which should be considered and implemented would be as follows:
Using the perspective of the Fatherland and the People to collect correct information inside and outside Vietnam which has been happening in reality. It means people cannot be bias with selfish interests of individuals, associations, organizations, "ghostly", parasite political parties which rely on "reconciliation" with the Communist Part of Vietnam (CPV) to be granted some quick political or economic favors. Also, it cannot be relied on foreign powers when the people have yet had substantial strength in politics and economics. Such dependence is only a financial slavery form to foreign powers. That path is only the first step to repeat the path of fake Vietnamese, human trafficking and illegal trade of national interests to foreign powers of the CPV. Such national objective surely will be historically discarded under similar criminally national offenses of the CPV.
Assuming responsibility to select realistic track-record proven national strategies to protect and respect our People, protect Vietnam fatherland before all aggressively materialistic or spiritual foreign powers, or both, to preserve the national honor in order that even enemies still have to respect and admire. It was similar to the historic event that the grand notorious national traitor Ho Chi Minh publicly recognized the popular leader Ngo Dinh Diem of the People of Vietnam was an authentic and keenly patriot. At the same time, the potential leader of Vietnam has to bear the responsibility to select the roadmaps for Vietnam in present but he/ she should also have good vision for the future of Vietnam.
The political structure (preferably consisting of three independence branches of Legislative, Executive and Judiciary) of future Vietnam should include members who are publicly elected in a general election by Vietnamese People on the firm foundation that every efforts should aim for our Fatherland and People based on a democratic, modern and just Constitution which has been endorsed by Vietnamese People via a People's general referendum which will be organized under international supervision.
Truly patriotic Vietnamese who want their Fatherland be truly independent, free, prosperous, People live in peace and happiness; national waters, islands, airspace, territories be fully and effectively protected then the most important criteria is the People's determination not to accept any individual, association, organization, political parties which are not chosen by Vietnamese People but they are selected, glistened, covered or recommended by certain foreign power(s). Bitter lessons about the birth and damages caused the Communist Party of Vietnam (CPV) which was under tight sponsorship of the Third International Communists having been still hot and up-to-date.
In current modern civilized society, even the tradition of parents who pre-arrange their children's marriages are also outdated.
Only when Vietnamese People create a national political structure which is built on the consent of majority of people then they will be able to construct a modern civilized Constitution. At that time, a legal administration mechanism will truly work based on the proven political concept that the People are the real owners of the physical and spiritual properties of the nation from central to local levels. It means only political leaders who possess strong political power and rarely holy generosity then he/ she would be able to implement the historic "Open Arms Policy" as Leader Ngo Dinh Diem who once created that policy to welcome back individuals, organizations including national traitors who used to serve the enemies to gear towards the humanistic and solidifying spirit which is similar to the same policy by the King in Tran Dynasty after he won the Nguyen aggressors in battle fields. It was also similar to the late President Ngo Dinh Diem of the First Republic of Vietnam who launched the "Open Arm Policy" which achieved great results that transformed many communist soldiers and cadres into productive citizens who assumed responsibilities to construct and protect Vietnamese People before the aggression of Soviet Union and Communist China via the slavery CPV.
We should always remind ourselves about the most expensive political lesson which was originated by the CPV with its staffing set up by Soviet Union and Red China only for their aggressively invasive goal which aimed to completely swallow South Vietnam eventually created countless political disasters and destruction to Vietnam and Vietnamese People until now, 2014. Similarly, the Second Republic of Vietnam which was set up and ran by the less educated, French originated army generals destroyed the superbly fine political achievements of the First Republic of Vietnam under President Ngo Dinh Diem.
The aftermaths of these damages still destructs Vietnamese society after April 30, 1975 until today and spreading to the overseas, especially the mentality of slavery to foreign powers by political parties, associations and individuals…They like to worship the communist cadres under their glossy masks of defectors, fake political dissidents including the criminals and political opportunists. A concrete example: A numbers of individual and media have "carried up on shoulders" the "braveless" novelist To Hai, a former long-time member of the CPV. Now these people plan to worship him because he was recently baptized by the Catholic Church.
The baptism on him was very religiously correct because that was the responsibility of the Catholic Church. Similarly, there usually have Catholic chaplains in prison camps to perform Catholic rituals to criminals and comfort the death-row criminals who committed capital criminal offenses before their executions.
But:
The big mistake is that the crooked media worships To Hai, a cowardly guy, who now admits he is no longer stupid (sic). The true fact is he has never been stupid but he has only a big "dishonest and twisted mind". Is it possible that he dares to confess that as a communist cultural police that entrapped "Mr bearded Toan" group in the "golden music" (singing the free Vietnamese music before 30/4/75) was imprisoned indefinitely; as well as the incident he "destroyed his father's tomb in Saigon" only because the father's tomb was constructed by an army general of the Armed Forces of Republic of Vietnam, the son-in-law of To Hai's father.
The patriotism, the honor of a man who himself declared his writing as a way to fight back the communists, the responsibility of the oppressed Vietnamese inside Vietnam and the community of the Vietnamese refugees abroad, among which the youths are currently wrong when they said they "have not accepted love or hatred from the past generations". And especially the responsibility to the Army, People, Cadres and Civilians who sacrificed their lives for our fatherland and to the victims of the communists in North Vietnam since So Viet Nghe Tinh of 1930-1931 until now. So the question is: Where are these above idealistic concepts?
How have the malicious bloody characteristics of the CPV effectively and brutally developed over years?
The state-controlled so-called "intellectuals" in Vietnam once have accepted to be spiritually slaved via the permanent "cultural revolution", by learning politics to construct people of Socialism, by assume tasks by 6 months or the whole year to get pay raise, or promotion before Ho Chi Minh group entered Ha Noi in 1954. By all above the Viet communists were able to group up a force of disrespectful intellectuals to those the state-run "intellectuals" to attack and destroy all traditional intellectual works of Vietnam in different areas. They "changed black and white" on history, created legendary stories to make sainthood to most serious criminals among their communist party including the Soviet Union and China. They fabricated many imaginary figures to use as models then using the state-run, state-paid "intellectuals" to launch propaganda aiming at the youths, students, future intellectuals, so they can continue their conquest. Different forms of literature and art have duty to call on People to be loyal to Soviet and aggressor China not only in political viewpoints but also people and national territories of Vietnam also become members of Soviet and China. Strategic goals in economy, politics, national defense, culture and art…were led and projects/ tasks to Ho Chi Minh group were assigned and controlled by Soviet and China.
Concrete examples:
In the meeting on January 1st, 1955 to welcome the New Year, in front of the Grand Theater of Hanoi, then Communist Prime Minister Pham Van Dong who was in charge of Deputy Prime Minister and Foreign Relations Ministry in Ho Chi Minh regime, happily boasted that on his way back home from the Genève Treaty of 1954 he also stopped at Moscow and was greeted by Malenkov, the Secretary General and Molotov, Foreign Relations Ministry of Soviet Union, who instructed North Vietnam to only plant bananas and hunt tigers to export to Soviet Union then North Vietnam will be provided sufficient food and clothes for North Vietnam's people.
That was Soviet's initial suggestion to North Vietnam so Hoang Anh, Secretary in Central Committee and also Deputy Prime Minister was in charge of the banana planting on all the treeless hills in West Northern and North of Vietnam. Also, the top General Chu Van Tan, Member of the CPV Central Committee, Vice President of the Congress and Secretary of the self-governed Northern Vietnam was granted exclusive right to hunt and trade tigers and opium.
In the opening ceremony of the school year of 1955-1956 at the Trung Sister school in Hanoi, Ho Chi Minh presided over the ceremony and directly delivered speech which "forbade school girls to wear Vietnamese traditional dress (ao dai). Since then, in North Vietnam, almost all women wore short purple dresses ( "sim") or dark brown with black or green pants. In winters, women wore thick blue coats produced by China with short hair ("Hy Nhi" style), a Chinese movie star. It meant that time Hanoi looked and sounded like a China town which was also different that its people spoke Vietnamese (because they had not learned Chinese).
Since that time, Vietnamese cadres and students from dormitories in China and in areas which were under communist's governance and other big cities like Hanoi, Hai Phong, Nam Dinh…almost all cadres wore China-styled "4-pocket cadres' suits". Also, youths and "extended employed cardes" in big cities and other provinces in North Vietnam imitated to order China-styled suits/ dresses, especially the "intellectuals" and artists.
That fact obviously proved that Ho Chi Minh group quickly "Chinese-transformed" Vietnamese people at least in terms of culture and clothing styles.
When a western tourist who, from China, visited Vietnam he would be difficult to differentiate between Vietnam and China with two different people, but he might think that was China because from train stations to government buildings, schools, markets, stores and residents' homes everywhere photos of Luu Thieu Ky, Chu Duc, Chu An Lai, Tran Nghi…were hung at the most highly respectful spots. Many places, photos of Banh Duc Hoai (China's Defense Ministry), Khang Sinh (Public Safety Ministry) and Dang Dinh Sieu (Chu An Lai's wife) were also hung.
On walls in provinces, Chinese movie flyers such as "Pink flags on Thuy mountain", "White/ No Hair Women" (No hair surely spells out disgusting and most miserable lives which definitely/ eventually destroys these women's so-called "marriages" or "live-in" arrangements - Source: Street-smart wisdom).
In education there has been (until now) a unique requirement to young students/ pupils which had never happened in most political regimes, even under French colonization in Vietnam, that all kindergarten and 1st grade students were required to do labor work. All young grammar and elementary school pupils have been required to bring along brooms to sweep garbage on cities' streets which their brooms are much taller than pupils' heights. Dirt were blowing high around the streets and to others' faces and bodies and they all laughed naively while male/ female teachers and people who walked by did not care a bit, just as nothing were happening.
Junior, senior and college students were required to do cleanup work at construction sites or other towns far from big cities and at their own schools/ classes. Students had to participate to construct schools, took turn to cook and did janitorial work, had to join military training programs, classified into self-defense units and practiced fighting techniques using real guns, practiced counter-attacks or school defense/ protection. In 3-month summer with no school, students had to help peasants with agriculture work. Every night, students had to participate in group activities and thoughts self-assessment to be verified if they felt comfortable to "study". While at school, students studied/ participated school activities in 3-student group. In final examination for higher class, CPV's members, kins or relatives were given extra grades. Grades for politics, labor, cultural activities (school's periodical papers…) were given as extra to participated students which demonstrated their works to compliment the CPV, specifically applauses to Ho Chi Minh, Mao, Angel, Lenine, Stalin...And the very important fact was students' articles in school papers to accuse the wrongness in thoughts and actions of other students in same class or same school. Accusations to other students in different classes, different schools were also approved. That means those students' accusations might be aimed at any other students who were suspicious through their talking or actions that were considered politically dangerous to the regime.
The academic training was not important because the educational goal of Vietnamese communist were brainwashing the young future generations to ensure those students would become the intellectual slaves so the critical objective in education was transforming those students into disgusting and braveless persons. And from that point in time, school scenarios were "facial agreements but not thoughtful accords" between students so students isolated themselves, alarmed against other classmates and to all other people. Therefore, it was very difficult to build up any political conspiracies to fight back the political governance/ expansion by Soviet Union and China upon Vietnam at that time via complete political control structure of the communist Ho Chi Minh group. It is also worth noting that Vietnamese communists had plan to train and organize students as reserved military groups, ready to wear army uniforms to be merged/ solidified into the main armed forces of "Born North, dying South" in their invasion to the Republic of Vietnam which aimed to expand territories and communist ideology for Soviet Union and China's expansionism.
Leader Ngo Dinh Diem visited the Vietnamese National Military Academy of Da Lat (in Da Lat Province, South Vietnam).
Saigon 1960, The Two Sisters Trung High Shool Students Parade in the Women's Day
To compare the governments of South and North Vietnam since 1945 until today, the year of 2014, even a blind person cannot decline that the First Republic of Vietnam under President Ngo Dinh Diem was the only unique elected regime which served best the People and the Fatherland of Vietnam. For the first time, the concepts of democracy, human rights, social fairness, religious liberty, community health care, elementary/ junior high mandatory community education in the spirit of preserving and protection of Vietnamese fine culture and traditions were encouraged in selected ways. Freedom of speech in philosophy, culture, literature and arts…is highly promoted. These included President Diem's strong campaigns and achievements of the Vietnamization of Vietnam society which had previously accumulated much garbage from French colonization, the declining debris at the end of the Nguyen dynasty which was in nature the loyal tool of the French empire.
The national defense was paid close attention by the establishment of the Vietnamese National Military Academy of Dalat. The armed forces were structured in modern ways with its ideal, unique goal of "FATHER LAND – HONOR – RESPONSIBILITIES" which was definitely much different from the CPV's armed forces was "LOYALTY to the Communist Party of Vietnam "(CPV). It means the CPV's armed forces do not have duty to protect its People and the Fatherland of Vietnam.
In economics, all different classes of Vietnamese people were realistically and financially helped to work and build their own properties. Some restrictions were imposed on some trades owned by foreigners who aimed at minimizing their possible exploitations to the economy of Vietnam.
In general, the objectives of social and economic activities which were driven by political aspects were to guarantee to the People and Fatherland of Vietnam a meaningful independence, a truly liberty to construct significant fairness in domestic and foreign policies and as result it ensured Vietnam was able to join the international community in its equal and strong position to enjoy mutual benefits and not to be a slave or an escort as the communist group since Ho Chi Minh and his subsequent successors.
Attention: One important fact was the First Republic of Vietnam under President Ngo Dinh Diem's leadership highly valued the bodily safety and intellectual properties of the People of Vietnam. It was not only President Ngo's guiding philosophy was Human Dignity but also his deep thought was that if Vietnam does not have true Vietnamese and Vietnamese intellectuals then the national territories, waters, islands, forests of Vietnam are not meaningful but they bear values of those slaves, years through years, under different colonized political subordinates.
President Ngo Dinh Diem announced the executive manifesto on April 17, 1963 which commenced the Open Arms Campaign (to welcome back the mistaken Communist soldiers and cadres)
That was the Open Arms national policy. President Ngo had his trust in his People of Vietnam, took charge his responsibilities to the Fatherland of Vietnam, not only to his ancestors during their brave, arduous history of establishment and protection of the country using brains, bones and blood, private happiness of many generations but the President assumed heavy responsibilities to the future generations.
The Vietnamese communists have focused their efforts to destroy the four classes of Vietnamese People ("Intellectuals, Rich, Landlords, Abusing Powerful") immediate after their CPV's inception in 1930 under the Soviet Union's sponsorship. Since then until now, the communists have never ceased their horrendous crimes to thousands of its ancestor generations and its future generations until the day they were destroyed, then the results of their crimes as betrayals and traders of their own nation/ People have left behind many strategic disasters and long-term damages to many future generations who will have to spend much efforts to clean up and rebuild the home of their Fatherland which has been deposited with tons and tons of bacteria and potential complete explosion at any time, to heal the wounds and divisions between the People of Vietnam in order to regain trust of international community to become the a trader/ member in equal position, not the fake equal, respectful position of the political traders and the international trust has been narrowly defined as current relationship between the boss-and-slave relations to the CPV and the international community.
In the First Republic of Vietnam, people who mistakenly followed the CPV to participate in the invasion to South Vietnam were given other chances to understand their mistakes and permitted to continue going to school to learn and take national exams (Ex: Le Hieu Dang, a former communist cadre who was in jail was authorized to take his national examination while serving his jail time). Those returning cadres were provided job trainings to participate in the construction and protection of the nation which was the shared responsibility and great spiritual asset of the Vietnamese People. Remember that the murderers and the traitors to President Diem were trialed in the public fair trials.
On the contrary, the CPV since Ho Chi Minh and now the group of his successors have brutally killed innocent people who originally played major roles in support and help to the CPV's success. Ex: Fatal death executions to Mrs Nguyen Thi Nam (Cat Hanh Long), engineer Dao Dinh Quang (VC Nguyen Khanh Toan's father in law), confiscation of Trinh Van Bo's properties, the owner of the house where Ho Chi Minh sat to work along witty US Intelligence agent Patty, Vo Nguyen Giap and Hoang Minh Giam to write the so-called "Independence Declaration" of September 2, 1945. The other rich people who helped the CPV tremendously such as Đồng Tháp company's president, Phú Gia, Vạn Lợi, Tân Vinh, Phát Đạt, Cự Vương, Cự Phát, CựĐà,Điện Cơ, Vạn Vân, Hồng Khê, VũĐỗ Long, VũĐỗ Thìn, Đức Minh...and the double Docteur-d'Etat Nguyen Manh Tuong who gave the CPV his villa at Nguyen Canh Chan street, Ha Noi in 1944 were all bitter victims of the bloody CPV.
The CPV's 3+ million members, its satellite fake political parties/ associations, the An Quang's fake Buddhist monks/ cold blood militants and so-called "intellectuals" overseas had conspired with each other to create the most sensitive reason of "religious discrimination" to have a strong motives and reasons to murder President Ngo Dinh Diem and his 2 brothers and erect the other regimes which were under much political and social instability for a long period of time until 1967. These days, the An Quang killing militants group has yet given up its political ambition to come back to "power" via its "Petition for (political) Job "submitted to Obama via the cheapest play of the dwarf clown of the century, "PROFESSOR", COMMANDER-IN-CHIEF VO VAN AI with his secret HEADQUARTER in Paris.
These days, the CPV has launched countless campaigns that the security force of the First RVN was blood-thirsty and extensively searched to kill the "patriots". Question: Why were the An Quang fake Buddhist monks, also cold blood killers were not identified and located by President Diem's security force to be jailed and got tortured? That fact has strongly proven that the An Quang militants had covered on their bodies the religious suits/ vests of Buddhism to freely conduct their covert operations to fight against the first RVN. They used their Buddhist religious monasteries as safest places to secure their rifles, ammunitions and war related supplies to fight and kill innocent people to achieve their finally dirty political goals. Because if the first RVN conducted extensive/ thoroughly searches on all Buddhist temples and carried out complex surveillances upon Buddhist church leaders and faithful as they faked up their stories then how these An Quang killers were able to cooperate with the betraying generals and foreign powers to murder and overthrow President Diem and completely destroyed his super fine political, economic and social… achievements in his very short tenure of only 9 years. In fact, the Coup drove Vietnam and its People into the darkest political and economic instabilities in history. Even the delegation of international Buddhism and also that of the United Nation arrived in Vietnam to conduct on-site investigations were not able to find a single trait of religious discrimination and suppression condemned by the CPV via the killers-for-hired An Quang. And these delegations finally issued formal resolutions to completely clear up those politically driven accusations against President Diem's administration.
RESOLVING THE INVADING WAR
The endless war in Vietnam since 1945 is still going on until today. The truth is the People of Vietnam have never been able to live in completely meaningful Peace, Independence and Liberty. The claws of the colononists of different colors have deeply poked in the People's bodies; sometimes they have hovered themselves searching on top of the poorly thin corpses of Vietnam Fatherland and its unfortunate People. Blood, bones, dignity, brains and natural resources of People of Vietnam have still drained out of Vietnam.
The first RPVN was collapsed after the malicious dirtiest murder scheme of Leader Ngo Dinh Diem and his two brothers mainly because most political parties, associations and organizations in both South and North Vietnam have put their own organizations' selfish interests on top of Vietnam's Fatherland and its People. Most leaders of those groups have had a shared goal that they want to be used/ helped by the foreigners who would be able to set them up with the top-boss positions. They have never learned the valuable old time lesson of history until after the World War Two.
They have never strategized that the economic self-sufficiency should be the main goal and the foreign aids are only at minimum levels in certain aspects that will be good enough to keep the national sovereignty for their nations. It should never be hoped that financial assistance from banks will be charged with no loan interests.
It is one of the reasons why until now the state-run "intellectuals, historians, writers…" can be easily recognized in several main "school of thoughts": a= Communism, b= Free world (one-way free, due to their interfering and analyzing in other countries' businesses), c= Developing countries. Besides the state-paid "historians and writers" then another major group is the "Vietnamese-rooted intellectuals" who live in other countries outside Vietnam mostly have a similar view about the Vietnam War.
They explain the Vietnam War was:
The war between Nationalists and Communists
They mean Vietnam War was the war between the "Nationalist" in South Vietnam against the "Communists" in North Vietnam after Genève Treaty of 1954 pertaining Vietnam was in effect.
This explanation is lack of convinced information or truthfulness of these intellectuals in general and specifically, historians.
Before and until the formal establishment of the CPV, its members under Ho Chi Minh's leadership, via their concrete actions, also confirmed in the CPV's strategic guideline that they have mission to destroy not only the other "Nationalist" political parties, groups, associations…but also the "Nationalism" concept.
Therefore, the notorious Ho Chi Minh sold patriotic senior intellectual/ pioneer Phan Boi Chau to French colonists and planted his spies in Senior Phan's organization. Ho sold YEN BAY uprising of national hero Nguyen Thai Hoc. Ho himself also led the most bloody countrywide campaign to root out completely the four spinal classes of Vietnam: "Intellects, Rich, Landlords and Abusing Powerful" in Soviet Nghe Tinh national campaign during 1930 – 1931. Eventually, another strategic plan was the critical infiltration into Buddhist religion of Vietnam to aim converting this complex and unstructured religious entity into their active combat tool for the CPV.
Ho Chi Minh's letter which was sent to Soviet Union which confirmed the CPV is a direct satellite (branch) of the Soviet Communist Party, promised to obey Soviet and implement Soviet's global plan to "boshevik" Vietnam and it People has strongly proven that the CPV has been always a dull, idiotic political and military tool of Soviet in their conspiracy to invade the Indochina. It means the CPV has been, for centuries, a group of fake, dishonest, bloody, killing communists of VIET CONG.
It means since 1930, the Soviet Union used the CPV to invade Vietnam quietly via the French colonialism in Vietnam specifically and in Indochina in general.
The historical events from 1945 to 1954 are also noted that was the invasion war of Soviet with the participation of the Chinese expansionists.
Therefore, the CPV seized the government of Tran Trong Kim cabinet by publicly announcing it was the August (Fall) Revolution of 1945.
A number of so-called "Nationalist" political parties which were lacking of information, naive in politics, irresponsible to Vietnamese People and the Fatherland of Vietnam did not recognize that the so-called "August/ Fall Revolution" was in fact the publicity of the INVASION WAR in Vietnam via the Vietnamese communists (CPV) using the guerrilla warfare tactics/ strategy and covert operations to quickly seize political opportunities while exploiting the disarray and lack of unification of nationalist parties to steal the authority of the Vietnamese government.
Immediately after the sincere cooperation of the leadership of the so-called "nationalist" political parties, the CPV quickly organized and announced scores of "nationalist" parties, associations but unconsciously trumpeting to brag good things about themselves while hiding their bloody flags of Satan such as Democratic Party of Vietnam, Socialist Party of Vietnam, Country Saving Kids, Country Saving Youth, Country Saving Women, Country Saving Elderly, Country Saving Workers, Country Saving Peasants and specially Country Saving Buddhism!
It can be safely to say that such names like Vu Hong Khanh, Nguyen Tuong Tam, Ta Quang Buu., tran Huy Lieu (that time few people was aware he already quit People Party of Vietnam to follow CPV), Minister Bui Bang Doan, Emperor Representative Phan Ke Toai, Attorney Nguyen Manh Tuong, Scholar Nguyen Van To, Governor Ho Dac Diem, Doctor Professor Ho Dac Di, Scout Leader Hoang Dao Thuy, Professors such as Trinh Thuc Vien, Phan Thi An, Doan Phu Tu, Cu Huy Can, Medical Doctor Vu Huy Can, Engineers Nguyen Xien, Nghiem Xuan Yem, Do Duc Duc, Ton Quang Phiet, Dang Thai Mai, Truong Tuu (aka Nguyen Bach Khoa), writer Hang Phuong, District Chief Duong van Dam, Minister Duong Van An's oldest son Ta Quang Dam…all blindly joined those communist parties/ organizations including King Bao Dai and Huynh Thuc Khang who were accused of "corrupted/ criminal Vietnamese" (Viet Gian) which was explicitly written in the CPV's Political Guiding Principles in their First General Conference in Macao in 1935.
There was only one single politician who did not participate the Communist Party of Vietnam (CPV) even though he was seriously invited by Ho Chi Minh was political Leader Ngo Dinh Diem of the People of Vietnam. Because political Leader Ngo Dinh Diem was well aware that behind those appealing political slogans such as "Saving the Nation", "Unification"…were big groups of armed, stabbing, killing for hired gangsters who worked for the red invaders were competing to become slaving workers for the French colonists.
And there was only one man, Political Leader Ngo Dinh Diem of Vietnam, who was able to thoughtfully understand that the Nation of Vietnam had to bear the main responsibilities in the war to fight off the invaders. The CPV and its slavery satellites parties were only the tools to invade Vietnam directly under fake covering coats and dangerous political masks to hide their real killing identities. That was the starting point for the birth of President Diem's Strategic Hemlets, Human Life Hemlets, Economic Prosperous Zones and the Open-Arm National Policy to cleanse up the communist poison to help the former communist cadres to become good and productive citizens. That was the signigicantly political symbol of unification of all People of Vietnam to fight the invading super powers.
The Armed Forces of the Republic of Vietnam (ARVN)
The Authorized/ Delegated War
The authors who advocated this argument have never been honest. They have kept changing between white and black to mislead the audience who lacks of information and even poisoned the audience's thinking so they misunderstood about the idealistic objectives of the war against the Soviet and Chinese expansionist invaders via the communist undercover soldiers in South Vietnam so they could directly launch major attacks against the ARVN.
It should be remembered that the CPV group was a terrorist organization who was staffing, trained and paid by the Soviet and was assigned to play the combat role to expand the colonial territories for Soviet.
Concrete evidences:
Notorious criminal Ho Chi Minh was responsible to coordinate the communist members in different unorganized groups in Vietnam so they can join the Preparation Conference to work out plans for the introduction to the public the "Communist Party of Vietnam (CPV)" in 1929. And on January 6, 1930 the Vietnamese communists officially announced the CPV. But when the report was sent to Soviet Union then Soviet immediate ordered to change its name to "The Communist Party of Indochina" (CPI) while at that time there were no Laotian or Cambodian people in this party. Therefore, after that incident the CPV again made changes in those parties' inception day. They set January 6, 1930 was the inception of the CPV and February 3, 1930 was the inception day of the Communist Party of Indochina (CPI).
It was obvious that the red Soviet colonists ordered the big spy web of Soviet staffing by Vietnamese to assume the main role under the name "CPI". The duty of the CPI was to recruit members in Indochina, under the cover as a political party to carry out propaganda campaigns for Soviet to hide the fact that Soviet Union was a modern colonist super power which conquered other countries using a new strategy. It means the previous invasion war by the western colonists were "Sovietized" under a new name "revolution of people liberation" or "revolution of proletariats".
The CPV was definitely a dedicated volunteer group who served Soviet Union's goals. Those goals were to completely sell the People of Vietnam and their Fatherland to Soviet Union in spiritual and also in materialistic meanings. It means the CPV has been responsible to wipe out completely all the traits and unique characteristics of the Fatherland and the People of Vietnam.
The above life-and-death strategic objective of the CPV was clearly written in the CPV's Guiding Principles but also in their operations to "fight the narrow-minded nationalism", "Revolution in Vietnam is a mechanism of the socialist revolution under Soviet Union's leadership", "Must Bolshevik our communist party then bolshevik the People", "Must root up/ out the Intellectuals, the Rich, the Landlords and the Abusing Power", "Must Monopolize in leading the armed forces, police and all other administrative departments". Until now, in the revised Constitution of 2013 of Vietnam they still keep the Fourth Article with its main meaning "The CPV is the foremost force to lead Vietnam and People of Vietnam, etc.". Similarly, through much "open doors and changes for new" the CPV still tightly keeps the group words "Socialism Direction", "Armed Forces Protect CPV" because they use the armed forces to invade their own country Vietnam so they have been always afraid the People will destroy them. Therefore, they have to set goals that the armed forces have to protect them (CPV). Similarly "Police is the CPV's sword" means using police (uniformed and under cover) to early suppress the organizations of the patriotic Vietnamese so the people cannot organize a united strong force to fight off the invading super powers from different nations. The CPV always uses the slogan "The CPV leads, the administrative cabinet manages" and the national policy concerning "islands, sea, river, forests…" are all under mandatory ownership of the administration via a vague, cheating, malicious slogan "The People's ownership is managed by the CPV and its administrative cabinet". When the cabinet is only a dull and blind tool of the CPV then there is nothing more obvious than the fact that the Communist Party of Vietnam/ Viet Cong (CPV) is absolutely the real owner of everything which is otherwise must belong to the People and the Fatherland of Vietnam.
However, there are still some writers who have acted like ostriches which ducked their heads deep under the sand to create stories of "Party group against cabinet group". Also there is some imagination that there is "Dual power groups in Vietnam".
In conclusion, it has been long quite clear the facts and evidences above strongly prove that:
For almost two-third of a century (1929 – 2014), The CPV has never set their national goals and implementation plans to serve and protect the Fatherland and the People of Vietnam.
In the beginning, the CPV was the fully dedicated slavery tool of Soviet Union. After the World War Two it was a dedicated slave to Soviet and China. For that reason, inside their party they were divided into 2 groups: the Pro-Soviet (de_Stalinization) (XET LAI) and Pro-China (The radical communist group).
The Soviet Union had collapsed then the CPV quickly continued assuming its slavery role to China.
With the conspiracy of "modernization and open-door" the CPV has welcomed the Western powers whom they used to consider those as their enemies in the past. In fact, those Western powers were enemies of their boss China. Now, their boss China has conducted businesses with the West then with a fate of a dog, obviously they also let their Chinese boss' business traders rub their heads. But be careful, when the People become enemies of their boss China then the CPV will be protecting their boss and use any dirty tricks to trap the People of Vietnam into a big war to protect China until the last Vietnamese.
To demonstrate with above evidences and current political events in Vietnam one can conclude: The war of the so-called "The Democratic Republic of Vietnam" (Communist Ho Chi Minh) and the First Republic of Vietnam (President Ngo Dinah Diem) was:
The communist side under the cover of "Democratic Republic of Vietnam" was the extended hands of Soviet and China to invade South Vietnam using heavy armed forces and large scale offensive at last. The Vietnamese communists were similar to Le Duong mercenaries who were paid professional soldiers of the French colonists who invaded Vietnam. Who should call that invading war with participation of Le Duong mercenaries as "Delegated/ authorized War"?
It is clearer that the so-called "Delegated/ authorized war" did not bring back any benefits to the oppressed people in North Vietnam besides the fact that the Northern People had to supply at no charge their own bodies/ manpower, human bones amassed up high like mountains, human blood drained out along rivers. These soldiers were nominated as "slave soldiers" for Soviet and China to destroy their fatherland in South Vietnam and killed their fellow people in Southern Vietnam. Forever, their crimes are recorded in the history of Vietnam and will never be forgotten.
It is also noted that the Vietnam War was not only included arms, rifles and ammunitions supplied in large scale by Soviet, China but it also included almost half a million advisors, specialists, and soldiers of Soviet, China and Eastern communist bloc such as Cuba, North Korea and also the Communist Party of France.
To the First Republic of Vietnam under President Ngo Dinh Diem and political adviser Ngo Dinh Nhu, who was one of excellent strategists in the anti-invasion history of Vietnam, provided outstanding leadership to the soldiers, people, cadres and political people of the first RVN under the name of Fatherland, Honor, Responsibilities. The NGOs leaders effectively ran the war to fight off the invasion war of Soviet Union, China, Eastern communist bloc, its communist militants and webs of Soviet and China's undercover spies under the lead of Vietnamese cadres in Southern Vietnam.
How can the state-run writers and malicious "intellectuals" be dishonest and unethical so they could write on papers that the war against the Communist invasion along with TRADITIONAL PATRIOTIC SPIRIT of Vietnamese soldiers, cadres and people equipping with the ideal guidance of Fatherland, Honor, Responsibilities be a "Delegated/ authorized war". Which foreign nations can authorize/ delegate the Vietnamese People to protect their fatherland and beloved citizens"? This question is obviously also a clear answer to audience. Thank you.
Version in English language: Viet Si